February 6, 2007
Javaaheraat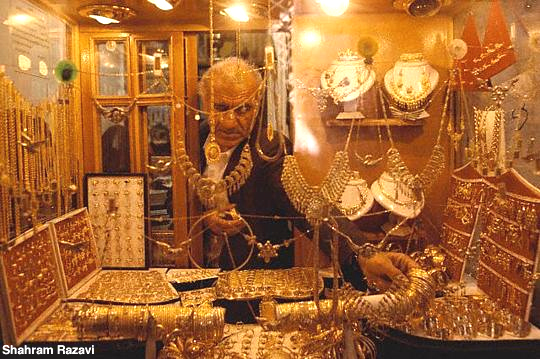 An Iranian woman is going to a formal party tonight. What kind of jewelry would she wear? Name these items in Persian... such as "gardanband":
Alangoo
Angoshtar/Halgheh
Aviz
Baazooband
Dastband
Gardanband/Galooband (Khefti)
Gole Sar
Gole Sineh
Gooshvaareh
Halgheh Bini
Halgheh Naaf
Khalkhaal (Paaband)
Saa'at
Sarband
Sineh Reez
Taaj
Zanjeer/Kamarband
...
Winner: Mehran Azhar (100 Afarin!), Maryam Haghighi (100 Afarin!) & Fataneh Kianerci (100 Afarin!)
The person who wins the most number of daily quizes in a month will be awarded any book from amazon.com with a cover value up to $50 and their name will be enshrined in the Column of Champions! Second-place winner will receive the comic book "Rostam tales from the Shahnameh", a Persian/English wall calendar from Children of Persia, or a gift certificate from eworldrecords.com.
Answers to previous quiz questions
Do you have an interesting question to suggest for this page? Email us