March 28, 2007
Englishman
He's arguably one of the most famous Englishmen in Iranian history. Who is he? Baron Julius de Reuter (founder of Reuters news agency) who obtained an exclusive economic concession from Nasir al-Din Shah in 1872 >>>
Winner: Alpha Zero. 100 Afarin!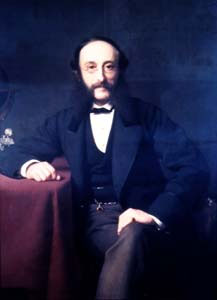 The person who wins the most number of daily quizzes in a month will be awarded any book from amazon.com with a cover value up to $25 and their name will be enshrined in the Column of Champions! Second-place winner will receive the comic book "Rostam tales from the Shahnameh", a Persian/English wall calendar from Children of Persia, or a gift certificate from eworldrecords.com.
Answers to previous quiz questions
Do you have an interesting question to suggest for this page? Email us