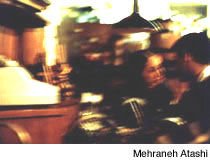 Selected short notes
August 2002

* When time becomes more precious
* Abadan, a thousand years ago
* Narrow escape
* That was in 1975
* Morsel of Persian culture
* I'll see you later
* Eager to explore
* Chapter 1, verse 1
* Once upon a time
... (the rest of August has been lost)
August 31, 2002
* When time becomes more precious
This morning when I was making coffee I realized that I am almost out of paper filters, then I remembered that just a few weeks ago I was wondering why the thickness of filter stack seems unchanged day after day...
I know, it is because taking one or two tiny sheets of paper from a stack does not seem much but when there are not many left, even one seems to make a lot of difference.

Does it mean that when we get older our time becomes more precious and wasting a day becomes a bigger mistake?!
:D
-- Neda
August 29, 2002
* Abadan, a thousand years ago
I was reading Nasser Khosrow's travels and came across this portion which relates to almost 980 years ago. I thought Abadanis would be happy to know how old their town is.
August 29, 2002
* Narrow escape
Heard from BW:
I was driving in Berkeley with my friend. I got to a residential area where police cars had parked on both sides of the street, leaving only a narrow passage. I was convinced that I could drive through, but my friend wasn't so sure.
As we drove by the police cars we heard a "ta-ta-ta-ta" sound coming from both sides of my car. I had knocked the side mirrors on the police cars.
The cops did not notice the damage. They had left their cars to investigate something.
August 29, 2002
* That was in 1975
This is an old photo of some who have features in iranian.com. Here is an old photo of bygone times. I found it at the UN archives on a recent trip. From left to right are Soheyla Shahkar, Iradj Amini, Farhad Sepahbody (yours truly), Fereydoun Hoveyda and Dr. Bavand of the Foreign Affairs Ministry. He did not know French, thus the earphones for English simultaneous translation. He looks bored too. Princess Ashraf Pahlavi, head of the Iranian delegation to the General Assembly is pronouncing the speech. Larger image
That was in 1975. It is interesting to note that Soheyla Shahkar, (daughter of the famous lawyer) quite attractive and smart, became the wife of Mansour Farhang the Islamic Republic's first ambassador to the UN. Later on they both joined us in merry exile. Farhang teaches political sciences at a college in upstate New York. Guess what - Princess Farahnaz Pahlavi became his student and he gave her excellent grades too... maybe to amend himself. As for Soheyla, she still works at the UN (UNDP).
August 28, 2002
* Morsel of Persian culture
Right after I had graduated from Adab High School in June 1976 and two days after taking my College Entrance Exam (Azmoun), my parents took me to nnortheastern Iran, only days before my departure to U.S.
I had wanted to come to U.S. since I was 14, when I had won the AFS scholarship, to continue my education in the "cradle of advanced technology & modern civilization." My mother wished me to visit Imam Reza's shrine before my departure but I opted to go to Neishabour and visit Omar Khayyam.

That day, at Khayyaam's beautiful and befitting mausoleum designed by Houshang Seyhoun, I took pictures of the mausoleum, lying on my back to make sure I capture the tile design and pattern under four conjoining arches decorated with some of Khayyaam's poignant poetry inscribed in beautiful calligraphy on the tiles.
Conscious of the fact that I was leaving soon to a foreign land, which knew little, if any at all, of my country's long and accomplished civilization, I took those photos along with my father's copy of Edward Fitzgerald translation of Rubaiyat for any "show & tell" opportunity that may arise during my stay in the United States, which I then expected to be a short one.

Years later, when my expected short stay turned into a longer exile, I searched for every little morsel of Persian culture in forms of films, books, music records and tapes... in the West and made a collection.
Due to lack of space, I kept these along with my other books and belongings in a storage. In winter of 1995, the ceiling of the rented storage spaced caved in and destroyed all documented memories, letters, photos, and my precious books and Persian collection.

One was a videotape of an American film, "Omar Khayyam", made in 1957, a portrayal of Khayyaam's life. Though, not exactly historically accurate, and somewhat "Hollywoodized", it is still pleasing to watch.
August 27, 2002
* I'll see you later
Heard from Shappi Khorsandi:
The British people don't want their country to join the U.S. in attacking Iraq. But [Prime Minister] Tony Blair doesn't know how to say no to George Bush. Khejaalat meekesheh. He's like, "You go on George. I'll join you in a few minutes."
August 27, 2002
* Eager to explore
In the summer of 1979, a few months after the revolution, I went to a political meeting organized by a leftist group in Los Angeles. These meetings were common, and popular, especially at UCLA. Practically everybody was eager to explore ideas that for decades had been off limits in Iran.
At the meeting, a serious-looking young man with dark hair and beard, sat in front of a room with a book on his lap. He talked about philisophy to the small but eager audience.
I was 17 and thirsty for new ideas. I was so impressed that I asked the man if I could borrow his book -- a philosophy textbook for first-year students published by Tehran University. I took it home and began to read.
Each chapter was about a different philosopher. When I finished the chapter about Aristotle, I was convinced he had the answers to all of life's pressing questions. Then I read Plato and I thought HE knew it all. Then I read about the next and the next philosopher...
c
August 26, 2002
* Chapter 1, verse 1
Don't believe. Listen.
-- Jahanshah Javid
Bay Bridge, San Francisco
August 25, 2002
* Once upon a time

It had been four years since the last time I was in Kan Zaman. Not much has changed there, and it probably still qualifies as one of the only places in San Francisco with an international array of friendly people and vibrant music - topped with great Mediterranean food. A place where joyful and carefree mingling feels natural, and flirting is a must.

Earlier in the week I received a forwarded e-mail from a friend suggesting that we go to Kan Zaman that Friday night. It sounded great to me.
The name Kan Zaman - "Once Upon a Time" - brought back good memories from the time I used to go there with a date that I was desperately attracted to. We didn't hit it off and went our separate ways soon after. Though my relationship with that guy didn't last long, my fondness for Kan Zaman stayed with me. The only dreadful thing was that for a long time it didn't feel right to be at his hang out place after we had broken up.

Friday night I arrived late, according to my watch, but saw two people of our group waiting outside. Apparently everybody knew what time to meet except for us three.
As if tradition -friends meet outside on the sidewalk, gather their group and prepare to enter the fairy tale world of Kan Zaman for a night full of harmonious pulsation.
We went inside to wait for the rest of the troop at the bar. The music was loud but uplifting and people's faces were full of excitement and anticipation for a night to transform them from who the actually are to who they really should be.
No matter what life dictates you outside Kan Zaman, a few minutes after being there you just don't care much for politics, economics, geography or religion any more. You just want to be happy and you want everybody to be happy with you.