August 2004
August 29...............................To top
* Free Iran on October 1st
This is the most important email that I have ever sent to people that I love and the people that they believe in me. What I am saying in this note is so simple but at the same time it is so hard to believe. And I say, I would like to see a free Iran in 32 days.
Why? Because I am absolutely sick of waiting. One Iranian set a date and I happen to like that date. I do not like any other date, I like the 1st of October of 2004. Check your heart and see whether you like this date, and if you do, then declare this to all people that you love and tell them that you like this date and ask them the same thing.
Why? Because they may like the same thing. And if they do, they may tell that to their loved ones. The day that I receive an email from all of you that says that you like to see a free Iran On October 2004, it would be the second most beautiful day of my life. The most beautiful day of my life is 1st of October of 2004.
And I say after that date, we will have learned a way to create the most beautiful things in the world. We learned to be true to what we love and say it and NOT BE AFRAID and do what is right. We learned to trust each other and we learned to spread love.
If Iran does not become free on Oct 1st, it is because not enough Iranians chose that date. We can keep play this game until the majority of Iranians choose one single date.
Keep this game simple, Please choose Oct 1st. Why? Because if you are not tired of waiting, I am tired of waiting. If you are not doing it for yourself, do it for me.
Check your heart, is October 1st the right date for free Iran? If not, what other date you will choose? Is that day any better than October 1st, 2004?
I think this is the coolest thing I have ever said. Iran is a combination of two words. Ir and An. "Ir" means Mehr (kindness, love) and "An" means land. Iran is the land of love. This movement is about love. Long live Iran. Long live the land of love.
I like to see every Iranian gets this message of love and have opportunity to choose the day of October 1, 2004. This email has gone to more than 50 loved ones... many more millions are tired of waiting... This email could be the very thing that frees Iran!
-- Amir
* Wanted: Persian journalist to cover America
Dear Friends and Colleagues,
The Center for Defense Information in Washington D.C -- a think tank that focuses on a broad array of subjects beyond the world of defense -- is looking for a Persian language editor-in-chief for a new web zine publication focusing on coverage of America. The project is not part of the US government's public diplomacy efforts. The funding comes from private foundations, most notably the majors, such as Rockefeller, Ford, Carnegie etc.
Some background: The President of the foundation, a good fellow whom I know well, Bruce Blair, came up with an innovative idea to launch a Chinese and Russian news service a few years ago that would focus mostly on covering America and American issues.
The rationale? Most foreign language media based in the US do a good job of covering US policy vis a vis their home country, but not such a good job of delving into American politics, society, and culture, warts and all.
Well, the Chinese and Russian services have taken off like wildfire, and have become major players in both domestic media markets, in diaspora publications, and among academics and intellectuals. One of their key strengths is their independence (i.e lack of affiliation with US government).
They are looking to replicate these models with Persian and Arabic, and looking for a chief editor. I told Bruce Blair I'd help him locate someone.
Broadly, what they are looking for is the following:
A journalist to write, commission, edit, and direct a web-zine in Persian focusing mostly on coverage of America, from the presidential elections to culture to health care debates to foreign policy. The editor would seek to put together, at first, three to four analytical pieces and perhaps a couple of feature stories for each issue.
Obviously, command of journalistic Persian is a must, but beyond that, I get the impression they are open to all creative, dynamic, hard-working people. He is looking for, in his own words, "a self-starter with a touch of entrepeneurialism, willing to work long hours, and a vision for expanding the magazine." I dont suspect they will be paying a king's ransom, but it wont be bad either.
If you know of anyone who might be interested, please feel free to contact me, and I can tell you more about it and/or pass on CV's to Bruce.
August 25...............................To top
* Unsaid
I just heard a PBS interview with the head of the National Endowment for the Humanities, Dana Gioia, who's better known as a poet. He recited one of his poems, "Unsaid":
So much of what we live goes on inside--
The diaries of grief, the tongue-tied aches
Of unacknowledged love are no less real
For having passed unsaid. What we conceal
Is always more than what we dare confide.
Think of the letters that we write our dead.

-- Jahanshah Javid
* Mad Scientist
My son Alexander's daycare is across the road from my office. So, every morning I drop him off at his "school" before going to work.
The morning drive is a great time that we have together, and a good chance to talk; about everything and anything.
This morning he says "Dad!"
I look at him in my read view mirror, "What sweetie?"
"When I grow up, I want to be a scientist."
Going into a momentary parental dream sequence, I respond, "You can be anything you want to be, son! You can be a scientist, a doctor, a lawyer - pay scale and layoff possibilities in mind, of course, I don't mention engineer as an option!"
He adds, "Do you know why I want to be a scientist dad?"
"Why do you want to be a scientist?"
"Because, I want to create the biggest robot monster!"
Oh my, how do I answer this one! "Then people will call you a Mad Scientist!"
He thinks for a few seconds and responds, "Dad, didn't you say I could be anything I want to be?"
"Yes dear, anything!"
"Dad," he says, "I want to be a Mad Scientist!"
-- Ben Bagheri
* DeepnetExplorer.com
i just downloaded the most amazing web browser. it is called "deepnet explorer". (www.deepnetexplorer.com)
it is a browser that mimics IE and then is also a P2P engine and newsfeed reader that uses RSS feeds of the all new agencies. you can have it as your bowser to download music and videos and also indicate what you like in terms of news and it feeds it down to your browser.
it truly is amazing, download either the old version or the beta of the new version.
-- Ramin Tabib
* Cairo calling
Golden Thread Productions invited to perform in Cairo

San Francisco - Golden Thread Productions has been invited to present a play from last year's ReOrient Festival at the 16th Cairo International Festival for Experimental Theatre in September 2004. Karima's City, by Egyptian-born Seattle playwright Yussef El Guindi, received its first fully-staged professional production under the direction of Arlene Hood at the New Langton Arts theater in October 2003. The highly-prized invitation to perform the piece in Cairo comes from Egypt's Ministry of Culture which sponsors the multi-day festival, which kicks off on September 20th and concludes September 30th.

Based on a short story by Salwa Bakra, one of Egypt's pre-eminent feminist writers, Karima's City explores the breakdown of an idealistic, strong woman as she attempts to stave off, and fight against, the destruction of her city and environment. It was developed with dance and movement, and performed on a bare stage. This 50-minute ensemble piece speaks to universally shared human values. Various characters, including the neighborhood trees, are performed by the six-actor ensemble. Dance and movement, absurdist and cartoon-inspired characterizations color the minimalist piece.

Golden Thread Productions is the only theater company in San Francisco, and possibly the United States, dedicated to exploring the Middle Eastern culture and identity as represented throughout the globe. The company is made up people from around the world who share an interest in the Middle East. Performing in Cairo is a dream come true for this company that has been producing plays in the Bay Area since 1997.

One of the premiere events of its kind, the Cairo Festival last year presented works from 43 countries, including 16 Arab nations and 27 others, representing a broad range of theatrical groups and styles. American theatre organizations have participated only rarely throughout the Festival's history. In 1999, San Francisco dancer Joe Goode was invited to bring a piece. Prizes are awarded in a variety of categories. Performances are held in venues ranging from Cairo's Opera House to converted halls, with individual translation devices provided to overcome the difficulties inherent in a polyglot setting.

Golden Thread Productions is a San Francisco Bay Area ensemble dedicated to exploring Middle Eastern culture and identity as represented throughout the globe. We define the Middle East broadly and inclusively.
* NOW2004.US: Activist design
Dear friends,

As a result of a personal resolution earlier this year and a personal challenge to convince myself that I can do something that would go beyond "one November vote" activism, I have taken on a project with two other dear friends lately. After much thought, I decided to fall back on what I know and what I do best (or so I think) : my skills as a designer and communicator of ideas.
I came up with three anti-Bush graphic design ideas in a bold and abstract form. We have applied these three designs to a series of apparel, giftware and house ware items that you can purchase on-line. I spare you all the details since our web site explains everything you need to know including our mission statement, wishes and promise: //www.NOW2004.US

I have to add our merchandise is fulfilled though Cafepress.com service. Although, it is convenient and economical for us to not invest in inventory, taking orders on-line, shipping, customer service, returns, etc. (all handled through them - not us), we pay a steep base price for that service for every single item sold.
Therefore, our mark-up is usually with $2 to $5 for each item you see in the stores. This money will help us with site maintenance and hosting costs and we will share a portion of proceeds with other like-minded Anti-Bush organization like MoveOn.Org and Americans Coming Together (ACT) in an effort to insure a Democratic victory in November.

Moreover, our web site has a great Blog (Web Log) feature that will showcase timely, alternative news pieces about the ongoing political discourse from a Liberal and Democratic point of view. I hope this will be something that is worth your visit in the future on a regular basis . Please feel free to bookmark it and add your comment about any pieces you read there as you deem fit. The more participation, the better: www.now2004.us/blog/

And ....The final word ( ...Hurray!!! :-) :

- If you decide to purchase anything, you have my gratitude and respect for helping our common cause. You are the best!

- If you decide to help us by simply forwarding this message and its accompanying web site links to others within your circle of family and friends, I appreciate your consideration and effort in spreading out the word.

- If you decide to do nothing at all, I understand your disagreement and appreciate your civility. No matter what side of the isle we stand on, our destiny is the same. I just believe in different qualities in the leadership that will influence shaping that destiny. That's all.

I appreciate your time for reading all of this post and spending some time to preview our web sites at the the links above.
I am forever grateful for knowing and having access to people like you.

Best Regards,

-- Amin Atlaschi
Los Angeles, CA
* Foreign policy attitudes
My name is Brian Bezner and I am a senior at the University of California, Irvine and I am currently collecting research for my thesis. The title of my thesis is, "Foreign Policy Attitudes of Iranian Americans Living within the United States." In order to collect the most comprehensive data it will be important for me to conduct a survey of the Iranian-American community. This survey will ask questions, such as age, gender, religion, income level, education level and most importantly, how long you have lived within the United States.
I will be working with Mahmoud Ghaffari, an Iranian-American that I have become good friends with and who inspired me to write this thesis based on several conversations we have had regarding his experiences. He has lived in the United States since 1982 and has held several management positions in various consulting firms and is currently working for Boeing as a project manager for aircraft broadband connectivity. He also holds an adjunct faculty position at several local Universities in the Telecommunication and computer science departments.
There have been several changes since 1979 and the fall of the Shah in Iran and there have been several different stances that the United States has taken with regards to Iran. I feel that it is important for all of us to gain a mutual understanding of the feelings of the Iranian-American community based on the different demographics I have outlined above. If your organization would be willing to help in our research and have a survey distributed and competed by your members please contact me. I appreciate your time and look forward to your response.
Sincerely,
6411 Seabryn Drive
Rancho Palos Verdes, CA 90275
(310) 541-9206 home
(310) 849-7733 cell
BrianBezner@aol.com
August 20...............................To top
* Solo in Africa
A good old friend emailed the note below on October 14, 2003. I saved it hoping to respond one day. Then as I was preparing this section last week, I lost the photograph he had attached to his email. I forgot to save it... I felt a great sense of loss. The picture showed him and his friend -- both shirtless and in shorts -- sitting in the back of a fishing boat basking in the sun off the coast of Dakar, Senegal. -- J. Javid
Javid Jan, long time no news. Where are you? Chetory? ...
I am in Dakar (lovely place for west African standards) and am fine. But, in the wild west Africa, (my) business as usual: Liberian crisis goes up and down. After 10-15 years of civil war, ups-downs have become the country's favorite motion, I'd say!
A failed coup was announced last week in Burkina Faso and Guinea Bissau's military junta has appointed a pro-holy See businessman as the interim chief. Halleluiah!
In the meantime and on a more positive account, I have improved the way I prepare truffle pasta and am developing a sort of acquaintanceship with deep-sea fishing in the Atlantic.
A for love affairs my boutique has been closed for a while. I am afraid it's turning into my good memories at this point! I met someone in Tehran while ago but I see no prospect because of typical Iranian family oriented hypocrisy. So solo in Africa, don't know for how long more but really wish not too long.
Give me news pls.
Ghorbanat,
* IRI in Vancouver

Recently, I visited a friend in Vancouver. Since my previous visit two decades ago, the city has changed to a big metropolis with many hi-rise buildings, beautiful recreational areas, and fantastic views of the Pacific Ocean. Huge capital investments by the Hong Kong merchants during the 90's, and more capital investments by the Iranians gangs affiliated with the IRI, in recent years, are the major force behind the development of this city.

The number of Iranians living in Vancouver has increased dramatically in recent years. Apparently, a large percentage of the members of the Government of Islamic Republic of Iran, their relatives, and those affiliated with them, have chosen Canada as their second home country. Thus, they have invested heavily in real state, banking, and other lucrative businesses, mainly in Vancouver and Toronto; after they received their Canadian Green Card.

While giving me a tour of the Vancouver, my friend pointed to some hi-rise buildings, and told me that the local Iranians jokingly call these buildings by the name of their owners: Rafsanjani Bldg., Sadegh Tabatabai Bldg., Mousavi Bldg., Khamenei Bldg., etc.

These IRI gang try to keep a low profile. They do not mix with the Iranian locals, and keep their socials to a close circle. But once in a while the daughter of Rafsanjani or other members of the gang have been spotted in the shopping centers or recreation areas.

According to my friend, these people have made a hell in Iran for the Iranians, while they have chosen heavenly locations of the world such as Vancouver for their residence, by investing the stolen wealth from Iran.

I think the Iranian nationals are carefully watching the Canadian Government, and its response to the murder of Zahra Kazemi by the agents of IRI, to see whether Canada puts her financial gains above her morals, in supporting the Human Rights and dignity!
-- Arash Nikbin
* Khomeini: poet of repute
Respected Sir,
As Salaam Alaikum,
I have learnt that u have published extensively on Islam, Iran and Khomeini.
I desperately need u'r help.

I am a research scholar of Allahabad University, India. I have been given the topic of "Imam Khomeini as a poet of repute" as research subject and there is dearth of reference material on the subject. I have written many times to the Iran Culture House in India in this connection but they have not responded.

It would be very kind of u if u may kindly send/email me all the relevant information and name of books relevant to my subject (in English or Persian) and from where to get them.
Ur guidance in any other manner is also welcome.
My email address is zeenatsyeda@yahoo.com
I shall be highly obliged to you.

With warm regards,
Zeenat Syeda
c/o S.A.Husain
709/541,Attarsuiya
Allahabad 211003 (U.P)
India.
Ph :91(532) 2651263,2651198
* The Philosopher
My name is Hamid Karimianpour (for more details please view here)

About 3 months ago I launched a philosophy website called The Philosopher. During these 3 months the site has received a total of 1687 hits. Many philosophers across the world have already published their work on this site.

Please consider publishing the following excerpt on The Philosopherwebsite. Please feel free to ad to or edit the excerpt:

The Philosopherwebsite promotes thoughts on philosophy and ethics. Thinkers and philosophers like David Newman from Western Michigan University and Professor Jens Saugstad from University of Oslo in Norway have published their work on The Philosopher.
There is a manifold of websites and print publications on various philosophical topics around the world. However, many thinkers experience obstacles in reaching out to the world with their views and ideas, either because they cannot get their work published unless they have earned a name or because the publications do not reach a significant number of readers. Far too many good ideas and thoughts are wasted in this way.
The Philosopher website provides philosophers, students of philosophy, and whoever else with an interest in the topic to write and publish letters and essays. It also provides a library on vaious philosophical topics.
To view the site, click here.
The Letter section of this website is dedicated to give thinkers of all kinds the opportunity to publish their ideas. Simply email us your thoughts in letter format and we will publish it in the Letter section. Alternatively click on Guest Book and write your views and ideas.
Any comments will be appreciated.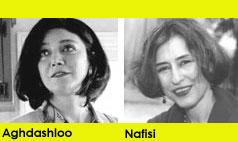 * Shohreh Azar
Entertainment Weekly, 6 August 2004: Has your book club read that best-seller Reading Lolita in Tehran yet? The movie's on the way, and House of Sand and Fog show stealer Shohreh Aghdashloo is perfectly cast as the Iranian prof who teaches forbidden Western classics to seven female students. "When I was reading it," says Aghdashloo, who was born and raised in Tehran, "it took me on a journey that I deliberately chose not to takeback in 1979, when I left Iran." Aghdashloo, who likes Jane Austen ("I think she is the best writer of all"), also has a regular gig on 24 next season....
-- Sent by
Payman Arabshahi
Dear friend, Hamvatane aziz,
Persian Chorus in Berkeley is recruiting a number of new members for our 2004- 2005 season (starting September 2004) with positions available in the following sections/voices:
- Soprano (2 seats)
- Alto (1 seat)
- Tenor (3 seats)
Interested individuals must have previous or current music experience/background, be familiar with musical score reading, and demonstrate a solid understanding of rhythm. Last but not least, having a sensitive ear for musical pitches is a big plus. For information on audition requirements, please refer here.
Persian Chorus started with a few members in October 2003. The ensemble had its first performance as part of the UC Berkeley Nowrooz show and received outstanding feedback from the community. Persian Chorus provides a great opportunity to learn score reading, improve breathing and vocal techniques, and sing the songs you always wished you could sing. The ensemble meets twice a week with the following schedule:
- Wednesday: Sectional for women (7:00pm to 8:30pm)
- Wednesday: Sectional for men (8:30pm to 10:00pm)
- Sunday: Group rehearsal (7:00pm to 10:00pm)
All rehearsals and sectionals are held at the Persian Center in Berkeley (2029 Durant Ave.)
Our season starts on Sunday, September 5, 2004. Attending all the rehearsals and sectionals is a mandatory requirement for all members. Interested individuals should contact persian_chorus@yahoo.com
Happy tunes,
* Bi-monthly gay/lesbian gathering
Dear Friends,
HOMAN LA is pleased to announce the first of what we hope to be regular bi-monthly social gatherings, starting on Tuesday, 14 September, 2004, at 7:30 p.m.
Please hold this date and let us know if you plan to attend this dinner with HOMAN board members and other friends on that evening.
We will meet at a local restaurant in Los Angeles. Please rsvp to this email address at homanla@yahoo.com so we can send you a reminder closer to the dinner, and so we know how many people to expect.
We hope that you can make it!
HOMAN-LA Board
Previous shorts
Archives