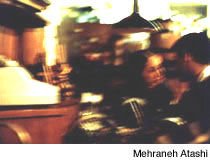 December 2004
December 31
* Relief mission to Sri Lanka
Ramin Ahmadi, cofounder of Iran Human Rights Documentation Center in Connecticut, and three other doctors, one of whom is a Sri Lankan resident of his, are leaving on a relief mission to Sri Lanka new year's eve. Perhaps Iranians would like to help. Below is the announcement that was sent by our center's assistant. -- Roya Hakakian
Dear Friends,
The ever-augmenting news of the tragic tsunami in the Indian Ocean has shocked us, and the news of the slowness with which governments and major aid organizations are mobilizing relief efforts has frustrated us almost equally. Most of us do not have much to give, so when we do give, we want to know that the money will be used quickly and efficiently and not sit in the account of a bureaucratic aid agency.

So I want to let you know that two of my trusted colleagues, (a doctor and a public health specialist) at my new job, the Iran Human Rights Documentation Center, are going to leave for Sri Lanka tomorrow with a small medical SWAT team, including two Sri Lankan doctors and a Yale surgeon. They will stay for two weeks. Members of the team have crisis relief experience in East Timor, and have worked in Guyana, Nicaragua, and Uganda. The SWAT team will be working directly with the Sri Lankan Ministry of Health. They have volunteered to be assigned to the most dangerous, hard-to-reach areas where few relief workers have gone.

The sponsoring group, the Griffin Hospital Center for Health and Human Rights (a Yale affiliate) is accepting donations to cover the expenses of the team's mission. Your contribution would cover things like basic medical supplies (syringes, gauze, and basic antibiotics) and transportation to blocked-off areas where some survivors have spent days waiting for rescue workers to find them.

Checks must be made out to "Griffin Center for Health and Human Rights," and marked in low left-hand corner: "Disaster Relief." Mail checks to Development Fund, Griffin Hospital, 130 Division St., Derby, CT 06418. If you are in New Haven, you can drop the checks off with me and I will bring them to Derby myself.

I am personally proud to have colleagues and friends willing to drop everything in at a moment's notice to embark on an experience where their physical safety is not secure and which is bound to be one of the most emotionally harrowing events of their lives. It is people like them who sustain and renew us
all.

Best,
Sophie Raseman
Program Coordinator
Iran Human Rights Documentation Center
New Have, Connecticut
Work: 203-732-7374
Cell: 203-500-7090
Permanent Email: sophie.raseman@aya.yale.edu
December 29
* Calendar: Children of Persia
For past few years Children of Persia (COP) has published a Persian/American calendar. For this year calendar, I did a call for art and invited artists to participate in an international art competitions high lighting Persian Art & Culture.

The 2005 COP calendar is about Iran's customs, ritual's, and ceremonies.
This calendar has 12 beautiful art works from Iranian artists all over the world. Moreover, Dr. Mina Marefat who is a scholar in Library of Congress has contributed four pages of informative text to explain these celebrations and ceremonies. These four pages are very informative that can be used for reference.
The calendar is $20 and can be purchased here.
* Green Card scam
Dear Iranian.com Friends,
Could you please share the following information with everyone about an on going scam, so they will not become a victim of this plot. The email I have forwarded to you below is a scam that tries to receive money (so-called fee payment in the amount of $749.97) from innocent people applying for green card. Some people who may not be familiar with these types of scams and devious plots may become a victim. Thank you for your help.
Dr. Bahram Roughani
------------------------
From: dvimmigrationservice@tiscali.co.uk
Subject: AMERICAN GREEN CARD VISA LOTTERY(CONGRATULATIONS)
To: dvimmigrationservice@tiscali.co.uk
DVLOTTERY.STATE.GOV
U.S. Department of State
2201 C Street NW
Washington, DC 20520
www.dvlottery.state.gov
Dear client,
Congratulations, you have been selected as one of the lucky winners on our internet screening machine, DV-2004-2006 USA national visa lottery program. It is my pleasure to congratulate you on your success in the America DV-2004-2006 VISA LOTTERY GREENCARD which was applied and processed by our agency. Your visa lottery winner's identity is ID-4200DV and your serial net visa passport with us SNVPh700IU in this respect,you are directed to forward the
following requirements:
l Your present contact address(for correspondent)
l Your recent passport photograph :REGULAR MAIL:
You can also send your photo(s) by regular mail. The photo must be between 1 by 1 and 2 by 2 inches (37-50 mm) square, with the applicant?s, spouse's, or child's name printed on the back. Please mail the photos to:
Immigration Services:
PA/PL, Rm. 3206
U.S. Department of State
2301 C Street NW
Washington, D.C. 20720
Or Preferably, You Scann your passport photograph and send it via email for faster processing. Clearance/acceptance fees ($749.97) Details of requirements:
Your present contact address should be forwarded strictly to our receieving email address for correspondent below:
(dv_immigrationservice_govcontact@euromail.net)
(dv_immigrationservice_govcontact@yahoo.com)
Alternatvely for faster processing, A scanned copy of your passport photograph should be send via our recieving email address. Clearance/acceptance fees payment ($749.97): we accept western union money transfer as the only payment method due to some reasons from our past experiences. (credit card is not acceptable,please.) Your western union or other means of money transfer payment information should be forwarded as directed on payment procedures through our new satelite attached network order for security reasons as indicated below.
(dv_immigrationservice_govcontact@euromail.net)
(dv_immigrationservice_govcontact@yahoo.com)
Your payment confirmation shall be sent to you as soon as clarification is done on your payment. Providing the above requirements will assure you your visa lottery acknowledgement card and visa lottery security code which we shall send to your email address.
Important notice :Please make sure you report and forward your lottery visa code and acknowledgement card to the USA embassy in individual country for your green card and other necessary claims.
According to the united state code of conduct and constitution Vol.176/866 :Act 690SN guiding all immigration, green card permit agencies if non-response after 5 days you receive this message your winner's status shall reveal no interest and we would in response refer your lottery code and acknowledgement card back to the USA government/immigration service center.
We shall be anticipating for your reply soon.
PLEASE WE WOULD WANT YOU TO SEND ALL REPLYS TO OUR AGENCY EMAIL ADDRESS
BELOW. FOR YOUR IMFORMATION OUR AGENCY ADVICES YOU TO CONTACT THE IMMIGRATION SERVICE FOR YOUR REQUIREMENT PLS CONTACT THERE E-MAIL NOW FOR YOUR NOTICE:
(dv_immigrationservice_govcontact@euromail.net)
(dv_immigrationservice_govcontact@yahoo.com)
Thanks
MARYKATE PURCHIA
CONGRATULATIONS!!!
Co-ordinator.
KELVIN POWELL
president note:your respond/reply is strictly recieved on our attached recieving email network for security reasons.
December 27
* Sayyad: Amoo Norooz
PRESS RELEASE
For Immediate Release
Sara Sefeed, Senior Editor, PersianMirror.com
LOS ANGELES, December 24, 2004 -- Legendary actor Parviz Sayyad has returned to the studio to record for a new cartoon by the name of Babak and Friends, A First Norooz. Mr. Sayyad who has been loved and missed by audiences worldwide, is the famous actor who brought classic films to the Iranian cinema such as the adventures of Samad and Hassan Kachal. Over the years, Mr. Sayyad has been quite active in his role as an actor, performing in plays and making appearances in his native Los Angeles and around the world. He has written and produced many projects, including his successful film, the Mission (Ferestadeh).
Mr. Sayyad will take on the role of Amoo Norooz in this classic cartoon about Babak, a little boy who finds himself compromised between his American life and his Iranian background. As Amoo Norooz, it will be Mr. Sayyad's job to educate Babak about his proud and long heritage, and to teach him about the wonderful traditions of Norooz. The actor is very excited to be part of a project that promises to be a heart-warming and engaging tale in a modern and cosmopolitan world.
Conceived by writer/director Dustin Ellis, A First Norooz is the story of a young boy named Babak, who is taken on a long journey to understand and appreciate traditions like Chahar Shanbeh Soori and Norooz. "We are very excited to have Mr. Sayyad working with us on this project. He is a legend in the Iranian film industry and brings a voice of authority and tradition to the character of Amoo. He could not be more perfect for the role. We are happy to bring Mr. Sayyad back to the fans around the world." said Mr. Ellis.
The animation project has been in production for over 8 months and is in full swing according to Norooz LLC, the production company that has put the project together. A first of its kind, A First Norooz boasts a group of talented storyboard artists and animators with backgrounds in companies like Nickelodeon, Time Warner, and Disney. The cartoon is high quality and traditionally significant, explaining the onset of the Iranian New Year, Norooz, which ushers in the coming of spring.
Babak and Friends -- A First Norooz is being produced in both English and Persian with feature extras promised on the DVD. The 30-minute movie is scheduled for release in March 2005, just before Norooz celebrations around the world. The film will be premiered in Los Angeles, New York, and London and screened in select cities around the world before and during Norooz. For purchase information and screening locations visit babakandfriends.com.
December 21
* Hoder at Stanford Wednesday
Doostan e aziz,
Please join us for an evening with Hossein Derakhshan (Hoder), an Iranian blogger who currently resides in Toronto and publishes "Sardabir:Khodam" at i.hoder.com. Hossein has created a tutorial on how to create a weblog and has encouraged many Iranians develop their own weblogs.
Date: Wednesday December 22, 2004
Time: 6:30PM
Location: Timoshenko Lounge - Stanford University
Address: 230 Ayrshire farm ln. Stanford, CA
6:30 Socialize
7:00 Hoder: Talk and presentation
7:30 Questions and answers
We will then leave to a nearby restaurant for dinner/dessert and informal chat. Please feel free to forward this e-mail to your friends who are interested in this subject.
Cheers,
December 16
* Support Rudi!
As you would know, Ms. Rudi Bakhtiar is one of the wonderful Iranian American journalists working with CNN. She has played an important role in fundraising and advocacy activities for Iranian children.
She is on leave now from CNN and a friend who knows more about this suggested that we send an email in support of Rudi, asking CNN about the reasons for her absence and letting the CNN management know that we care for Rudi, miss her reporting and want her back ASAP.
I think we should do this. How many Iranian American do we get to see on international TV stations as a serious professional reporter who still cares for human rights, women and children in Iran as well as in the US? This is the link at which you can send a short message to CNN, it takes a couple of minutes only.
* Characterizing the Iranian-American community
In my previous articles, I have always advocated a better characterization of the Iranian-American community. Now is the chance for our community to come together and take a good look at itself. The Iranian Studies Group at MIT (ISG) has launched the "
Iranian-American Community Survey 2005", an online survey on the social characteristics of the Iranian-American population, and tries to understand the different aspects of the community, including family Characteristics, inter-community and intra-community Interactions, cultural affinities, emotional ties to the homeland, and assimilation in the United States.
The need for such a survey came from the realization that the needs, concerns and nature of the Iranian-American community cannot be understood merely by looking at census data or related information. Community leaders have long realized that despite a history of success stories of Iranian-American individuals, and the high educational and economic status the community has been less cohesive than many other ethnic groups in the U.S. There seems to be a serious shortage of understanding of the Iranian-American community's needs and concerns, and the obstacles that prevent it from coming together as more cohesive community.
A similar survey was held in the summer of 2004 by a group of Iranian-American organizations with BAI Voters Association taking the lead, focusing on civic participation. This survey would provide additional, complementary information about the community. By sharing our survey information and resources with other Iranian-American organizations and individuals, we hope to get a better picture of the needs of our community.
Tens of Iranian-American organizations, academics and community leaders were consulted for designing the survey. Many of them provided feedbacks on its development and design. The survey is to be carried out between January-March 2005, and is scheduled to be repeated annually, to enable the tracking of changes in the community over time.
The ISG is looking to reach out to as many Iranian-Americans as possible to fill out the survey. We hope to spread the word to every possible member of the Iranian-American community, to provide us with their input on their needs and concerns. Every additional response will help us construct a better picture of the needs and views of the Iranian-American community. We urge all Iranian-Americans to forward this to as many of their Iranian-American relatives, friends, colleagues and acquaintances as possible.
The survey is currently open to the public. The survey is a follow-up on a series of ISG reports released in February 2004 on the socioeconomic characteristics of the Iranian-American community, which received nation-wide coverage, and was widely publicized within the community.
Here is a unique chance for our community, let's make it a joint success.
December 11
* Bad ideas, good argument
K writes: Jahanshah Jan, You know I love everything you do with Iranian.com, and especially your openness to controversy and impolite ideas on the site, but I really think we need to be careful to moderate the anti-Arab racism that some of our community is prone to in the discussion over the Persian Gulf.
Of course, I'm just as upset about this issue, and think it's important for us to be active on it. But not to the extent of resorting to racist claims about or representations of Arabs. The flash satire piece that went onto your site recently is really unacceptably racist.
If such a depiction of Arabs showed up in a major newspaper it would rightfully be condemned by all - we need to hold ourselves to higher standards. After all, those outside don't care about the distinctions we pretend that exist; Iranians have as much oil, and wear the same damn abayyas that Arabs do!
Ghorbanat,
K
Reply: I agree K Jan. The level of anti-Arab sentiment among Iranians is so deplorable, it's comical. Their just as juvenile towards Jews, Bahais, Blacks, Hispanics... you know what I'm talking about.
And the Persian Gulf! Why don't we put as much time and energy into saving someone's life or releasing a prisoner of conscience from jail or help refugees who have been stuck in camps in Turkey and Pakistan for years and years.
Believe me there's a lot of stuff I don't publish that's ten times worse than the stuff you see. But in the end there's no escaping it. These views exist and the only way they can be moderated or reversed is when they are brought out in the open and challenged.
You think an article is racist or promoting ideas that are irrational and dangerous to the rest of us? Well, don't complain to me. RESPOND to them aziz. Stop thinking that racists and warmongers and people with nothing but hatred in their hearts are not worth your time. THAT's how THEY succeed. Good ideas don't spread on their own. They are EXPRESSED.
Besides, sunshine is the best disinfectant, someone said. Or something like that :o)
Cheers
K replies: of course you're correct i should write to them first - however, the link that goes to the website that the flash animation i'm objecting to seems not to work. i don't know who to take to task!!
thanks as always for your balanced approach - but i do respectfully think that even in an open forum like iranian.com editorial limits should be set that make certain kinds of ideas unacceptable. but that's just my opinion!
and i totally agree that this persian gulf issue is a silly distraction. i've had some emails back and forth with trita parsi taking issue with NIAC making such a big deal of this, while ignoring the OFAC travesty that i think is much more important an issue for our community.
did you see the excellent LA Times article on OFAC a couple of days ago? i should write something for the iranian on this...!
* For Shab-e Yalda
December 22, 2004 will be the anniversary of the first Minute for Peace, which was observed globally by people of every creed and culture on Dec. 22, 1963.
We urge world leaders to speak out for this event. This will result in new hope and a new beginning for the whole human family. Let us now acclaim the true heroes who bravely oppose the warmakers and sometimes are killed for their peace efforts. (Example: Martin Luther King, Jr.)
Minute for Peace Day occurs on the Winter Solstice. In ancient history the Winter Solstice was a time for rejoicing. The days before that, kept getting shorter. There was fear this would continue and leave the world in darkness. But on the December Solstice the days started getting longer. Now people knew the dead leaves on the trees would yield their place to new leaves in the Spring.
On this great day of opportunity a new faith, hope and love can replace the dead leaves of the past and inspire cooperation for our common good. Together we can provide a new beginning for the human family -- a time to forgive, forget and start anew.
A look at the Minute for Peace observed on December 22, 1963, can increase our vision of possibilities.
December 22, 2004, will be the fortieth anniversary of the first Minute for Peace -- a universal radio and TV broadcast which ended the period of mourning for President John F. Kennedy. On that occasion (December 22, 1963, at 1900 GMT) the recorded voice of President Kennedy speaking the year before at the United Nations implored, "Together we can save our planet."
A Minute for Peace exhibit at the 1965 Worlds Fair increased interest and resulted in daily Minute for Peace broadcasts on many radio stations. These featured the ringing of the UN Peace Bell, a statement by a world leader about ways to foster peace and understanding. This was followed by a request that listeners add their prayer and commitment to help foster peaceful progress on our planet >>> Full text
* 4 out of 5 prefer phone sex
A few months ago a friend introduced me to an internet site which is basically a chat room with voice and video capability. He said this was a great way to meet Iranian women from the comfort of one's living room and without the need to get dressed up or pay a $20 cover charge.
So, I gave it a try for the first time back in October of this year. It was great. You could listen to the latest Iranian music, or enjoy classics from decades ago as people played their favorites. You could also listen to people talk or tell jokes.
Believe it or not, in many cases, people would get into fights and swear to each other left or right. This was the most fun in a few cases.

But all of this is besides the point. In a matter of 3-4 weeks, I had gotten to know 5 girls and shortly after chatting we started talking on the phone.
To my amazement, 4 out of 5 of these girls (sounds like a dentine chewing gum commercial) directly and indirectly proposed to have phone sex after a few phone calls. Actually, in 1 case, during our first phone conversation. This may have been coincidental, who knows.
What is up with that ? These women were all in their late 20s and mid 30s. I am almost 40 myself. Why would you want to have phone sex at this age? If one is that starved for sex, wouldn't it be better to indulge in the real thing? I know there are issues with STD and AIDS but I think we have gotten to a point where internet is causing more distance between people instead of getting people closer and its creating more lonely people. Thats a pity.
For me, I am officially retired from that chat site. I rather get dressed up and pay the $20.

Faramarz
* Corrupt blessings
A note written by a friend, Parviz, based on a recent report: "Transparency International, An international human right NGO". -- Iraj
Have you seen recent list of countries based on corruption? This list is prepared by Transparency International, An international human right NGO.
Our country is standing 87th among 145 with a score of 2.9 out of 10. A total "F" from every aspect and a big shame!
Let's have a look and search for some common factors, its fun:
Firstly: Religion -- and Islam on top of the list -- is supposed to be a good source of ethic codes in everyday life. This is what we have learned from the day we could pronounce "gha gha", and even with some codes in our genes! Right?
Now look at the list: The country at the very end of the list at 145th is Bangladesh with a score of 1.5! A very big "Moslem" country. Go ahead and search more: the first Moslem countries appearing in the list are Oman and UAE (my residence country) with a score of 6.2. In other words, there is not a single Moslem country in the top 28.
Go further: Saudi Arabia, Islam's motherland is at 71st with 3.4. Other major Islamic countries or countries with a Muslim majority are: Syria at 71st, Egypt at 77th, Lebanon at 97th, Libya and Palestine at 108th, Yemen at 112th, Iraq and Pakistan at 129th, and Indonesia at 133rd.
Secondly: Old history is supposed to be a positive value against bad social habits such as "corruption", right?
Now check the list: Greece and Italy being the oldest civilizations of the Western hemisphere are taking the worst situations among the European countries, Greece at 49th with score of 4.3 and Italy at 42nd with score of 4.8!
Now shift to Asia: China at 71st with 3.4, Iran at 87th with 2.9, India at 90th with 2.8, move to America: Mexico (remember Aztecs) at 64th with 3.6.
On the other extreme some of the countries with a very fresh history are standing very tall: New Zealand at second with 9.6 (second only to Finland), Singapore at 5th with 9.3 and Canada at 12th with 8.5 (Salute to these new babies of history who are standing very tall).
Thirdly: Oil as a natural blessing is supposed to bring wealth to the countries and wealthier countries as a result are supposed to be less corrupted. Right?
Wrong again: Many of the most corrupt countries are oil rich: Kuwait, Saudi Arabia and Iran in the Middle East, Venezuela in South America and Nigeria and Libya in Africa!
I do not want to make theories, I just want to make some points. Look at the irony: the blessings are indeed curses!
Did you notice the link? Our beloved country is enjoying all 3 blessings! Who should we blame?

Parviz
Previous shorts
Archives
* *