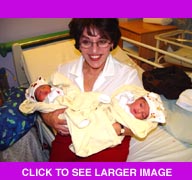 Welcome Siavash & Kourosh
Our beautiful twins are finally here
By Siamack Salari
October 6, 2003
The Iranian
I have about five minutes before their next feed is due so here goes:
On Monday the 29th of September, at 1:34pm and 1:36pm our twins, both boys, were delivered screaming and kicking into the world at Queen Charlottes Hospital in London.
I know they were screaming and kicking because I watched them being delivered by caesarean section as Varinder, conscious and smiling, strained to look at them over the screen which had been raised between us at one end and the surgeons at the other.
Two midwives whisked them away to clean them up before swaddling them in blankets. One of the midwives then raised twin number one and exclaimed, "He looks just like his dad!"
They were both brought to us and held over Varinder so she could see them. While being stitched, both twins were handed to mum and we both spent the next thirty minutes weeping quietly, overwhelmed, exhausted and elated that we had two healthy and beautiful baby boys.
Since then...
Both grandmothers have cried on seeing them for the first time.
My sister has covered both of their tiny, hairy foreheads with lipstick glitter as she kissed them, "Maach... mooch... mooch... maach... aakhey... nana maadar... "
Both have peed on their own heads during nappy changes (I know what to do now).
I whacked one in the face accidentally when trying to slip a pair of mittens onto its clenched fists (I know what to do now).
Both have made determined attempts to suckle me as I have walked them around the house without me knowing. I only discovered what had happened when I saw the wet patches on my T-shirt.
The most amazing observation, however, is that despite being in separate Moses baskets and out of each others line of sight, they roll over, yawn and turn their heads absolutely synchronously.
Finally, we decided on their names not without the kind help a few Iranian.com readers. Twin one is called Siavash and twin Two is called Kourosh. As I type I have had to do an 'add to dictionary' with each name.
Welcome my beautiful little boys. Your grandfather, Dr Nasser Salari, is smiling on you and watching you both from heaven.
* Send this page to your friends