Literature

Prophet of light
Remembering Ahmad Shamlou

By Esmail Nooriala
July 24, 2000
The Iranian

The coming to end of Shamlou's bodily life can only be considered an inescapable natural occurrence with no direct impact on the literary history of modern Persian poetry. But it was the inevitable force of his words and deeds that has crept into and completely conquered modern Persian literature and culture, rendering modern Iranian writers and thinkers a challenging standard of excellence in humanist thought and literary achievement that will live long after he has left his dusty shell >>> GO TO FEATURE

Cover story

No fly zone
Molavi bird market in Tehran

Photos by Ali Khaligh
July 24, 2000
The Iranian

Birds (and a variety of other animals) have been bought and sold in the long, narrow alleys of downtown Tehran's Molavi district for ages. Some come to buy chickens for dinner. Others are pigeon collectors. And some are looking for love birds or parots as pets >>> GO TO FEATURE
Outlook

Aida on Ahmad

BBC Persian Service

Ahmad Shamlou, the greatest contemporary Iranian poet, died this morning after battling illness. Shamlou was considered a leading literary figure who had a great impact on modern Iranian free verse. Sima Zand spoke to Aida, his wife, who was a great inspiration in his poetry >>> LISTEN HERE

Shamlou dargozasht

Bahar

News about Shamlou's death and his collected works. The funeral ceremony in Tehran will be held on Thursday >>> FULL TEXT IN PERSIAN

Statememts on Shamlou

Rah-e Kargar >>> FULL TEXT IN PERSIAN
Cherik-haaye Fadaai-ye Khalq >>> FULL TEXT IN PERSIAN

Opinion poll on daily Kayhan

Tehran, July 23, IRNA -- The Islamic Republic News Agency (IRNA) will conduct an opinion poll on the Persian daily Kayhan through Internet.

The Public Relations Department of IRNA announced here Sunday that the poll will scrutinize different aspects of Kayhan's performance over the past few years >>> GO TO POLL

All the Iranian News, All the Time

By JORDAN RAPHAEL
The New York Times
July 24 , 2000

Twenty years after fleeing his native Iran for the United States, Sassan Kamali is a full-time television newsman once more.

"I feel like a born-again journalist," Mr. Kamali said.

A TV personality in Iran before the 1979 Islamic Revolution, Mr. Kamali now produces and anchors a daily newsmagazine on National Iranian Television, or NITV, a 24-hour satellite television station that began full-scale broadcasts last month out of a North Hollywood, Calif., warehouse >>> FULL TEXT
Zebel khan gets suspended sentence

FAIRFAX, Va. (AP) - Jonathan Taylor Spielberg, who enrolled in a Catholic high school pretending to be a nephew of the famous filmmaker, has been sentenced to two years' probation for forgery.... Spielberg was born Anoushirvan D. Fakhran in Iran, but changed his name 2 1/2 years ago >>> FULL TEXT

---
Nostalgia

..

..
---

* Immortal Shamlou

Kiumarss Nasseri writes: The news is that Shamlou is dead, like any other human who has or will ever be on the face of this earth. The truth is that Shamlou was just born into immortality and joined the ranks of Hafez, Rumi, and Saadi ["Shamlu"].

* Not new

Guive Mirfendereski writes: The piece on the IRI's attempts to lure expatriates back to the motherland for whatever service or investment is not new to the Iranian society ["Come back (and be quiet)"].

Only back in the early 1970's the Pahlavi kingship sought also to prevent the flight of brains or brain drain (faraar-e maghzhaa) and it courted the notable Iranians living abroad. One such person who was rumoured to have been coaxed to return to the motherland was Professor Reza, who upon return lingered about for the longest of time until the regime was sufficiently embarased to post him abroad as the Iranian representative to UNESCO>>> FULL TEXT

* Herbalist Hashishin

Kaveh Tashakori writes: I read the article: "Separating the killers from the heroes" (by Guy Dinmore, Financial Times, July 15, 2000). Just a short note: The common and popular understanding as presented by Mr. Guy Dinmore in his article, is that the Ismailis with the leadership of Hassan Sabbah were known as "Hashashin" due to their useage of Hashish.

From what I have read it seems that this religious community were trying to live their life away from the atrocities as imposed by the Arab Caliphs in Iran, hence their living in a mountaintop community, in seclusion.

The word Hashashin at the time meant: the "Herbalists". Herbal medicine has ancient roots in Iran and it is known that in this community the cultivation of different herbs for medicinal purposes was practiced (including Hashish, amongst all the other herbs). Herbal medicine is used to this day in Iran alongside modern medicine.

---
Satire

..

..

---
Discussion: Iran-Forum discussion list

A new e-mail discussion list has been set-up specifically on Iran and Iranians. Iran Forum is an independent discussion list for exchange of ideas and debate on issues relating to Iran and its future in a non-violent, intellectual, productive and courteous environment To join Iran Forum or to read more about it , Please visit: www.freespeech.org/iran/

---

Books

THE IRANIAN
Bookstore
Music store

---
Translation of today's poem by Zara Houshmand:

Absolute joy has no room for sadness,

Nor has the heart that rests beyond the sky.

She whose mind dwells in the hanging stars

Will not sow seeds of sadness on this earth.
-- Rumi
Previous translations

---
---

Copyright © Abadan Publishing Co. All Rights Reserved. May not be duplicated or distributed in any form
IRNA chief summoned to Tehran's press court
TEHRAN, July 23 (AFP) - The head of the Iran's state news agency IRNA appeared at Tehran's press court Sunday following numerous complaints lodged against him in his former capacity as director of the government-run newspaper Iran, IRNA reported. "I was summoned to answer to 24 old complaints and some 30 new complaints lodged against me as the former director of the Iran paper," Ferydoon Verdinejad said after the court hearing, as cited by IRNA >>> FULL TEXT
Lawyers freed on bail
TEHRAN, Iran (AP) - Officials released on bail Saturday two pro-reform lawyers jailed in connection with a videotape that alleged links between hard-line politicians and Islamic vigilante attacks, according to a relative. Mohsen Rahami, a university professor and cleric, and Shirin Ebadi, a pro-democracy and women's rights activist, were arrested late last month because of allegations against some officials made in the tape recording >>> FULL TEXT
Khamenei says any Camp David accord doomed to fail
TEHRAN, July 22 (AFP) - Iran's supreme leader, Ayatollah Ali Khamenei, lashed out Saturday at the US-brokered Camp David summit, saying any Palestinian compromise with Israel would fail because of resistance by radical Palestinian groups. "While the flag of struggle and resistance flies, the line of compromise is doomed to fail," Khamenei was quoted as saying by state television >>> FULL TEXT
Iran warns of AIDS "infiltration" into prisons
TEHRAN, July 22 (AFP) - The director of Iran's penitentary system warned Saturday of a spread of AIDS in the country's prisons and called on the government to take urgent measures to combat it. "AIDS has infiltrated our prisons and if nothing is done society will be seriously hurt," Morteza Bakhtiari said at a conference on AIDS, as quoted by the state news agency IRNA >>> FULL TEXT
Police find drug traffickers with Soviet surface-to-air missile
TEHRAN, July 22 (AFP) - Iranian police found a Soviet-built surface-to-air missile during a recent skirmish with drug traffickers, the newspaper Kayhan reported Saturday. The "sophisticated" missile, whose make was not specified, was designed to target helicopters, said General Nasser Shabani, police commander in Sistan-Baluchistan province on the Pakistani border >>> FULL TEXT

Iran to sign big oil, gas contrac
TEHRAN, Iran (AP) - In the biggest deal of its kind, Iran this week will sign a $4.3 billion contract to develop a massive gas field in the Persian Gulf, the official daily newspaper, Iran, reported Sunday. It quoted what it called informed sources as saying the contract to develop the South Pars gas field would be signed Thursday with Italy's ENI and Petro-Pars of Iran. The two companies will develop several phases of the project, Iran said without elaborating >>> FULL TEXT
UN team evaluates damages of unprecedented drought in Iran
TEHRAN, July 24 (AFP) - A United Nation's mission has begun evaluating the damage from a widespread drought in Iran that Tehran estimates has caused some 1.7 billion dollars worth of damage, the official IRNA news agency reported Monday. During their two-week visit, the UN team is expected to travel to numerous drought-stricken provinces in the country, IRNA said >>> FULL TEXT
Iran denies offering drinking water supply to Kuwait
TEHRAN, July (AFP) - Iran on Sunday denied Kuwaiti press reports that Tehran has offered to supply Kuwait with some 200 million gallons (760 million litres) of drinking water a day, the official IRNA news agency reported. "Following the drought and water shortage in the country, we have no plans for the exportation of water to other Persian Gulf countries, including Kuwait," Iran's Energy Minister Habibollah Bitaraf said, as cited by IRNA >>> FULL TEXT

How movies are watched
Tehran (Hamshahri) -- Interesting poll on where and how people watch movies. More than 84 percent said they watch movies on TV, 9 percent at theaters and the rest rent videos >>> FULL TEXT IN PERSIAN
Fourth short plays fest
Tehran (Bahar) -- A review of short plays performed at the fourth annual student theater festival at Tehran University >>> FULL TEXT IN PERSIAN

New music albums
Tehran (Bahar) -- Twenty music albums have been approved by the Culture Ministry for distribution, including three produced abroad (one by Yanni and two by Carlos Santana) >>> FULL TEXT IN PERSIAN

Karimi: High expectations
Tehran (Iran varzeshi) -- Ali Karimi will probably be the most important player in Persepolis next season. He has a tremendous ability to score doals. His manners on the field has also changed dramatically (after his one-year suspension for a hitting a referee in an international match) >>> FULL TEXT IN PERSIAN
Mousavi score in Germany
Tehran (Iran varzeshi) -- Ali Mousavi has scored a goal for his German club in a friendly match >>> FULL TEXT IN PERSIAN
Esteqlal in near air disaster
Tehran (Iran varzeshi) -- The plane carrying Esteqlal players back to Tehran from Belgrade almost crash landed at Mehrabad >>> FULL TEXT IN PERSIAN
---
BBC
Shamlou's wife
Ahmad Shamlou, the greatest contemporary Iranian poet, died this morning after battling illness. Shamlou was considered a leading literary figure who had a great impact on modern Iranian free verse. Sima Zand spoke to Aida, his wife >>> LISTEN HERE
NOTE: BBC link content changes every 24 hours
---
Exchange rate
Updated July 18
Buying: 815 to 820 tomans per dollar
Selling: 826 to 832 tomans per dollar
CALL TOLL FREE: 877-SEHHATY (877-734-4289)
or 800-995-0264
Mention this code for a better rate: FA 37 B
---
The Web
Iran
Formerly known as Iran National, Iran Khodro is the country's automobile manufacturer. And it has come a far way from making just Paykans. Pretty nice site.
Beyond Iran
The Web hasn't really been around for that long, but much has changed in its short history and, in Internet years, a lot has happened. That's why, when you come across a historical survey of "the Web as we remember it," it's perfectly fine to use lines like "re-live an era" or "read about the old times."
---
Quote Unquote
Strangest of times
They smell your mouth
To see if you have been saying: I love you.
They smell your heart
This is the strangest of times, my dear!
-- Ahmad Shamlou, translated by Esmail Nooriala
"Propeht of light"
The Iranian
July 24, 2000
---
Photo of the Day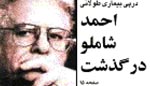 ---
Music
---
Art
Ahmad Nadalian
Untitled