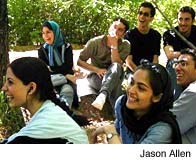 I'll be back
Not even my Persian friends believe me

By David Goodman
December 14, 2002
The Iranian

Though people in Canada thought I was crazy, I had always dreamed of traveling the Middle East with a small budget and a small backpack. While I had traveled to the seductive and attractive nations of Egypt and Jordan along with the modern Lebanon and UAE, these countries paled in comparison to the opportunities which Iran offered.

My friends and family are crazy. Despite the pictures and stories and countless examples of how easy it is to fall in love with the place, not even my Persian friends believe me when I say, I wish I could go back and spend years seeing all of Iran.

It took me two years to receive a visa to enter Iran. Procuring one in England is not easy and undeniably expensive. My first attempt did not work as there were complications with my application. So I had no choice but to divert my trip to the Lavant (though it was still a great experience). One year later and after spending almost $130 to receive the Visa (which only cost roughly ($20 in Turkey though not guaranteed) I left for Istanbul en-route to Iran.

Iran was never first on my list of places to travel as CNN and BBC did a wonderful job of brainwashing me into believing that Iran is a nation which is part of a greater axis of evil. (I wonder if Cowboy Bush could spell Axis of Evil?) But after reading and seeing pictures and hearing stories I decided it was impossible for me to spend two years residing in London and not venture to the Middle East.

I learned Farsi, admired the beautiful script, loosely planned a route which I promised not to adhere to and traveled across Turkey in a two-week voyage to the Iranian border while the Turkish officials were less than friendly, the Iranian ones were so welcoming and friendly. After four years of waiting, as I left the customs post I saw a long green valley stretch out and I was overwhelmed by happiness. I stretched out my arms as Iranian and Turkish observers shook their head in confusion (why would someone want to visit here this badly?).

The train ride from Azarbaijan to Tehran was long and wonderous Not meeting a dozen Persians a day is impossible. The scenery was beautiful and the ticket was cheaper than a London lunch time sandwich.

Tehran is a magnificent city as much as people tout it as a polluted cesspool (Lonely Planet and Persian friends). One has to spend time to get to know the place and see all sides (both upper end and lower end) and meet Tehranis from all sides of life. It becomes difficult to leave.

My favorite memory was getting over a stomach bug I picked up in Turkey (as the water in Iran is always delicious and clean) while a dozen Hanadani's dragged me to a doctor's office past scores of patients waiting to see him while they prepared me for treatment. Despite the verdict of several chemists and pharmacists, I was mis-diagnosed and was actually near death.

However, the doctor picked it up right away, treated me (for free) and my bags of pills anti biotics and needles cost me less than $5. Hamadan though had more to offer than simply medical treatment.


After meeting a group of University students I was whisked away into the country side to go (as they called it) camping for a day. Dancing, singing, dancing, eating, dancing, running abound like maniacs, and singing for nearly 15 hours. I would dare any North American to try to dance like a Persian.

I saw the sights such as Yazd, Isfahan, Shiraz. They were nice, though nothing could compare to the hospitality of Persian individuals and staying at people's homes and eating local food.

I regret I couldn't stay longer and see more, but one month was all I could afford. I will be there soon again, as I am currently looking for work in development and hope to study at Tehran University I sit here at the University of New Brunswick remembering the fun times, looking forward eagerly to when I can return.



Does this article have spelling or other mistakes? Tell me to fix it.