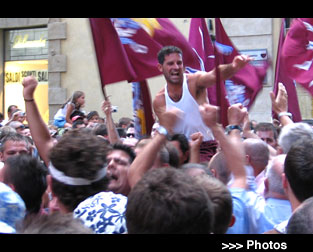 Celebration of life
Photo essay: Our adventure to Italy
Nooshin and Aram Basseri
October 12, 2005
iranian.com
I have been in Italy in different phases of my life and I have always found it enriching and intriguing. The land of Romulus is charming, chaotic, beautiful and full of emotions, where people are either Sicilian or Tuscan, they are first Roman or Lombardian before being Italian. This is a place when a horse from certain contrada (town district) wins a race, it will erupt more pure emotions and pride than any national game. Italy is opera, Chianti Valley, La Scalla, Palio, Botticelli, Michelangelo, Venice, Carnival, beautiful people, Vin santo …. Italy is the Celebration of life.
These are some of the pictures we took in our recent adventure to Italy. We hope you enjoy them as much as we enjoyed living and experiencing them.
Palio (1-29)
Palio defines common emotions, devotions and loyalty to each district or neighborhood (contrada), although its official motivation is to honor the Virgin Marry that goes back to 11 century. It takes place twice a year on 2nd of July and 16th of August. Ten of Siena's 17 districts participate in the race for Palio (Silk banner). Each district has its own traditions, colors, banner, museums and even its own Church.The actual horse race takes less than two minutes, but so much happens before and after this spectacular event, such as medieval pageantry and open-air banquet. Each contrada manage to have rows and rows of 50-foot-long tables in its largest square and thousands of Sienese eat in the streets before the race.
There is also so much strategy and politics behind the race including whether the contrada has to win the race or make the enemy lose. Bigger and well to do contrada might make donations to the less fortunate district to become their allies and sabotage their enemies.In the day of event there were about 50,000 people standing in the square (IL Campo) and more were seated in the temporary seating arrangement around the square in addition to the people who were watching the race from every single window in the Piazza.
Many of the thousands standing with us in the square wore scarves and hats with their contrada colors.People were singing their neighborhood anthem while supporters cheer, foes would whistle and boo. The square was sealed off about 4 hours before the race. The race run started at 7 PM after cannons were fired. Ten horses and their bareback riders circled the square while fans waved their banners, screamed and almost two minutes later Torre (Tower) with its purple banner brought joy and pride for its contrada.
Wine country (30- 50)
For many years Italian wines were getting bad rap for their lack of consistent superior quality especially compared to its neighbor France. But it has been great improvement since government has imposed some regulation and inspection in early eighties. Elevated wines are marked in purple on the bottle as DOCG (Denominazione d Origine Controllata e Garantita). Italian wines are named after the region such Chianti or Chianti Calssico and not the type of the grapes. Although Sangiovese is the backbone of Tuscan wine other grapes such as Syrah, Merlot and cabernet Sauvignon are often blended with varying proportion to produce higher quality wine such as Supertuscans.Our pictures are taken in different wineries and countrysides in Chianti valley such as San Gimignano, Castellino, Radda…
Opera (51-67)
The opera season runs from December through July in La Scala. Italians take their opera very seriously and La Scala has some of the most demanding audience. Luciano Pavarotii was booed there once because he had less than perfect performance.Even if you are not an opera fan, I highly recommend experiencing it in open arena in Verona. This Roman amphitheatre was built in the first century AD, which can seat around 20000 people.
It always amazes me the love for entertainment in Italian culture, which goes back to so many centuries ago and required building these magnificent arenas.We had a pleasure of watching Verdi's Aida in Verona. Khedive of Egypt commissioned Verdi to write this masterpiece for the new Cairo opera house in 1869. Aida is a love story about a victorious Egyptian Pharaonic officer and his captive Aida who tempts him to reveal to her his secret military plans. This was a wonderful performance with amazing set design and colorful costumes.
People (68-82)
places (83-164)
Photos
(1) (10) (20) (30) (40) (50) (60) (70) (80) (90) (100)
(110) (120) (130) (140) (150) (160) (163)