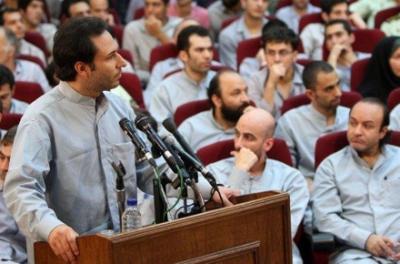 Mohammad Reza Ali-Zamani
TEHRAN (Reuters) - An Iranian court has sentenced to death a man who took part in opposition protests over a disputed election in June, a reformist website reported on Thursday. Mowjcamp, which gave no source for the report, said Mohammad-Reza Ali-Zamani was informed of the verdict on Monday. It did not give details about the charges against him. Ali-Zamani was among more than 100 opposition supporters, including senior reformist figures, who were accused of fomenting post-election street unrest in a series of mass trials that got under way in August. A semi-official news agency, Mehr, said in August he was accused of fighting against the Islamic establishment and active membership of a "terrorist" monarchist association, and other crimes. There was no immediate comment from the authorities. There have been no other reports of death sentences issued against people involved in huge demonstrations that erupted after the poll, which the opposition says was rigged to secure the re-election of hardline President Mahmoud Ahmadinejad.

کمیته گزارشگران حقوق بشر- محمدرضا علی زمانی، عضو انجمن پادشاهی ایران که در جلسه دوم محاکمه عوامل دخیل در اعتراضات مردمی پس از انتخابات ریاست جمهوری، اعترافات مفصلی از وی اخذ گردید و سخنان وی در دادگاه انقلاب با پخش تلویزیونی نیز مواجه شده بود، روز دوشنبه 13 مهرماه از بند 209 زندان اوین به شعبه 15 دادگاه انقلاب به ریاست قاضی صلواتی منتقل شده و حکم اعدام به وی ابلاغ شد. هیچ یک از متهمانی که در جلسات دوم و سوم دادگاه های علنی، مورد محاکمه قرار گرفتند، امکان دسترسی به وکلای انتخابی را نداشتند و با وکلای تسخیری مورد تأیید دادگاه انقلاب، در این محاکمات حضور یافته بودند.

07-Oct-2009