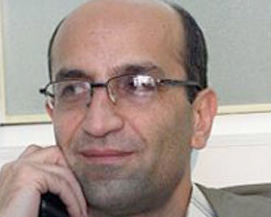 Siamak Ghaderi: Prisoner of the day
CPJ: Siamak Ghaderi was arrested on July 27, 2010 in connection with entries he posted on his blog, IRNA-ye maa, or Our IRNA, a reference to the Islamic Republic's official news agency. In the entries, he wrote about street protests and other developments after the contested 2009 presidential election, according to the reformist news website Jonbesh-e-Rah-e-Sabz.

In January 2011, Ghaderi was sentenced to four years in prison and 60 lashes on charges of "propagating against the regime," "creating public anxiety," and "spreading falsehoods," according to the BBC's Persian service.

Ghaderi was an editor and reporter for IRNA for 18 years until he was dismissed for writing about the 2009 election on his blog, Jonbesh-e-Rah-e-Sabz said. Pro-government news websites, among them Rasekhoon and Haghighat News, called him a "seditionist" who was arrested for "immoral" acts. Ghaderi's blog was repeatedly blocked by authorities before he was detained, Jonbesh-e-Rah-e-Sabz reported.

Among the entries that authorities found objectionable was a piece in which Ghaderi interviewed several Iranian homosexuals. The article was an apparent reaction to President Mahmoud Ahmadinejad's public assertion that "there are no homosexuals in Iran." The lashes in his sentence were for "cooperating with homosexuals," the BBC reported. The reformist news website Kaleme reported in July 2011 that Ghaderi was being held at Evin Prison.
16-Jan-2012