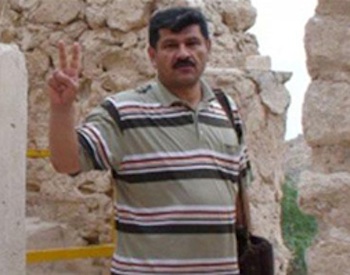 Bahman Ahmadi Amouee: Prisoner of the day
Committee of Human Rights Reporters: Iranian journalist Bahman Ahmadi Amouee, who was kept inside Evin Prison since his 2009 arrest, was "exiled" to Rajaee Shahr Prison in Karaj on 11 June after he and several other political prisoners tried to hold a memorial service for Hoda Saber, a political prisoner who died on hunger strike inside Evin Prison last year.

Committee of Human Rights Reporters reports that Ahmadi Amouee was transferred to solitary confinement inside Rajaee Shahr Prison's Ward One, where death row inmates are kept.

Ahmadi Amouee was summoned to Evin Prison Courts yesterday morning. After his court appearance, when he was returned to Rajaee Shahr Prison, he was transferred to a solitary cell. According to other prisoners, the Head Warden of Rajaee Shahr Prison refrained from transferring him to a solitary cell inside Ward One, but Evin Prison court officials insisted and ordered his transfer. It is reported that even the Head Warden is concerned about Amouee's well-being in that area of the prison.

Prisoners inside Rajaee Shahr told CHRR sources that, "conditions inside solitary cells of this ward are so horrific, that all prisoners who are detained there develop illnesses and face serious physical and psychological problems. Nobody can last there."

Bahman Ahmadi Amouee is one of the most reputable journalists in Iran who wrote articles on the economy for newspapers such as Jame'eh, Toos, Sobh-e Emrooz, Norooz, Shargh, Vaghaye Ettefaghieh, and Sarmayeh during the past 20 years. He has also authored two books.

He was sentenced to five years in prison on charges of "propagating against the regime," and "acting against national security" for his journalistic work. Prior to his arrest, Amouee wrote articles critical of Mahmoud Ahmadinejad's cabinet. Those articles have been determined as evidence of "insulting to the President" and "propagating against the regime." His work as editor-in-chief of the website Khordad-e Now has also been used as evidence of "colluding against national security." One of his charges is publishing a poem by Ferdowsi on Khordad-e Now.

Bahman Ahmadi Amouee is one of the journalists who was arrested in the aftermath of the disputed 2009 presidential election. He and his wife, Jila Baniyaghoub were both arrested on 20 June 2009. Branch 54 of Tehran Revolutionary Courts sentenced Amouee to five years in prison.
27-Jun-2012