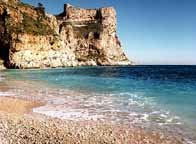 I LOVE THIS SHIT
Thick white clouds sweep across the Costa Blanca

By Kristopher Kolumbus
October 18, 2002
The Iranian

As Vin Diesel said in his movie XXX, I was trying to make the most of what little I had and separate the truth from the scam, where bodies of convicted pirates sweep to shore including Captain Kidd in Calpe picking up dog poo in a plastic bag after the battle of Waterloo in 1815 scattered under the stars of Orion a good example of clearing up as I go.

Thick white clouds sweep across the Costa Blanca on the boat to the Virgin of Sufragio after the Moors too old, too Moslem, too fucking rich disappeared in pugnacious integrity in the city of Benidorm under two blue tiled domes with myth making white staircase from the sea to the glowing alter erased all Moslem prayers and replaced it with a black virgin and child covered in gold.

A grumpy old fart dressed in black sat on the wooden , nailed door collecting Spanish coins singing Besame Mucho. A lifetime of spiritual searching and public artistic angst recovering alone with a silver spoon dipped into white tapioca screaming at an interviewer that he didn't need him because his tour sold out.

He called me a wanker in Calpe and yelled long live THE WHO! I opened for GARBAGE sporting a wig and fake beard three nights later dressed in a black cocktail shift, high heels, almost coming out. I tried Ritalin, Prozac, electroshock and an ex¬husband. Nothing worked.

In the kitchen was a miniature Korean tea table with a tea strainer, salt and pepper shakers, ornamental silver spoons, severn china and a full bottle of sleeping pills. This bothered no one except my mother, Helen who took me away for a month to Calle Italia, a street squeezed between Luzemburgo and Irlanda below Avenida de Europa on Mar Mediterraneo.

I wore a yellow scarf alleged to belong to Princess Diana when she posed on her own in front of the Taj Mahal. Her handbag held lipstick, matches, a cigarette lighter, chewing gum and a 2p coin. A blue and green Versace evening dress hung in the closet in Calpe.

In the living room window at # 9 Casas

Neptuno the 332 meter Ilfach Rock shoots up royal heirlooms to homeless, broke and tortured outcasts of sexual confusion speaking about once adored Persian fathers saying "These horrible mixed-up feelings you have, the love-hate, Firdowsi and Rumi. And you know, I still miss him so much, Khayyam in Nishapur. Isn't it crazy?"

He sped off in a white van.