Arts & Literature
ART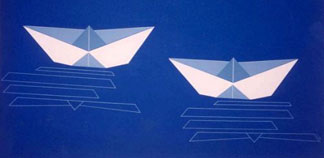 Blue Mehdi
Paintings
Mehdi Hosseini

POETRY
Khomeini baazmigardad
A letter from a child of the revolution
Leila Farjami

POETRY
Stoning
Don't blame Mother Earth, she damns humanity tonight
Tina Ehrami
ART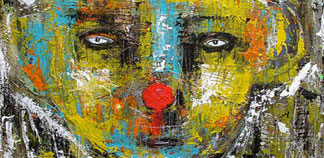 Color blind
Paintings
Reza Kassai

YOU
Always!
Sheema Kalbasi
You sit by the window. You are not tall, not short, and not unfriendly. You have half a smile. You have ordered orange juice, a pack of cigarettes you won't smoke, a cup of coffee for the girl who will not come to you. I am a wife, a mother, and I can't be yours. You can't be mine. I see pearls in the dew. I smell roses, honesty. I can't betray those who love me and I love them. I love you. The river streams up my eyes. I watch you drink your drink. I watch you not smoke that cigarette. I watch you walk out of the room. You are gone >>>
FILMMAKER
Ghaffary: Intersection of Western and Iranian culture
Dorna Khazeni
It's with a heavy heart that I write to tell you that my friend Farrokh Ghaffary died in Paris yesterday. For the last couple of years he had not been in the greatest health. Still, in July, when I visited him, he was witty and charming and as usual regaled me with a wealth of stories, the likes of which we shall now never hear from anyone else. Farrokh's career, which took him from Iran to the Cinematheque, working with Langlois, back to Iran, where he founded the first film archive, and then went on to head the Iranian television was rich. His two films Jonoubeh Shahr and Night of the Hunchback are both considered masterpieces. His knowledge of film, literature and theater and his understanding of the intersection of the West's culture with Iran's was also sans pareil, as the French would say >>>
PHOTOGRAPHY


Under my feet
Photo essay: Self-portrait
Mehraneh Atashi
NATURE


Remember why you're alive
Photo essay: Yosemite and Joshua Tree, California
Salim Madjd
Paintings
Maryam Amouie

PLAY
The screen door
"Oh, Condi! Vow, hi! Big sooprise!"
The Badder Brigade
(It is the beginning to look like the evening through the windows, and Ali and his lovely wife are seated in an unremarkable kitchen in front of a kitchen table for four that just functioned both as the prep and dining area for their dinner. A good meal has just been eaten, and a bottle or two of bootleg wine has been drunk. The kitchen windows and back door are open to a purple sky. Ali sits languidly on his chair, possibly listening to the music from the stereo and/or his wife's conversation, or neither. Every now and again, he nods his head downward slowly, his eyelids touching each time he does so. The phone on the kitchen counter rings once, twice, three times, and by the fourth ring Ali has gotten up and -- grudgingly -- answered) >>>
CRITIQUE
Coleman Barks and Rumi's Donkey
The essential problem lies in the fact that Barks intentionally changes Rumi, perhaps for the better, but at the expense of distortion and misrepresentation
Majid Naficy
Barks who does not know Persian, first rewrites some of the old translations in English. Then, by using an unpublished John Moyne's translation on one hand, and with the blessing of a Sri Lankan sufi saint living in the US, Bowa Muhaiyaddeen on the other hand, Barks publishes a new English version of rumi in free verse. No doubt that Coleman Barks's version of Rumi has released these poems from the confines of Departments of Near Eastern Studies but unfortunately, as we will see, he has tied them in the cage of his personal taste. He approaches Rumi's poetry as sacred texts, which need to be dusted from the passage of times by a touched devotee and prepared for the Post Modern, New Age market in the West. The New Age movement finds a remedy for modern alienation in old recipes, such as horoscope, Extra-Sensory Perception and divination >>>
ART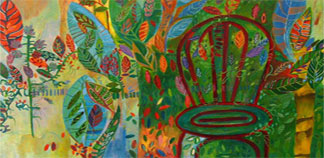 In the middle of the garden
Paintings
Ava Serjoie
DANCE
Niosha's dual crusade
Bringing Persian dance to the masses
Behrouz Bahmani
With all the negativity surrounding Iranians and Iran these days, there is little that is obviously optimistic. Who we really are is often masked by those desperate to drag us into their bitter feuds and hostile intentions. So it is wonderful when a truly inspiring story comes along. Niosha Nafei is a Bay Area Iranian Community icon. But before I get to that let me tell you what she does. Niosha Dance Academy (NDA) has been teaching young and older students, various traditional classical, and modern Persian Dance since 1991 >>>
ART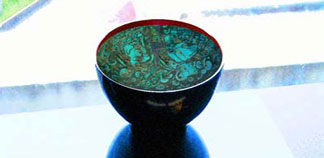 Chai & Urushi
Paintings: New exhibition at Urasoe Art Museum, Japan
Farrokh Shayesteh
POETRY
Mamaan-bozorg
A halo in the candlelight
Farnoosh Seiffodini

POETRY
Esmail...
For Esmail Khoie, Iranian poet in exile
Mahnaz Badihian

POETRY
Kesi naporsid
Chegooneh az zendegi safar mikoni?
Shahrokh Setoudeh Foumani

POETRY
Tanhaatar az khoda
Tabeedgaah daaneshgaahe man ast
Rezz
POETRY
Shaamgaahi deegar
Bar baale andisheh baa to parvaaz mikonam
Homayoun Abghari

POETRY
What should I do?
If the rain of your love, doesn't pour on me
Hedieh Sajadi

POETRY
Shekast
Coloneli az tabaare ashpazaan
Serge Arakli

POETRY
Eghrar
Donya beh raahe naan o riya miravad hanooz
Orkideh Behrouzan

POETRY
Invisible
I feel as if all the neighbours have migrated to the moon
Farah Afshari

POETRY
Where looms death
You are the plight
Sara Rahai

POETRY
The blossom of Diaspora
And I am the tree of Diaspora, linking you to stars
Manoucher Parvin

POETRY
Never apart
You can't enter my world, darling
Farid Parsa

POETRY
Pish az obooreh parvaaneh az barg
Zibaae doraane mahkoomiyatash raa migozaraanad
Habib Shokati

POETRY
Fall
With majestic colors of red and orange leaves
Akbar Showkatian
POETRY
Valley of life
I wonder where am I?
Tamar Mikaelian Katz
BEACH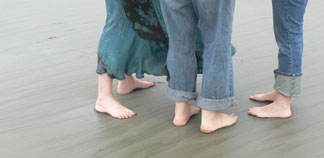 Bodega Bay
Photo essay: Day out on the beach in Northern California
Jahanshah Javid
HAIKU


Zamin, Niloufar, Khaatereh va Maah
For my daughter Parmis
Massoud Vatankhahi
POETRY
On your last day
(or Mom's Birthday)
Arash Daneshzadeh

POETRY
Astan az maast!
Az heech hast shodam
Sheema Kalbasi
POETRY
Khaatereh
Khooneye khaali cheh roozaa ro beh yaadam miaareh
Orang Gholikhani

POETRY
Saayeie dar satrhaa gom
Donyaaye koochaki daashtam
Sheida Mohammadi

POETRY
Diaspora
Vatan aanjaast keh behtar ast
Ali R. Rabi

POETRY
Royae Parvaneh
Take a bath in the sun's rays
Shoja Adel

POETRY
The return of the violins
The triangle finally succeeded!
Tina Ehrami
POETRY
A Thanksgiving message
After Mostafa Tabatabainejad was ejected from UCLA library using a Taser-gun
Peyvand Khorsandi

POETRY
Timid
Gliding over your sudden looks, which always melts my heart
Reza Eslami
POETRY
Shiraz poems
"Shiraz my beloved" and "Remembering summers in Shiraz"
Sasan Seifikar
POETRY
Tangled
Don't get tangled in lies or unanswered prayers
Baharak Sedigh
FOOD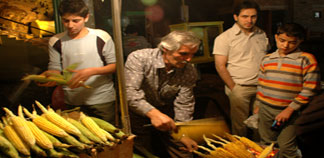 On heaven's menu
Photo essay: Food in Iran
Farah Ravon
I decided to go on a major diet before our trip to Iran this fall. I knew I'd be exposed to a lot of colorful foods that I would not be able to resist, so I lost 15lbs. I managed to gain back about 4lbs - but it was well worth it! WARNING! Viewing NOT recommended on an empty stomach! >>>

FICTION
A perfect evening
Short story
Saeed Tavakkol
The moment I heard the phone ring I picked it up -- something I don't usually do. I always examine caller ID to see if I recognize the caller first; but I had a good feeling about this one. After hearing the caller's voice I knew I was right. I begin the story from this point because of a promise I made to her later... After a brief greeting, and before letting me say anything, she invited me to dinner at her house. Stunned by her invitation, I enthusiastically responded,
"I'd love to."
"So you'll come?"
"Certainly, I'll bring a bottle of Shiraz to perfect the evening."
"Papers too. I want you to write our night." >>>
REVIEW
Basic kindness
This film is about more than just the heroism witnessed in Bam
Brian Appleton
In a short time after the film began, I came to realize that it was largely the story of Adelle Freedman and Tobb Del Oro. At first, I wondered how their personal tragedy squared with the loss of 50,000 lives of anonymous Persians, who were only a statistic in the USA, but as I listened to Jahangir Golestan state his mission with emotion and a sense of earnestness and urgency, I came to understand that he too shared the same goal that Tobb and I had shared. The use of this American couple in his film, was that of a pair of goodwill ambassadors not to Iran but to America. This couple could reach into the hearts of the American public bringing behind them in tow, the message that the Persians are a very kind and generous people, with a rich culture and with much too offer the common humanity of the entire world >>>
Photo essay: San Francisco exhibit "Beyond Persia Artists"
Lalé Welsh Shahparaki
A group seven of Bay Area artists, who refer to themselves as "Beyond Persia Artists" and will tell you that they are the pioneer group in Northern California, have made it easy for us to track such social change. Having little in common except their Persian roots and obvious love of art, the comparison/contrast in their work underscores a mix of western influence in a style that is still decidedly Persian. Or by contrast, western looking art, that betrays only hints of their Persian past, like little gems interspersed in a treasure hunt. At its best, the work of these individuals is truly bi-cultural and because of that has arguably created a new genre in contemporary art -- but certainly a turning point in Iranian art: it is "Iranian American art" >>>
STUDIO


Right now
Photo essay: Eel Pie Island, London
Parima Shahin Moghaddam
TRAVELERS


October surprise
Photo essay: Iran people & places
Farah Ravon
PHOTOGRAPHY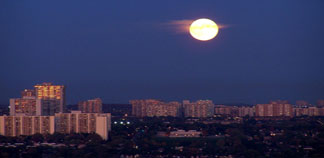 Stopping moments from running away
Photo essay: What my eyes see
Shiva Tadayoni
PHOTOGRAPHY


The mention of your name
Photo essay: Iran book project
Reza Khatir
ART


Cutting loose
Latest watercolors
Maryam Hashemi

POETRY
Extra
... and more
Naanaam
LITERATURE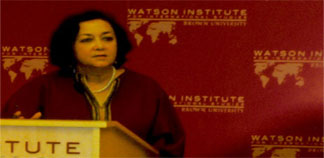 The meaning of night
Photo essay: International Festival in Celebration of Freedom of Expression
Mandana Zandian
EPIC


The question of mortality
Photo essay: The Epic of Gilgamesh
Directed and conceived by George Charbak
Photos by Jahanshah Javid

FILM
In memory of Robert Altman
Niki Tehranchi
Reading various obituaries on Robert Altman since yesterday, an item frequently mentioned is that despite a prolific career, he never won an Oscar (except for the Honorary Lifetime Achievement Award last year). Since my feelings about award shows can best be summed up by Woody Allen ("What's with all these awards? They're always giving out awards. Best Fascist Dictator: Adolf Hitler"), to me, the fact that Altman was left out of the Oscar race only adds to his prestige. He joins the ranks of Alfred Hitchcock and Charlie Chaplin, and leaves those coveted directing statues to Mel Gibson and Barry Levinson. Robert Altman, for me, is one of the true Hollywood rebels. How he did not become a phony and instead, he maintained an ironic distance and poignant self-awareness throughout his career is totally amazing >>>
ASTROPHOTOGRAPHY


Twinkle, twinkle
Photo essay: Galaxies, nebulas and...
Behyar Bakhshandeh
CASPIAN


Come rain, come shine
Photo essay: Trip to the Caspian sea
Farah Ravon

POETRY
Yatim
When I turned 34
Sheema Kalbasi
WAR


Distant screams
Photo essay: Santa Monica Pier war memorial
Shirin B.
TRAVELERS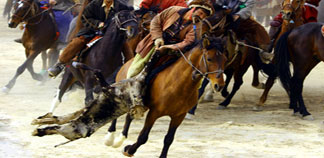 Buzkashi
Photo essay: "Goat grabbing" is the national sport of Afghanistan
Pouria Lotfi
ART


Dip, position, press
Printmaking, paintings and watercolors
Sandra Sonbol Banava

COMEDY
Love child of Peter Sellers and Andy Kaufman
Niki Tehranchi
The hit film Borat is more than just a great comedy (and definitely my favorite comedy of all times), it has become a cultural phenomenon. Usually, catch phrases are the domain of TV shows like Seinfeld but nowadays, it is not unusual to overhear people of all races, classes, and age act out entire scenes from the film, whether it is the fictional songs of Korki Kochek, or one of Borat's famous "high fives." ... Borat can hardly be described by comparison to any previous characters in film or literature. There has been no one like him, at least with this mainstream success and worldwide appeal. Sasha Baron Cohen can at best be considered the love child of Peter Sellers and Andy Kaufman. That is not to say that he mimics these classic actors, only that they paved the way for him, and he has of course taken their satirical outlook to heights previously unseen >>>
TRAVELERS


Frozen in time
Photo essay: Kashan and Abyaneh
Farah Ravon
LONDON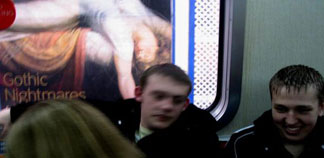 For sale
Photo essay: Advertising in London
Parima Shahin Moghaddam
ART


Pray we would be safe
Nasser Palangi exhibit: "Women During the Iran and Iraq War"
Sanaz Fotouhi
ART


Dreamscapes
Paintings
L. Zarei
STORY
Zane edaami...
She changed her email address and tried to pose as another person
Masih Mazloum
ART


Eros
Paintings: Models in artist's studio
Saeed Siadat

LIFE
Your smile
Learning how to feel
Tahereh Tavous
I have been living in your sterile, white world for a month now. As I am sitting across from you, waiting for them to wheel you in, I cannot tell if you are smiling back at my sorry attempt at feigned happiness or frowning, because the yellow hospital mask is a shroud over your mouth. I can feel the tears again so I have to stop. Think. Think. THINK. Come on- think of something happy. Something beautiful. Colorful, real thoughts to distract from the white sterility that surrounds us. I don't have to, because I see the corners of your eyes crinkle into a smile. Your smile. The same one from when we were little girls years ago. Your smile always makes me smile, and again you save me >>>
POETRY
Dine elaahi
Ajab lotfi beh maa kardi
Abdolreza Heydari
POETRY
Are you a snake?
The scratched barks of trees are my rain-soaked letter
Partow Nooriala
CONCERT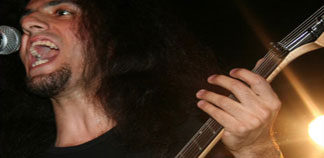 Turning up the volume
Photo essay: Intergalactic Iranian Music Festival, Zaandam, Holland
Farzaneh

POETRY
The traitor
They declared me unfit. I agreed wholeheartedly
Ali Alizadeh
SEASONS


That time of the year
Photo essay: Autumn in Canada's west coast
Sophie Saviour
ART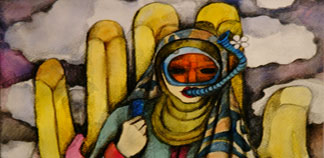 In good hands
Paintings
Maryam Hashemi

THEATER
Finding our way
Imagining a different world, is the first step in creating change
Torange Yeghiazarian
First name, Persian. Last name, Armenian. Born in Iran, raised in Boston, found love in San Francisco. In Iran, people always asked: Are you Iranian or Armenian? In the US they ask: Are you Moslem or Christian. I always give the same answer: Both. For years I worked in hospitals and laboratories. Then decided to change careers and focus on Theatre. Adding one more dichotomy to my identity, that of the scientist versus the artist. When people ask which are you? I answer: Both. Healing may be more possible through the Arts. To complete my Masters degree from San Francisco State University, I had to write a thesis or direct a production. And so it happened that my Masters' project became Golden Thread's first production >>>
CHILDREN


For their sake
Photo essay: Children of Afghanistan
Pouria Lotfi
STORY
Outside of the box
Based on a true story
Azadeh Azad
It was another hot August morning in Tehran, choked with thick smog. Gordia was sitting on a long cement bench beside a bunch of Kurdish and Afghani men under a noisy highway bridge. She was forty-two years old with short, straight salt and pepper hair, and in men's clothing. She looked like a nineteen year-old boy and everyone on the street knew her as Gol-Agha. She placed one leg over the other and lit a second cigarette. Most of the men were carrying small bags of heroine or lighter drugs for sale. She sometimes went there to buy heroine for her addicted friend, Sudi. This time, she had not yet seen Ardalan, the Kurdish man who knew her as an occasional customer. She took a drag of her cigarette and blew the smoke out into the sunrays, watching it curl away in the deafening street noise >>>
FAAL-e-HAFEZ
Where is the tavern?
Jahanshah Javid
A few days ago I got my signed copy of Reza Ordoubadian's "The Poems of Hafez". It is a collection of 202 ghazals translated into English. And I did what every Iranian does with Hafez: tap into his infinite wisdom with a faal:
THREE
You hear a discerning voice: Do not confound it.
... You are not discerning: there lies the rub.
My concern is not for this world -- or the other;
... Blessed God! What temptations crowd our heads! >>>

POETRY
The arc at Alborz
We need a bigger boat
Jam Hamidi
POETRY
Solitude
I have turned within
Sasan Seifikar

POETRY
(no title)
I have two windows in my room
both with thick and dark curtains
Reza Eslami
POETRY
Rastakhiz
Hamin emrooz raa naghd mikhaaham
Ava Koohbor
POETRY
The lonely traveler
I have two windows in my room
both with thick and dark curtains
Homayoun Abghari
URBAN


Just rubbish
Photo essay: In the streets of London
Parima Shahin Moghaddam

POETRY
Room for pain
When you can't hum your favorite song
Farid Parsa