With all the negativity surrounding Iranians and Iran these days, there is little that is obviously optimistic. Who we really are is often masked by those desperate to drag us into their bitter feuds and hostile intentions.
So it is wonderful when a truly inspiring story comes along.
Niosha Nafei is a Bay Area Iranian Community icon. But before I get to that let me tell you what she does.
Niosha Dance Academy (NDA) has been teaching young and older students, various traditional classical, and modern Persian Dance since 1991. Niosha's love of dance came at an early age, when in Iran as the youngest of 3 sisters, they would dance around the house and at the time, troupe performance competitions were all the rage in pre-revolution Iran. Ask any female family member old enough to remember and they will recount how they participated or watched these local, regional and national competitions growing up.
Festooned in elaborate costumes depicting traditional or tribal designs, 5-6 girls per troupe would glide in unison and perform their routines on stages, all across Iran to cheering audiences. Numerous regional summer camps were organized, and girls from all over the country would travel to them to compete, perfect their craft and hone their performances.
It was certainly a time to remember, certainly an important part of our culture that more and more, cries out to be reclaimed.
And that is precisely what Niosha does.
NDA students attend classes at least one day per week, at one of 4 studios in various parts of the Bay Area. This is a necessity as Iranians, unlike other minorities in the US, infrequently group their choice of residence together, choosing to fan out as far away from each other as possible, as if on purpose. As if. So there aren't any obvious Iranian neighborhoods. Which now that I write and re-read this, is very telling indeed.
But there are obvious pockets of Iranians, and by ingenuity or luck, Niosha has at least found the right locations in near enough proximity to the mass of Iranians in the Bay Area, that her classes are over flowing with students who now have an altogether healthier alternative to AYSO Soccer, or little league baseball, or the usual Tae Kwon Do and Karate franchises, and let us not forget GYMTASTIC!
Although predominantly made up of kids programs, NDA has classes for adults as well. Teaching consists of regimented and meticulously worked out dance steps in traditional Persian, Persian Pop, and Belly Dancing, to even teaching choreography which allows the more advanced students to exercise their creativity by creating new dances and continue moving forward in their art. Not just limited to Persian Dance, Niosha has introduced other dance forms such as Ballroom, Cha Cha and Salsa, and of course everyone loves these dances.
Possibly the most important and often overlooked benefit of Niosha's program is the internship or apprenticeship program. The instructors are made up almost entirely of a first generation of Niosha dancers, many of whom started at age 7 and who now having reached a sufficient level of mastery and age, are now ready to take over the reigns of instruction themselves. Thereby ensuring one of our most important cultural rites of passage, and preparing a legacy for the future. This is huge, and unfortunately I don't know of many instances where this is happening today.
At Niosha's classes, the kids interact with each other in both Farsi and English, which inevitably leads to F-inglish as necessary. But a visit to one of Niosha's classes shows what is really happening under the clever guise of "Dance Class". Because, there is a lot more happening here than just dance instruction.
The impact on Iranian kids able to attend an after-school program in which they are the majority, is undeniably empowering. Visiting the studio, I noticed immediately a higher sense of confidence, and this was just based on the noise level! Having 2 kids myself, I have noticed that whenever Iranian children are in the minority, at a program such as this, they are often more polite and quieter than the other kids. This is an engrained social behavior we have taught by example, to our kids. Don't stick out.
At Niosha's classes, the kids are predominantly Iranian, and occasionally you will see a child either from a mixed marriage, or even non-Iranian kids whose parents are simply interested in learning Persian dance. Go figure that in this day and age there are actually people interested in our culture!
But the majority is definitely Iranian kids. And this seems to give them an extra boost of confidence, and the fact that all the instructors are Iranian, and speak Farsi and English, gives these kids a sense of belonging and family and connection. Seeing the sheer enthusiasm and glee of Iranian kids in this environment brings tears to anyone's eyes.
This 15 year higher mission hit a setback when in April 2002 Niosha was diagnosed with non-Hodgkins lymphoma, a cancer of the lymph system. Given less than a 40% chance of survival, Niosha began her difficult road to recovery, taking it just like any other challenge. With an eternal optimism, dedication, and hard work. The local Bay Area Iranian Community turned out in the thousands as well wishers, volunteers and helpers and of course her incredibly tight family, reached out to one of our own in need. After an aggressive regimen of chemo, radiation therapies, Niosha miraculously emerged from the ordeal, not as good as she was, but stronger than ever.
The hardest part of her recovery was dealing with the immense sadness that we as Iranians tend to express during situations like this. At a time when optimism and positivism is the most key, we tend to drift into a hand-wringing ritual of utter despair and hopelessness. I remember when Niosha would host "get well" parties at her house, that were thrown on a weekly basis and the house was full of flowers, it seemed that it was Niosha who would have to raise the spirits of the others, instead of the other way around. Niosha said, "It just felt right, to look after entertaining the others, and making sure they had their snacks and chaies and because in doing so, I didn't really have the time to worry about my own emotions."
Indeed keeping her mind off of her own predicament, turned into a new project, this time to inform and educate other cancer patients that she became aware of, and this led to Niosha working with one of the Iranian satellite TV stations to produce a call-in program for women and those with cancer, in which the issues, questions and details of dealing with the disease were discussed openly offering a much needed outlet and exposure, that was widely received and callers from all over the world called in to express their gratitude to her for bringing the show to Iranians everywhere.
It is also necessary to mention that during this entire process, as a result of the harsh chemicals bombarding her system, Niosha had gained close to 40 pounds and lost virtually all of her patented long Persian flowing hair. The reality of facing death, combined with the traditional ego-hit for an Iranian woman, when it comes to her beauty and vitality, was only punctuated by the fact that Niosha was a former beauty pageant winner. So the change in her appearance was doubly difficult to digest.
NDA Classes in San Jose
Niosha's Road to Recovery
But after her successful recovery, Niosha rebounded with a renewed and intensified life force and literally the day after being given the go ahead by her doctors, returned once again to her true passion, Dance.
As a testament to her ordeal, Niosha has kept herself and NDA involved in the fight against cancer, and she has become a committed champion and inspiration among her fellow survivors and of course all women actively fighting their own battles with this nefarious disease.
Here in the Bay Area, through her connection with the American Cancer Society, she is one ACS' most active supporters and fund raisers.
Helping to raise awareness and funds for cancer research and treatment programs here, led Niosha to find out about various programs inside Iran, even though because of her involvement in dance, she is on the government's ridiculous cultural banned list, and cannot herself go to Iran at this time.
She has nonetheless turned her attention to her homeland and an organization called The Mahak Foundation. Mahak specializes in the treatment and programs to aid children with cancer. A mother of 2 boisterous boys before her cancer, Niosha was told by doctors after her recovery that she could not expect to have children again. This too turned out to be wrong and less than a year after her recovery Niosha was pregnant with her 3rd son Rameen-John (get it?). This was what made the Mahak story so compelling and the primary reason why Niosha chose to direct her attention towards this worthy cause.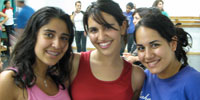 NDA Instructors Elham, Shadi, and Kimia
As a way to raise funds for ACS and Mahak, Niosha came up with the brilliant idea to put on an annual showcase of her dancers in the Bay Area. Now in it's 6th year, the show has become a hallmark Bay Area event drawing famous stars like Aref, Bijan Mortazavi, and Martik to come from LA and beyond to show their support. Each class of students from as small as 5 years old, all the way up to adults perform traditional and modern dances in lavish costumes, having spent weeks perfecting their moves, with live music and lights and backgrounds. The event is more and more extravagant each year. It has become a community tradition and more importantly has now successfully raised over $50,000 since it's start.
So, a happy ending? All's well that ends well? In this crazy world we live in, who knows? But as I started to say, it's really nice to once in a while be able to write a story like this one. Being witness to someone as dedicated and true, Niosha is a real cultural Icon, a local hero and champion, but one can especially say that, at a time when being Iranian is not exactly perceived well, she is also a multi-national treasure.