Sultan of my heart
Monika Jalili and Noorsaaz's remembrance of things past...

October 25, 2006
iranian.com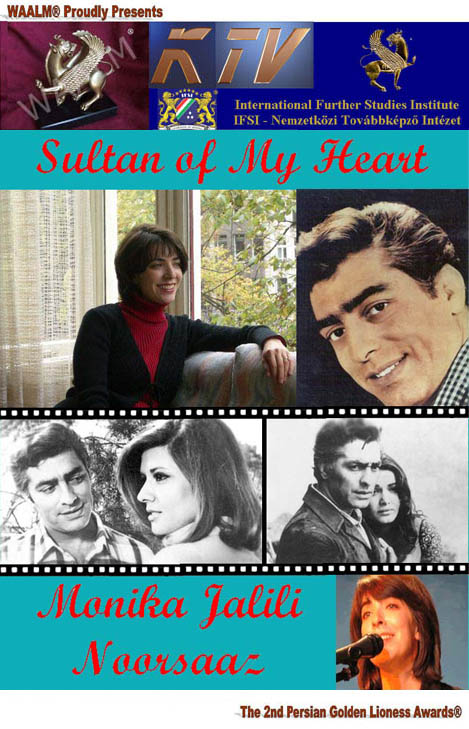 Whatever enters my mind cannot be tossed aside.
But the thought there in I cannot confront.
What shall I do when I am unable to scream for you ?
Separation, Separation, Free me from this Separation.
Whatever language is spoken, Separation always exists.
Vicious, Relentless Separation ...
- Song Ay Rilikh
There is something about the Noorsaaz Band that reminds me of the Von Trapp Family in the Sound of Music (**). That may seem far-fetched a comparison but I maintain this assessment. One can listen to them religiously and feel the warmth and communion they inspire in everyone. As a band they seem so harmoniously tied to one another during their performances that they could well form a family of troubadour artists led by the beautiful Monika Jalili. That is exactly what I am sure many of us felt when we first heard the voice of the New York soprano artist whose concert at the Trinity Church in NY (***) was to be exchanged at the speed of light on many Persian internet blogs and websites.
In addition growing up in Iran before the revolution I had often heard successful adaptations in Persian of Western Musicals such as the excellent Robert Wise film The Sound of Music, Joshua Logan's romantic Arthurian tale of Camelot ( the title of which has since been widely used to refer to the glamour of the Kennedy years in the White House ) or George Cukor's My Fair Lady. I always wondered not without some frustration why the opposite was not true ? After All George Harrison had introduced Indian Music and the Sittar to the West, and Eric Clapton was inspired by the tales of Nizami's Layla and Majnoon. I remember one day watching the French TV and seeing a documentary on French Producer Eddy Barclay who wanted to become the Western Pygmalion of our National Diva Googoosh. It was in the late Seventies and Googoosh's talent was being noticed far beyond Iranian frontiers. Unfortunately the Revolution was to put an end to what seemed like a promising collaboration that would have certainly contributed to introducing Persian Lyrics and songs to a large Western audience. Thankfully talents like Googoosh don't die and to the joy of her fans she made an amazing comeback after twenty years of forced silence in the year 2000 and has since pursued a amazing second career.
Well in many ways Monika Jalili and her Band are bridging this gap between the Western Music genres and Iranian Folk songs. Probably because of the fact that she is precisely not Iranian her performances have an exquisite and unique charm. Her simplicity and subtle adaptations of some of the most popular songs of Iran's Pre -Revolution years distinguish her performance from that of so many of today's young Iranian American Pop Artists who have rapidly gained fame in Dubai or other money making artificial paradise trying to imitate American Standards both in content and form but who unfortunately, like many New Age or World Music groups today, lack an essential quality and that is : AN IDENTITY.
I won't push the comparison further for Noorsaaz in many ways outshines them all by being AUTHENTIC and TRUE to an era that is long gone but which the younger generation discovers with a mixture of nostalgia and genuine curiosity.
The beautiful and Europeanised Lalezar Ave was Tehran's Broadway for decades screening equally Iranian and Hollywood films. More than 38 years (1941-1979) of American Presence in Iran also had its share of cultural influence in the Persian Arts Arena. ©Photocompostion Darius KADIVAR
Monika Jalili and her band prove that Persian Music and Folk songs can be just as sensual and attractive to both Western and Persian ears. It would not be exaggerated to say that for an entire generation the Noorsaaz performances have certainly become the Persian equivalent of the Madeleine de Proust as described in the French Author's most celebrated novel A la Recherche du Temps Perdu aka Remembrance of Things Past. Noorsaaz's interest and tribute to our culture and music should honour us all in many ways and reconcile several generations of Iranians Worldwide beyond Time and distances separated by the turmoil's of revolution, war and exile.
Appearing on a simple stage created inside the Trinity Church in NY City, Monika Jalili and her band must have hardly imagined the success their unique performance would have on the internet followed by a series of live concerts across the United States. She has become a familiar and nostalgic voice for many Iranians in the Diaspora for the unique blend of voice and slight charming American Accent (Reminiscent of another British Iranian Singer of the 1970's singer/writer Shusha Guppy), when she sings traditional Persian songs as well as French and English adaptations of the Classical Pre-Revolution music repertoire. Listening to her and her band of eclectic musicians will bring back sweet souvenirs of a long lost youth for Iranians of an older generation and a sense of fresh renaissance to the young who may have not been exposed to some of these exquisite Persian Lyrics.
There is something extremely moving to listen to the Classically trained Soprano born in New York who seems to naturally bring to our ears familiar rhythms and sounds that through her lips seem to take a new rejuvenated resonance. This is particularly true for the English version of the song based on the music score Sultan of My Heart which could be used as a music score to any classic Romantic Hollywood Film of the Golden Ages and yet is actually that of one of the greatest romantic films of Pre-Revolution Iranian Cinema starring the charismatic Film Star Fardin, certainly the Burt Lancaster of Iranian Cinema and the beautiful Azar Shiva.
In an era where most Iranian films of pre-revolution Iran are eclipsed by that of Abbas Kiarostami's or Mohsen Makhmalbaf's more artistically ambitious works, Noorsaaz' performance manages to remind us of a care free and joyful era where Iranian Men and Women could walk hand in hand without fear and flirt in Cafes or Tea Houses of Lalezar Avenue after watching their favourite Stars in the local Cinema.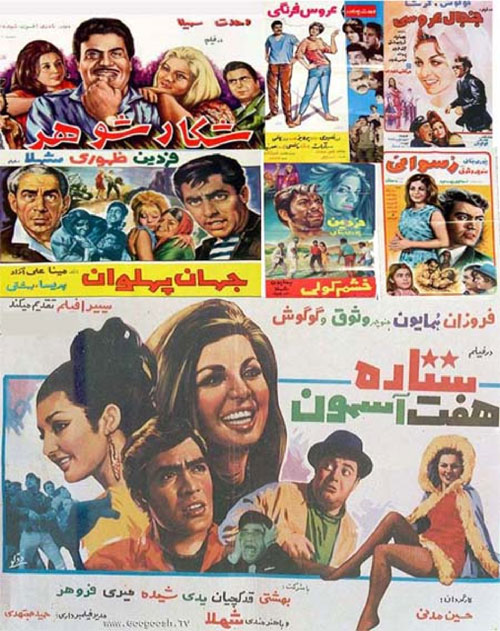 Stardust Memories : Movies by Popular Stars of the 60's and 70's …
The roaring 1960's and 1970's Show Biz years of an overly confident Imperial Iran saw the rise and fall of great film Stars. The often simple plots or melodramatic dramas of the Silver Screen were often pretexts for seeing your favourite star of the time be it the handsome Fardin, the Virile Behrouz Vossoughi or the comic Machissimo Nasser Malek Motei dispute the charms of their female co-stars and often sometimes real life Love interests. Similar to Hollywood's Elizabeth Taylor and Richard Burton, Googoosh and Vossoughi's On-Screen Loves, Disputes, Make Ups and Divorces in such films like Talaagh or Do Panjereh were also echoed in real life and made the headlines of the People Press. Not surprisingly Hollywood and European Film Companies were also to knock at their doors and soon Iranian spectators were to discover Vossoughi and Pouri Banaie Co -Star with Stewart Whitman, Elke Sommer and Curd Urgens in the Invincible Six, future James Bond director Terence Young attempt an improbable thriller called the Opium Connection set in Iran with an All Star International cast comprising such greats as Rita Hayworth, Grace Kelly, Angie Dickinson, Marcello Mastroiani, Yul Brynner, Omar Sharif, Stephan Boyde and Senta Berger to name a few. Nasser Malek Motei made a cameo appearance in an Agatha Christie Remake of the Ten Little Indians shot on location in Shah Abbas Hotel of Isfahan and Persepolis near Shiraz with an equally imposing cast : Elke Sommer, Charles Aznavour, Oliver Reed, Richard Attenborough, Stephan Audran and Orson Welles. Young Fardin and Pooran joined Peter Cross in Storm over Petra and ultimately Anthony Quinn, Michael Sarrazin and Jennifer O'Neill teamed up with Vossoughi in an adventure epic Caravans that certainly marked the beginning of the end of Hollywood Presence in Iran ...
The Last Epic: CARAVANS starring Jennifer O'Neill, Anthony Quinn, Michael Sarazzin and Behrouz Vossoughi (1978) © Universal Pictures
While Iranian Television was competing on the entertainment Arena with popular shows like Uncle Napoleon or Khanoumeh Azatol Saltaneh, Iranian Cinema was discovering great new talents like future Oscar nominee Shohreh Aghdashloo in films like "Sooteh Delaan". The latter was followed by other promising films like Abbas Kiarostami's Gozaresh which politically controversial subject was already hinting a new era that was also to abruptly end the future Hollywood Star's promising Iranian career due to the Revolution.
Maybe this explains why 27 years after the Islamic Revolution Monika Jalili's Sultan of my Heart appears to strike a sentimental cord for several generations of Iranian expatriates. Combining the best of two worlds Noorsaaz successfully alternates between Persian Folk songs and their subtle translations into English and French. In doing so it is not surprising that Jalili's new Album has drawn the attention of critics and fans worldwide. She is to be awarded this coming October in Budapest Hungary with the Persian Golden Lioness Award ® in Music Category along with Music Maestro Conductor Alexander (Ali) Rahbari during which a particular tribute will be made to one of the first Iranian classical music composers to have been noticed in the West : the Great Aminollah André Hossein who is best remembered for such great compositions as Sherehazad and Persian Miniatures, or Symphonies of the Sand ( the CD which has just been released in France as the music score of Robert Hossein's (Aminollah's son) next Epic spectacle Ben Hur: Plus Grand que la Legende and performed by the Great Opera Singer Roberto Alagna ).
Darius KADIVAR (DK): Were you surprised by the success of your Album and particularly after your performance at the Trinity Church in NY was put online on the Net ?
Monika Jalili (MJ): I was particularly surprised by the success of the Trinity Church Concert. I knew the concert was recorded for web cast viewing, but never imagined it would be seen by so many people all around the globe. It's been a truly amazing experience! The concert was performed October 20th 2005. According to the Trinity Church website, by December, our concert was viewed over 150,000 times. The web cast introduced the sound to many people and contributed to the success of my album.
DK : Tell us a little about your background, and where you grew up?
MJ: I was born and raised in New York City. My parents are German and Dutch. I have one brother who works in technology. I am a product of NYC public schools. I attended the LaGuardia High School of Music and the Arts for voice, the high school that "Fame" was loosely based on. After high school I went to Columbia University and majored in French Literature, while taking voice lessons at The Manhattan School of Music. When I graduated, I knew I wanted to have a career in music, but felt like I needed more training. So, I applied to The Manhattan School of Music, got in, and completed a second degree, only this one in Vocal Performance. It was while here, that I finally met the teacher who really taught me how to use my voice, Beverley Peck Johnson.
Performing professionally began for me at a fairly young age. I was doing television commercials and radio jingles at the age of 12. I then pursued theatre, particularly musical theatre. I did that for several years here in NY, and around the US.
DK: You sing in several languages Persian, French and English in this album all based on Persian folk songs. Was it difficult to translate them ?
MJ: As you know, I am in the process of learning Persian myself and at the time I started learning those songs, I had to go through each song word by word phrase by phrase to understand the intent and meaning of the lyrics. Translating the songs was something that came to me while working on the songs themselves. I started imagining how great it would be if people who did not speak Persian, could understand the meaning of some of these songs. The music itself is already so beautiful, but the poetry and lyrics are the heart of these songs, and something that should not be missed by anyone. I felt that it would be important to have some translations available for the audiences I hoped to reach who do not speak Persian. Translation, once I knew the songs, turned out not to be as difficult as I had anticipated.
DK: You seem to be particularly fond of "Sultan of My Hearts" which is the Film Music score of one of Iran's legendary actors Fardin's movie Soltaneh Ghalbha. Did you see the film before translating it and did you know about his Aura and importance in the popular emerging Iranian Pre -Revolution Cinema ?
MJ: Yes, I am very fond of "Sultan of My Heart." I've known of the film, but, unfortunately, I have not had the pleasure of seeing the film for which this song is titled.
TOP & BELOW: Parallel Lives : Burt Lancaster and Fardin strangely both started off as accomplished Sportsmen in Real Life before engaging into equally successful Film careers and became Sex Idols in turn. Who copied who? ©MGM for Trapeze Poster
DK: As an American singing songs of a Pre-Revolution Iran how do you imagine the country and Iranian Society in those days beyond political or historical clichés ?
MJ:From listening to these songs, I feel as though there was a certain sense of freedom, although with much sadness and longing.
DK: To this day many Iranians are fascinated by Old Hollywood Glamour ( something that is ironically disappearing amongst Americans with the rising success of Reality Shows creating overnight shooting starlets like Paris Hilton ). Which Hollywood icons and films do you like most or find inspiring ?
MJ: I would have to say that my favorite Hollywood person is Audrey Hepburn. This was a woman who was such a beautiful, sincere, graceful and touching actor. She had a unique quality about her, both in her physical appearance as well as her demeanor. She always maintained this special quality, never giving in to the Hollywood stereotype.
As for films, there are many, but one of the films that has always stood out for me is the Italian production of "Cinema Paradiso." This was a moving story, with one of the most beautiful soundtracks, about love, family, finding oneself, and the passage of time.
DK: Are there other folk songs that you are working on or inspired to translate ?
MJ: There are other songs that I am working, both folk song and love songs from 50 years ago. I often receive emails from friends with recommendations for songs. With the help of my music advisors – including my father in-law – I then select the songs that touch me.
DK :Eric Clapton was one of the rare Modern Western Musicians to be inspired by Persian Poetry with the adaptation of Nizami's Layla and Majnoon for Layla which also became the name for his band. Noorsaaz' music is obviously different in content and form but do you realize that maybe you are breaking a new ground for Iranian folk songs and by making it available to a larger audience which doesn't necessarily speak Persian or listen to Persian Melodies ?
MJ: Darius, that's a very interesting point. I appreciate that you have brought attention to the potential for breaking new ground for Iranian folk songs. That's my goal. I aim to take this music to everyone, including the audience that does not speak Persian. With Western instruments and musical style, and with the translations, but mostly because of the original beauty of the pieces, I think the music is accessible and resonating with audiences. I hope that our listening audience will grow.
The Persian Golden Lioness Awards® in Hungary Is proud to celebrate some of these legendary icons of yesterday and today at its upcoming Awards in October 2006 and more in the Years to come.
DK: What are your music influences in general ?
MJ: : I'm all over the board with this one. Classical, musical theatre, cabaret, pop, and singers like Mohammad Nouri.
DK : What do you think of the Persian Pop production of the 60's and 70's ?
MJ: Admittedly, I am no expert on Persian music or poetry, but the music from this era that I've heard so far has been beautiful. The recordings are not of the best quality, but then again, we are talking about recordings made 30 to 50 years ago. It's been a tremendous source of inspiration for me.
DK: Many Iranian Pop Stars and actors sadly had their career interrupted by the Revolution. Some like Fereydoun Farrokhzad lost their lives in the course while others like Googoosh were forced to silence for more than 20 years before making a remarkable comeback. The same could be said for Shohreh Aghdashloo who is now a major Hollywood Star. Does Noorsaaz performances somehow pay tribute to this generation of remarkable Persian Artists ?
MJ: Definitely. Aside from folk songs, the music I perform was the pop music from the 1950s, 60s and 70s in Iran. All of this music was forbidden during the revolution which began in 1979. Some of the artists of these works, remained in Iran but were unable to perform, while others fled to countries where there was freedom of expression. By taking these artists' songs and sharing them with the world, I feel like we're experiencing a rebirth or renaissance, and even an awakening.
DK: You were born in NY, and all of your band members Megan Weeder Violin, Timothy Quigley Percussion, Mavrothis Kontanis Oud, Nathan Dillon Guitar are all very talented could you tell us more about them and how Noorsaaz got together?
MJ: I met Megan first. I had posted ads looking for musicians. Megan was one of the musicians who responded. I am forever thankful for fate that connected us. With Megan, I was fortunate to find the other 3 members of the band. I am very happy with my ensemble. I hadn't planned on everyone being American. It just turned out that way. Mavrothis, although he's born and raised in Pennsylvania, is very Greek, and incorporates that into his playing.They are a talented group of musicians and a fun group of people to work with.
DK: Do you think that there is ground for more of such exchanges and mutual influences between Persian and American music and songs ? Are you planning other music adaptation in French and English ?
MJ: Yes, definitely. I am working on translations of more Persian songs. The message in my songs is love. I am drawn to those songs. Is there anything more universal than love? Will those who don't know Iran's culture and people hear the songs and hear the humanity and common bonds?
DK: Your music has also been noticed in Europe for you will be honoured in October for best Soprano in Classical Music for the 2nd Annual Persian Golden Lioness Awards along with other Great Artists like Music Conductor Alexander Ali Rahbari and several Hungarian Music celebrities like Classic Soprano Eva Marton or Hungarian Pop groups like Nox and the Violin Trio group Princess. What is it to feel that you are certainly the First Trans-Atlantic Persian Music group to date to receive such an honour and somehow become an ambassador of Persian Folklore in Europe ?
MJ: Well, I can probably say that it has been the surprise of the year for me. It feels very good to be recognized for the hard work and the tremendous effort that not just I, but the group as a whole, has put into this. I share the award with the musicians of the group. Of course, I'm looking forward to being in Budapest. I realize that to have a native New Yorker be the ambassador of Persian Folklore in Europe is as much if not more of a surprise to many. My hope is that I can be a symbol myself of Persian music crossing boundaries.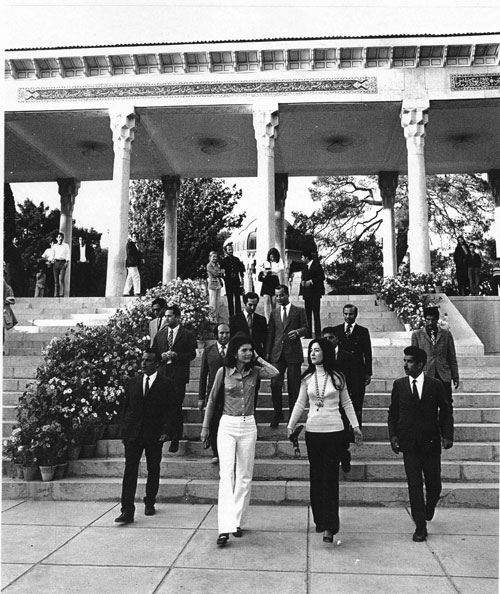 Camelot's First Lady Jackie Kennedy-Onasis visits Shiraz (early 1970's ) ©C . Golian
DK: Any Plans for Concerts in California?
MJ: My husband landed in Southern California in 1978, as did many Iranians. Despite the thriving and large Persian communities there or maybe it is because of that, there has been relatively little response from that area of the world. We are planning a tour of Southern California, but no dates have been set yet. Please join my mailing list at www.NoorSaaz.com to receive performance and touring news.
The Hosts : Prof. M. Dorbayani, PhD and Dr. Marjan Abdi, PhD the Founders of The World Academy of Arts, Literature, and Media – WAALM® And Directors of the International Further Studies Institute-IFSI® www.ifsi.hu
DK Are you planning other tours in Europe and France where you speak and sing in the language so fluently?
MJ: We are planning performances in Europe, including France. Please check my website for updates.
DK: Now Monika a private and last question if you will? Being married to an Iranian who is certainly the Sultan of Your Heart, what is the best quality you find in the Iranian Man apart from cooking? ;o)
MJ: (Laughs) There are too many beautiful qualities to list If I have to mention one quality, it would have to be his heart of gold.
DK: Do you hope one day that your joyful and sentimental songs so vivid in our collective memories and so superbly played by the NoorSaaz ensemble could one day be performed in Iran and revive the hearts of our dear compatriots back home in Shiraz, Isfahan, Tehran or other major cities in Iran?
MJ: This is one of our dreams. It would be a dream come true to be able to share our music in live performances in Iran. I realize this would be rather difficult as our music is neither classical nor religious. As of now, it is not possible for NoorSaaz to perform in Iran because of the mixed genders. I can only perform for a female audience, and it would require an all-female ensemble.
DK: Thank you Monika for your Time and looking forward to see you soon in Europe and particularly in Hungary and long life to the NoorSaaz Ensemble. Comment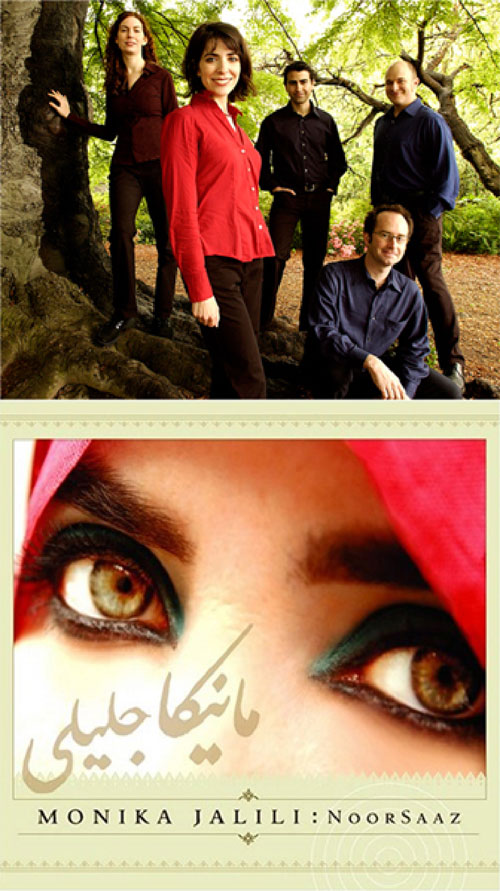 NOORSAAZ: A TRIBUTE TO THE PAST AND AN EYE ON THE FUTURE © Noorsaaz
Authors Notes:
(*) This article and interview is copyright material and cannot be reproduced ( including in form or content) without the explicit permission of the Author.
(**)The Iranian film industry, especially before the revolution, was well-known for its exceptional ability to dub foreign films. One of the very best examples of this was The Sound of Music. The Persian version of the film -- named "Ashk-haa va Lankhand-haa" (Tears and Laughter) -- was simply amazing because all the songs were translated and beautifully sung in Persian. As a result, the film was not only a huge success, but also the tunes remained forever recorded in the minds of an entire generation of Iranian children. Remember "do, do shab nakhaabeedam..."? Soudabeh Safaeiyeh sang for Maria, Nazila Zand-e-Karimi for Liesel, Rashid Vatandoust for the Captain and Homayoun Moezzi-Moghaddam for Rolf. Other singers for secondary parts were Simin Ghadiri, Azita Azarmi, Shamsi Shadmand and Nasrin Azarmi. Firouz Falahati translated the lyrics, the poet Touraj Negahban rewrote it and the dubbing manager Ali Kasmai.
(***) Official Website of Noorsaaz Band : http://www.noorsaaz.com/index.html and Trinity Church Historical Concert that Launched the Band's popularity: http://www.trinitywallstreet.org/calendar/index.php?event_id=22352
(****) RECOMMENDED READING: A HUNTERS EFFORTS PAY OFF by Bruce BAHMANI (another Awardee of the 2nd Persian Golden Lioness Awards for Best Comic book of the Year) On GOOGOOSH's European Tour and volunteer artistic exile of self discovery. http://iranian.com/Music/2003/February/Sanremo/index.html
(*****) RECOMMENDED VIEWING: a Recent French DocumentaryL'Iran une Révolution Cinematorgraphique Produced by Avenue B Productions: The modern day history of Iran as told through its films, presented with the pertinent commentary of the young Iranian director, Nader T. Homayoun, who learnedly intertwines of interviews with directors, influential film personalities and excerpts from films made before, during and after the revolution. http://www.avenuebproductions.com/film.php?num=7
(******)The World Academy of Arts, Literature, and Media- WAALM® is an extension and awarding body of the International Further Studies Institute-IFSI® www.ifsi.hu .
Learn More about the Awards: http://www.waalm.com/
About the Author: Darius KADIVAR is a Freelance Journalist, Film Historian, and Media Consultant. He can be joined at darius_film@yahoo.com