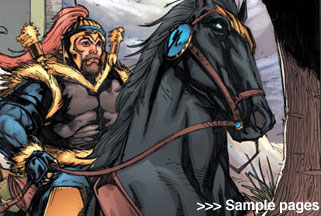 Rostam strikes back
Firmly re-introduced as a comic book hero, Rostam makes a spectacular comeback in a second adventure

Darius Kadivar
June 22, 2007
iranian.com
"I shall not die, these seeds I've sown will save
My name and reputation from the grave,
And men of sense and wisdom will proclaim,
When I have gone, my praises and my fame."
-- Abolqasem Ferdowsi, Shahnameh (Book of Kings)
This year's Cannes International Film Festival mesmerized viewers with a black and white animated film by Iranian born Marjane Satrapi entitled Persepolis. Amidst an international selection of feature films by such greats as Quentin Tarantino, Wong Kar Wai or Gus Van Sant, an outspoken cosmopolitan duo (Iranian Marjane Satrapi and French Vincent Paronnaud) of first time directors seduced not only the Cannes Jury but also the audience with their astonishing movie, the theme of which, resonated not only with our Post Sept 11th troubled times, but was also a historical reminder of a nation's struggle to survive.
Ironically this French Film may have alsoplaced the ancient city of Persepolis back on the Map of a country, Iran, whose current leader is on the contrary trying to drown it whilst his repeated calls of wiping off another nation from the surface of the Middle East. It is said that in times of intolerance and blind hatred, Art is the last resort for humanity.
In Medieval times the Court Jester was not just a public amuser, he was also the eyes and ears of the people. Humor was the Art that allowed him to admonish the ruler and challenge his wisdom or arbitrary rule. Were the ruling King or Queen wise enough, he or she would lend an ear to the complaints of its loyal subjects. Were it not the case, then one would know that the kingdom was doomed and that bad times were ahead ...
Most probably Satrapi's Persepolis and the first enthusiastic reactions it has triggered can explain why the current Iranian leadership so vehemently and clumsily opposed its screening at Cannes. Equally another work of literature inherited and inspired by Iran's pre-Islamic past has had an amazing success amongst fellow Persian and non Persian comic book enthusiasts worldwide: Rostam: Return of the King (TheShahnameh.com) based on the tales of the Shahnameh aka The Book of Kings is the 2nd episode of a Trilogy that has rejuvenated interest in Persian mythology amongst young and old. The first volume was awarded last year at the Persian Golden Lioness Awards in Budapest, Hungary as "Best Comic Book of the Year" and this year it has been added to the collection of the San Francisco Cartoon Art Museum.
Bruce Bahmani's Rostam and Marjane Satrapi's Persepolis greatest achievement however is most probably to make their respective tales available beyond their own linguistic community and thus giving to their stories the universal dimension they deserved. It would certainly be interesting to know what Persia's most popular poet Abolqasem Ferdowsi would have thought of both Satrapi's Persepolis and Bahmani's Shahnameh Trilogy were he living today?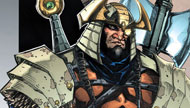 Astonished most probably but flattered most certainly. If Satrapi's outlook of Persian Kingship may be ironic, her title choice however is no less a tribute to what Ferdowsi considered in his lifetime as most Iranians consider today, as being sacred, beyond political and ideological preferences: Persepolis or The City of Persians also known as Takhteh Jamshid, the Fourth and Greatest Shah's of Mankind according to the Shahnameh. One could probably add The City of ALL Persians without distinction of class, religion or race.
Similarly Bahmani's Rostam is a hero that comes from the people. Every Iranian can identify with Ferdowsi's epic hero and share his noble virtues that combine loyalty and patriotism. The Greatness of Kings, for Ferdowsi and for Rostam the King Maker, resides not in self indulgence but in their ability to serve their country and genuinely love their People for THAT is the price of Greatness:
You will not find another who has known
The might of Kayumars and his great throne.
The world was his while he remained alive,
He showed men how to prosper and to thrive:
But all this world is like a tale we hear --
Men's evil, and their glory, disappear.
Ferdowsi's Shahnameh weaves a national riddle that for centuries continues to intrigue scholars unable to agree on a definitive interpretation. That is precisely why it is rightly considered as one of World's Greatest Works in literature along with Homer's Illiad and the Odyssey by raising issues, which remain of contemporary concern.
Thus each year, decade and century continues to enrich the lessons that the Shahnameh has passed on from generation to generation as a recurrent reminder of the importance of preserving our identity. Rostam is certainly the embodiment of all the virtues that Ferdowsi considered with the utmost esteem. He is proud, just, and loyal to king and country beyond personal sacrifice, which does not exclude wisdom and judgment. His heart bleeds when his King does not live up to his role. However through his brave and good deeds he can transform any reluctant arrogant and immature Prince into a responsible and likeable King as in the case of Iran's legitimate ruler Kai-Kavous.
The daunting task of visually rendering the 2nd adventure of the great epic poem's recurrent hero into a colorful and exciting story has been undertaken once again by Bruce Bahmani, Jamie Douraghy, Cameron Douraghy, Kit Loose, Robert Napton, Jason Levin, Mike Garcia, and illustrator Karl Altstaetter) and their comic book publishing company Hyperwerks. They bring back some of the original characters like Rostam's father Zal and Iran's boy King Kai-Kavous but back in time with this prequel. They also introduce a number of new characters such as Turaj, the assassin, The King of Hamavaran, Soodabeh, princess of Hamavaran, and last but not least a well known character in the Shahnameh that appears in the last page but I will leave its discovery to the readers.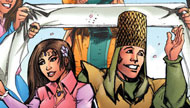 Darius Kadivar: I would first like to take this opportunity to ask your opinion on the evolution of Marjane Satrapi's Persepolis Comic Book turned into an Award Winning film co-directed with Vincent Paronnaud which won the Jury Prize at Cannes? Is this prestigious recognition a breakthrough for your Art form often unjustly snubbed by art critics as a minor one in comparison?
Bruce Bahmani: I think the transition of comic book literature to film has been very well received commercially, and by the movie going public in general. Spiderman, Batman, X-Men, even the controversial 300 (which was based on a comic book), were all blockbusters, and have become huge franchises. However, I agree with your premise that historically, our art form has not had its just recognitions and we are hopeful that Marjan Satrapi's fantastic (and well deserved) success will break new ground for all of us.
Does this encourage you to consider for the Rostam adventures, an animated film or even live action movie in the future?
Yes of course. Ever since the launch of the project, taking Rostam "to the next level" has been a consideration. Part of what took 5 years of development was to design the characters and the storyline with a vision. Although we are focused on the comic book, we have always had an underlying question: "how can we do this and make it possible to easily expand this into film, animation, or even gaming at a later date?"
In the previous adventures we were introduced to an elder Rostam and what made him into the legendary figure in Persian Mythology. His love story with the beautiful Tahmineh, his loyal horse Raqsh, and his dramatic epic battle with a no less brave warrior Sohrab who happens to be his son. This new Episode is a Flashback in Time. Why did you choose this approach and what are Rostam's challenges this time round?
When we embarked on this project, we decided on a trilogy, as it would provide a story linkage necessary to show the breadth of the overall tale. So I picked the best 3 stories that we could weave together. Keep in mind, that the Shahnameh has many layers of meaning. Sometimes, it is just an adventure story, and at other times there are deep social and political commentaries going on. We wanted to honor that tradition. Launching the first issue with the most famous quintessential Shahnameh story simply made sense. Our next task was to weave in the prequel and the sequel as seamlessly as possible. In "The Return of the King", Rostam once again finds that his King is in trouble, and our hero loyally goes off to battle forces that are allied against his only true love: Iran. The twist in this story is that eventually many soldiers are forced to battle their own kin, as Afrasiab continues to weave his sinister web of deceit.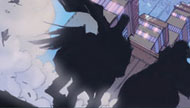 Women seem to play a great part in the lives of your heroes and protagonists. In the first comic we were introduced to Tahmineh, the mother of Sohrab and wife of Rostam, and this time to Soodabeh. Are there major differences in their characters and lifestyles?
Absolutely. In fact all of our books so far and through the third one, have women as key players, and they provide the pivot of our story adaptation. In each of the 3, we show a different power base. In the first we showed Tahmineh do her best to prevent the disaster she very rightly feared. In this issue we have Soodabeh, who out of love for her father tries to... Hey! Wait a minute! Well, you'll just have to buy the book! (Laughs)
Why and how does Afrasiab the court minister organize his "Coup"? Are we to see a metaphor here for the real one in 1953 or the usurped Revolution of 1979?
Afrasiab is always trying to return himself to the throne. After all, he thinks it is rightfully his! I love Afrasiab, because he is so predictable, almost always fails, and yet he is a survivor. He somehow manages to live to return another day. He is so self-deprecating and apologetic whenever he gets caught, that even Rostam lets him off the hook. As far as political critique, I'm going to have to follow Ferdowsi's lead here and just say, "I have no idea what you are talking about!" (Laughs)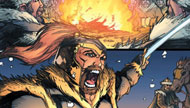 How many copies of the first book were sold to date and what has been the reaction of your readers and fans to the new story?
Our first print run was for 10,000 issues and we are hoping to have to print at least the same amount for each of our successive issues. The reaction as you would expect, has been overwhelmingly positive. I receive letters and emails daily that just glow with pride over this. It is very humbling to see that our little plan is working to re-instill and even introduce the Tales of the Shahnameh back into many people's lives.
Karl Altstaetter does a great job, even better on this episode. I was particularly taken by the two key battle scenes: the first between Rostam's Army and that of Hamavaran, and the subsequent fratricidal conflict, in which Rostam fights to take back his King's throne. What were Karl's inspirations in creating the costumes and weapons, especially for the splendid looking villain Turaj?
I can't tell you how proud we are of Karl! He has stepped up to this challenge and he has really excelled as an illustrator. Karl's inspirations come from multiple sources such as attending the Moghul Dynasty Art Exhibition (Changiz Khan) at LACMA, and if you were to look at his previous work on Deity and St. Angel, you would discover his extremely detailed battle scenes and his ability to blend worlds together. Turaj is the embodiment of all the numerous assassins who were sent to kill Rostam, and his identity was created by our team.
Even though very American in its approach and style, you clearly intended in educating the young non Iranian readers to some very typical Persian customs as in the wedding scene. I also love the new Persian expressions you included that sound fun to the ear: KOMAAK ( Help) , AAKH ( Ouch, Arghh), HAMLEH ( Attack), ABERROM MEEREH ( I will lose face) to name a few and my favorite AYE DELAM (Crying from laughter). How did you decide on these specific linguistic additions and cultural practices like grinding sugar cones above the heads of the newly weds? Personal family souvenirs or advice played a part here?
Jamie Douraghy, Cameron Douraghy and I, inserted the Persian words and expressions drawing from our experiences growing up in Iran. In fact, all three of us experienced "ghand saabeedan" when we got married.
In addition to the young readers you allude to, it is important to note, that in fact, the majority of our readers are adults. While developing the first book, we decided to incorporate small linguistic treasures that would enhance the experience of our Farsi speaking readers. They have been a huge hit, and are a lot of fun to develop.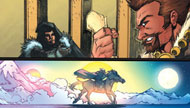 I am intrigued by Kai Kavous' Cylinder shaped Crown. Why did you opt for this and not the more familiar Sassanian or Parthian style one's more typical of the Era?
Our goal for this project was not to try to preserve traditional clothing, weaponry, or even historical events, but more so to be influenced by them. Our vision was to tell the story in a new way and to introduce the magic of The Shahnameh to an audience who otherwise would not have been exposed to it. Additionally, we wanted to break some stereotypes; things like camels, sand dunes, curly-pointy-toed shoes, and what I call the "Alladinification", that often has been used to wrongly depict our culture. I think we did a good job of that.
Have you had any reaction from readers in Iran, and do you intend to publish these adventures in Persian?
Absolutely, I recently did a satellite broadcast TV interview, and almost instantly received over 200 emails from Iran. One of the best came from Ardabil! We would love to send the comic books to Iran either in English, or re-publish them inside Iran in Farsi. All we need is a good local partner with the same long- term vision, which as you know, is often difficult to find. What's funny is that if this ever were to happen, we will be translating the stories from Farsi to English, and then back to Farsi again!(Laughs)
Having spent many years on these two books, what have you learned about the Shahnameh and Ferdowsi which you did not know when you started off on this project?
Ferdowsi was truly brilliant. He managed to weave a fantastic epic tale, into politics, social critique, and do it all as a beautifully read poem. Whenever I look back on the time it has taken us to do 2 books, I am always reminded that Ferdowsi took 30 years to develop the whole book!
What will be the next episode and will it open a chapter to other Trilogies or stories of the Shahnameh?
The next book, will fast forward to the time immediately after Rostam & Sohrab. The first book's message was a warning to the generations of the dangers of being unaware of each other, and that the young, are our future. The second book shows a positive example of how a father and son can work well together through communicating. All I am going to say now is that the third book will have a logical follow-on message that you are just going to have to wait for. So far it is shaping up to be even better than this second book, and I think it will be our best!
Comment
Visit TheShahnameh.com
Darius KADIVAR is a freelance journalist, film historian, and media consultant.