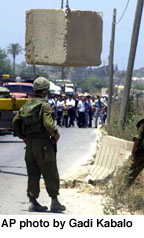 Reality check
An Iranian Jew in the Israeli army
By Faryad
June 19, 2001
The Iranian
After writing my letter, "Not our war", I was asked to write about my memories as a soldier in the Israeli army. I've decided to alter my daily journals and summarize them for those who are interested in what goes on at an army camp in Israel.
I joined the Israeli army to work on a satellite network designed to capture real-time images from refugee camps and military bases. When I got to the Ben Gourion Airport, I felt the fear in everybody's eyes. You are not safe here; that was the message.
After a month of training in the north, near the Syrian boarder, we were given a Jeep, an Uzi and 1,000 shekels ($250) to go to a base in the Gaza strip, and Haifa afterwards.
Being an Iranian in the Israeli task force was a bit odd since we (Iranians) generally support the PLO. But after numerous interviews and background checks, I was let into the base and given needed access to the control room30-feet below the surface.
Working in the heart of a historic land thousands of years of old might sound interesting. But gunfire and explosions divert your mind away from history and towards reality.
After designing the network, which took us about five days, me and my co-workers (all Americans) checked the area to lay down the dishes (each 10-feet in diameter). After 10 days of walk-thru's under fire, with the help of the air force, we were in business.
But something more interesting was happening in the army, which we all gradually became aware of. The Israeli people didn't like us soldiers. They were reluctant to help us in this project. They wanted the war to stop and we were there to make it harder for them.
After the first month, we had advanced our digital cameras and high performance moving sensors in the Arab areas and refugee camps. Now we were ready to monitor activities and physical changes of the area.
The first three months passes by very quickly since the work was overwhelming. But later I had time to do my own little research on the people and their situation. This wasn't a war. Maybe you could call it the Vietnam of the Middle East with a more mature America involved as a player.
I can't talk further about the mission I was involved in since it was top secret (for who? No clue) and, of course I can't send any pictures.
But there is one thing I discovered and it makes sense to me. I remember when I was a kid back in Iran; Ayatollah Khomeini once said, "All our problems are from the U.S. and the West". After being an eyewitness to the U.S. involvement in the area, I came to the conclusion that Prime Minister Sharon and Yasser Arafat are nothing but U.S. puppets.
I brought back an olive tree for my dad in America to plant it in our backyard in remembrance of a peace which we can only hope for.