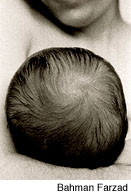 Unsuspecting souls
Mother anew, to a 5-year-old village outcast

By M. Maleki
May 13, 2002
The Iranian

I don't have very many memories of Mother's Day. A long time ago in Iran my sister and I would go shopping for a gift. Our teachers used to tell us that a simple card with a personal note of appreciation was all that was needed. But it seemed easier to go and buy something she didn't really need. Surely she knew we appreciated her, notwithstanding all the troubles we put her through.

In the intervening 20-some-odd years -- she in Iran and I in the U.S. -- we have matured apart yet are somehow closer than ever. We communicate at an even level and understand each other better, though we don't always agree.

And last year after a traumatic personal event, having lived away from her for most of my life, I longed for nothing more than to be by her side and to empty my grief at her feet, with the warmth and security of her arms around me. And I got my wish -- she was there for me, as always. Thanks mom.

Today I also celebrate another mother. A mother I have never met nor seen. But I know her and the caliber of person she is. For she is the mother of my love, who grieves the loss of her child to cancer and of her husband to a stroke not long after. Yet today she continues to survive and to surpass.

Today she is inspiring me and others who know her to continue to live and to fight to live. Today, she is in a remote village in the sun-drenched plains of India, helping the local villagers with hygiene, maternity, birth control -- and helping to deliver healthy babies to countless expectant mothers. And she is a mother anew herself, to a 5-year-old orphan boy, the village outcast.

Picked on and beaten by the other boys; mute - unable to speak; unable to show or to know emotions - except fear and loathing - only to cower, hide, and cry. But today, these two unsuspecting souls from worlds so apart find comfort in each other's company. They share meals and share laughter, and sleep on the same straw-mat floor in a hut under the hot Indian skies.


This little boy, once the pariah of the village, now sends emails via a wireless-equipped laptop halfway across the world. He has traveled first-class in the company of a first-class lady to the City of Romance, Paris. And he is learning Farsi, English, and American sign language.

This little orphan boy -- how small and cruel his world was. Now the sky seems the limit. Thanks to a special lady and the innate powers of motherhood.

Today I'll be calling my mom in Iran, even though it isn't Mother's Day there. Heck, any day is a good day to call your mom. I know just hearing my voice is a gift to her -- as hearing her's is to me.





RELATED

My day
The best I could give my son was the example of my own life lived fully
By Zara Houshmand

Simin's sacrifice
I will be telling your story for years to come
By Nahal Rose Lalefar

This is your mom
I realized how blind I had become
By Siamac Naeemi

Mano bebakhsh
I pray she knows that I love her
By Sara Maleki

Mommy's boy
When I'm angry or feel harm coming my way, I think of her and feel safe
By Shahin Shahin

SECTIONS

* Latest

* Covers

* Writers

* All sections