Khatami, Googoosh, Pahlavi
Cleric, singer, prince
April 11, 2001
The Iranian
Mohammad Khatami, Googoosh and Reza Pahlavi received the second (19.5%), third (11%) and fourth (6%) highest number of votes in the Iranian of the year survey. Here are readers' comments. Also see other Iranians of the year "Ganji", "Notables" and "Etcetera".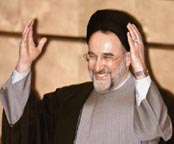 Mohammad Khatami
* Holding his position, despite...
I think the Iranian of the year should be President Khatami. Despite mounting opposition, he has continued to hold his position and navigate his way through a number of obstacles.
For the first time in years, Iran is viewed in a more positive light in the international community and Iranians have at least some hope that things are about to change.
* Starting the flow
As an Iranian student, all I expected from him was starting the flow of democracy and I think he did it excellently.
* Not another bloodbath
His slow reforms are a safe and sure bet to turn Iran into a democratic state. The most important of the reasons would be the fact that he is not in favor of another revolution and another bloodbath in order to bring freedom to Iran.
* Very clever
Khatami is very clever. He understands the situation and deals with it in a brilliant way. He thinks. He is honest. What more does a man need?
* Working the system
Khatami, He is working with the system to make changes peacefully.
* Putting up with grief
Definitely, President Khatami, for putting up with all the grief the hardliners have been giving him and still being there just for Iran and the Iranian people.
* Slow but civilized
The approach he takes encouraged us Iranians to vote. We voted against the order of the rulers in three elections: a) Presidential, b) city and rural councils and c) parliament. The method he uses is assisting us to speak and write in a civilized manner against dictatorship. The way he and his collaborators function is gradual but sound, reversing the damages that the "gomraahaan" have brought about to Iran, Islam and humanity during the past two decades.
The way the Jebheh Mosharekat and 2 Khordad and others have performed is teaching us that we can learn to be "free" by valuing and respecting others and in being constructive models for the deceived and abused.
We Iranians are rapidly gaining positive international recognition in all areas. We have come a long way. It was only a century ago that minarets were build from the eyes of victims by the order of backward rulers in parts of Iran. The future of Iran is bright because we are learning to be our best and thus value others even if they think differently.
* No easy task
My choice for the Iranian of the year is Mohammad Khatami. Being a reformist in the current atmosphere is not an easy task.
* Educating people
Because of his patience, honesty, and most importantly his attempt to educate people on nice and moral behavior, respect for the law, and so on.
* One of the greatest
History will place Khatami amongst the great Iranians of all times. Along other greats such as Ebn Sina, Amir Kabir, Reza Shah and Mossadegh.
* In the name of democracy
In my opinion Mr Khatami is again the Iranian of the year. Even though he has not been able to achieve much, he has carried on in the name of democracy, which is indeed an unknown and somewhat uncharacteristic of Iranian society.
We have never in our history had a leader truly elected by the people, and even now when he is not allowed to do his duties as he sees fit, he does not resort to violence, but acts in a Gandhi-like manner praising the opposition and arguing in a manner that only a true democrat could -- without an opposition you have no democracy. Long live democracy.
Googoosh
* Googoosh Googoosh Googoosh
The Iranian of the year should be the symbol of our repressed women and the deprived people of Iran: GOOGOOSH, GOOGOOSH, GOOGOOSH, GOOGOOSH, GOOGOOSH, GOOGOOSH, GOOGOOSH, GOOGOOSH, GOOGOOSH, GOOGOOSH -- ten votes from Mahyar, Ramin, Jaleh, Nasrin, Faty, Davood, Khosravani, Nazanin, Samad and myself Ebrahim.
* Sense of togetherness
The one person who brought out a sense of togetherness to scattered Iranian expatriates, young and old, on the left or right, fat cats or struggling loners, despite the incomprehensible words and songs that blared out from the bad public address systems into the sound twisting halls, bringing tears of joy and sadness along with unknown sentiments in unison however unexplained, the one person who defied two decades of forced silence and seclusion, came out loud, sensuously undulating like a patiently practiced, age defying, radiant, noble, generous and dedicated spirit of innocence and sincerity -- Googoosh.
G.
* Comeback year
GOOGOOSH because this was her comeback year and all the media around the world talked about Iran and her in their publications, etc.
* Only Googoosh
My choice for Iranian of the year is Googoosh. Truthfully, who can come back after a 20-year disappearance and cause such a stir? Who can come back after 20 years and still have such appeal? Only Googoosh!
* Symbol of freedom
I think the well-deserved Iranian of the year is GOOGOOSH, the queen of our hearts and the symbol of resistance of Iranian women. She is the symbol of freedom for our repressed women.
* Who we really are
Being an Iranian icon, Googoosh has a cultural diversity so wide, yet subtle, and has an acceptance and respect for widespread cultures, and finally, she has the ability to reach out to Iranians and remind them who they really are. I only hope that there will be more Googooshs to wake us up.
* Greatest
I vote for Googoosh as an Iranian woman of the year. I vote for her for her braveness, for staying in Iran, because of her big heart. I vote for her for being the most beautiful, talented and greatest person of our country.
* Captures most warmth
After much thought, I have realized that the only Iranian who captures the most warmth, love and recognition from Iranians worldwide is the distinguished Googoosh. No one before or since has created such a strong sense of community and belonging as Googoosh has done so wonderfully.
* Talent
Googoosh, for bringing Iranians together on a large scale through her undeniable popularity and artistic talent.
* Most popular
She gathered the biggest Iranian crowds, more than anyone could for the longest time. She proved, she is still the most popular of all Iranians.
Reza Pahlavi
* Abiding by people's will
I should like to cast my vote for Reza Pahlavi as the Iranian of the year. I do so because of his efforts towards unity amongst all Iranians of different political beliefs to hold a referendum in the pursuit of a progressive, civil and stable society in which religion and state are separated.
In particular I wholeheartedly agree with Reza Pahlavi's vision of an Iran wherein full participation in free and fair elections are guaranteed for all individuals, irrespective of political ideologies, religious beliefs or ethnic background; an Iran wherein its prosperous economy gives every Iranian an equal chance for hope and opportunity; an Iran where its women fully participate in the political, socioeconomic and cultural life of their homeland; and an Iran where all sectors of its population are free from intimidation, harassment, imprisonment and torture.
Finally I applaud Reza Pahlavi's sincere willingness to abide by the people's will. Time and again he has stressed he is ready to serve the Iranian nation in any capacity he can -- either as an active but private citizen in a democratic republic or as a constitutional monarch. According to him "The day that you cast your vote in a free election, selecting the nature of your future government, I have reached my heart-felt goal. "
* Reinvigorated political interest
The reason I think HM Reza Pahlavi ought to be considered the "Iranian of the Year" is not because he is necessarily the most deserving or wisest choice; or because he has had an impact on Iran, but simply his notoriety.
I consider his coming out of political (and even social) hibernation something which has reinvigorated political interest and discussion amongst the Iranian Diaspora about rights and responsibilities as citizens of the United States, and which will, hopefully, encourage the apathetic Iranian community in the United States to work towards lobbying efforts as a community.
As per within Iran, he had very little impact, if any at all, but there is always going to be talk about the profound legacy his grandfather, HM Reza Shah, and his father the last Shah had on the country's destiny, whether for good or bad the reference point for future generations will always be if we were successful once, then always.
* Wonderful, humanist
Shahzadeh Reza Pahlavi (Reza Shah II), because of his wonderful, humanist manner he faces problems and dictatorship in our always suffering country.
* Idealist, realist
My vote for Iranian of the year has to go out to Reza Pahlavi. He is an idealist and at the same time a realist. During the past year, he has taken advantage of every opportunity to get out the message that Iranians everywhere should achieve freedom and democracy through nonviolent means. After all these years, he still puts his and his family's well-being on the line when he really is not obligated to do so. There are others like Akbar Ganji who deserve similar praise, but you have to give Mr. Pahlavi his due.
* Bold initiative
I vote Reza Pahlavi as the Iranian of the year for his bold initiative in support of the freedom movement in Iran.
* His destiny in our hands
He has launched a new campaign towards a final solution for national reconciliation. Hence, he has accepted a role as a coordinator to establish a democratic system in our beloved country. He has left his personal destiny in our hands - the Iranian nation - to select him as a ceremonial head of the state or give him the status of "Citizen Pahlavi".
* Changing destiny
My choice for the Iranian of the year is Reza Pahlavi. He is the one who finally motivated Iranians to change their destiny.
* Uniting Iranians
Reza Pahlavi II, because he has done in six months what Iranians haven't been able to do for the last 21 years: unite Iranians all over the world and with different political ideologies, for the cause of freedom!
Ramin
* Unity, democracy
Mr. Reza Pahlavi: For his new visibility and his message for unity and democracy.
* Trying
Reza Pahlavi, for at least trying to free Iran from the darkest time in her history.
* New hope
My choice for the Iranian of the year is: Reza Pahlavi. He has driven up his campaign and given us new hope. His recent speech about "Emrooz faghat etehaad" has given me strength to continue the fight for democracy. Today we have started a student committee in our university - We are behind you 100% Shaahzaadeh; you lead the way and we will follow it to the end. Paayandeh Baad Iran