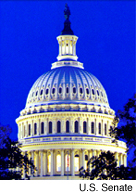 Huge blow
A terrible price to pay for a "feel good" ban on Iranians wishing to visit the U.S.

By Gary Sick
April 22, 2002
The Iranian
The Enhanced Border Security and Visa Entry Reform Act which passed unanimously (97-0) in the Senate late Thursday, April 18, prohibits admission of people from Cuba, Iran, Iraq, Libya, Syria, Sudan and North Korea unless they are coming to the United States as immigrants. This is a small provision in a major bill dealing with passports, consular training, and many other issues. (Excerpts below)
If I understand this correctly (and I would appreciate expert opinion, see below), this will either eliminate or severely complicate any scholarly exchange, track two meetings, family visits, civil society contacts, training, and/or university enrollment in the United States for any individual from a country identified in the State Deptartment list.
This is being done in the name of security against terrorist attacks. To the best of my knowledge, there have been no contemporary terrorist actions by individuals from any of these states. On the other hand, we have had the greatest terrorist attacks in history by individuals from Egypt, France, Saudi Arabia, Pakistan, and no doubt other countries -- all of which are not covered by this legislation.
This is a huge blow to freedom of expression and will involve untold personal hardship. It will also place immense additional obstacles against individuals from those countries who want to seek a US education or even to expand their contacts among those who may be opposed to the actions of their governments -- including terrorism. In terms of real US security, it is likely to accomplish little or nothing. This is a terrible price to pay for a "feel good" clause.
Is it too late to have any effect on this legislation? I am very disappointed that this was done virtually unnoticed by organizations that should have been alert and interested, and who might have been able to make a case with their senators and representatives that this was a very harmful piece of legislation.
Here are the key excerpts from the bill:
H. R. 3525 "Enhanced Border Security and Visa Entry Reform Act of 2001".

SEC. 306. RESTRICTION ON ISSUANCE OF VISAS TO NONIMMIGRANTS FROM COUNTRIES THAT ARE STATE SPONSORS OF INTERNATIONAL TERRORISM.

(a) In General. No nonimmigrant visa under section 101(a)(15) of the Immigration and Nationality Act (8 U.S.C. 1101(a)(15)) shall be issued to any alien from a country that is a state sponsor of international terrorism unless the Secretary of State determines, in consultation with the Attorney General and the heads of other appropriate United States agencies, that such alien does not pose a threat to the safety or national security of the United States. In making a determination under this subsection, the Secretary of State shall apply standards developed by the Secretary of State, in consultation with the Attorney General and the heads of other appropriate United States agencies, that are applicable to the nationals of such states.

(b) State Sponsor of International Terrorism Defined.

(1) In general. In this section, the term "state sponsor of international terrorism" means any country the government of which has been determined by the Secretary of State under any of the laws specified in paragraph

(2) to have repeatedly provided support for acts of international terrorism...
***
In response to my message about the new legislation affecting visas from individuals of countries on the terrorist list, I have had discussions with several individuals in Washington. I wanted to share the response with you.
Based on the tentative analysis of administration lawyers, this legislation (soon to reach final passage in the House) will require the expanding of the current pool of foreign nationals subject to inter-agency vetting, but it will not shut down non-immigrant visas.
Shortly after 9/11 the United States instituted an interagency review process for non-immigrant visas for people with certain characteristics from specific high-risk countries. This legislation will require the expansion of that program to cover those terrorist list countries not covered by the original executive order (most were already being covered).
It will also expand -- for terrorist-list countries only -- application of interagency review process to all nationals from those countries. Nationals from terrorist-list countries should be affected only by some amount of additional delay in the issuance of the non-immigrant visa.
One country of particular interest is Iran, where there is a lot of travel back and forth, including a lot of family travel due to the large number of Iranians in the United States. All of these individuals (including grandmothers and small children) are already subject to "special scrutiny" prior to granting a visa.
As a consequence, if I understand correctly, this legislation is unlikely to have any significant effect on them, beyond the restrictions already in place. Any additional comments, corrections or informed information would be welcome.
Author
Gary Sick served on the National Security Council staff under Presidents Ford, Carter and Reagan. He is the executive director of Columbia University's Gulf/2000 project, an international research group covering political, economic and security developments in the Persian Gulf. This article was originally posted on the Gulf/2000 Internet bulletin.