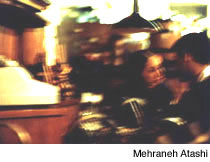 Selected short notes
December 2002
Past months
* Revolution, 9/11 dreams
* Somewhere between Tehran and Isfahan
* Bad dream
* 5-tan-e aal-e abaa
* Not bad at all
* Mahdiyeh & Marylin
* Love notes
* Tickled to death
* Unknown man
* Natural colors
* Haree paa-ter
* Zendeh baad!
* Dancing is forbidden
* Daryaa
* Baby in a basket
* Bad driver ==> terrorist
* Jesus
* Radio listener
* Exposed
* Tofurkey
December 21, 2002
From Karim Ardalan:
Susan delivered a beautiful, healthy baby boy on Saturday 12/21/2002 at 2:26 pm :) Our son, Ryan and Susan are both doing fine. They will be leaving the hospital tomorrow. It's such an amazing experience.

Will send some pictures later.

-- Karim and Susan
December 20, 2002
* Amanpour
Heard during lunch:
CNN's international correspondent Christiane Amanpour has a huge poster of herself on the cover of Newsweek magazine hanging in her office in London.
December 19, 2002
* Revolution, 9/11 dreams
What struck me was your note on your dreams. I have a very STRONG intuition (honestly I don't like it). When I was 12 and still attending Catholic School (Sohail) in north of Tehran (boy did I hate those nouns) I don't know why I was always afraid of loosing my mother.
One night (about six months before the Revolution) I had a dream: Iran had turned into a huge desert. There was NOTHING but sand and the guillotine (what the French used to behead people with). Everywhere I looked there were people in black robe being beheaded.
I was crying and looking for my mother and COULDN'T find her. I was crying so hard that I woke up my sister Juliette and she was trying to wake me up but couldn't. The strong feeling to find my mother wouldn't let me wake up.
To this day I remember my dream vividly and the feeling I had, as though I was in a dry well, dark and cold and no one could help me.
On August of that year (1978) I was sent to Greece (and of course other countries later, aavaareh for many years). It took 12 years to reunite with my mother. When she arrived at LA airport, she passed by without recognizing me. I just stood there without any feeling. I felt numb.
On the night before September 11, I had a dream that America was drowning in monsoons and water had taken over all dry land. I was searching for highland to climb while trying to drag my friend Sunny and her daughter to safety (ironically I did not think of my family) but I could not find dry land.
I woke up all scared and thought out loud: "God please no bad news" as I was watching CNN and making coffee. I turned around for a moment and saw the twin towers collapsing. I thought "When did I change the channel to MTV?" -- you know how weird some of the videos are on MTV? I tried to flip channels but every station was showing the same thing.
I FELT GUILTY FOR HAVING THAT DREAM!
-- Y2
December 19, 2002
* Somewhere between Tehran and Isfahan
From God knows how many KM above, traveling from Tehran to Isfahan, before I got threatened to have my camera taken away! Larger image

-- Shadi
December 17, 2002
* Bad dream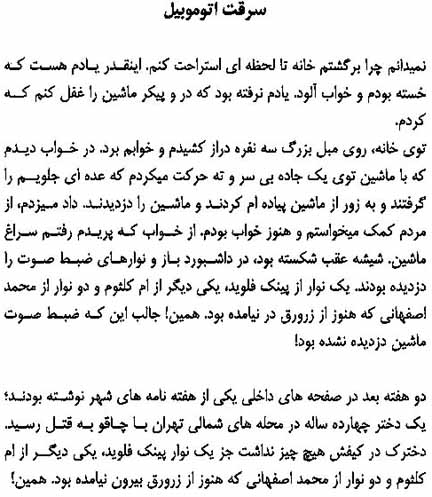 December 17, 2002
* 5-tan-e aal-e abaa
I sent an email to friends, letting them know I've moved within the same building, from apartment #13 to #5. Here's one cute reply:
Sabt shod. Khoob kardi. 13 chi-ye?! Az haalaa kaaret behtar mishavad. 5-tan-e aal-e abaa negahdaarat.

-- Mehdi
December 17, 2002
* Not bad at all
Look what 534,000 tomans (about $700) can get you in Tehran: A PC with Intel Pentium 4, 256 RAM, 40gb hard disk,17-inch monitor, 56k internal modem, speakers, webcam and...
-- Javaneh
December 12, 2002
* Mahdiyeh & Marylin
Three 30-second video clips of my 20-year-old daughter Mahdiyeh's bedroom just before moving out of apartment #13 on Solano Ave (Albany, California).
1st clip: Walking to the bedroom and scanning the wall (RealAudio//low quality, blurry) (Quicktime/avi)
2nd clip: Scannning the photos on the wall (Quicktime/avi)
3rd clip: Almost the same as the 2nd clip (Quicktime/avi)
December 8, 2002
* Love notes
Tiamat is 9-years old. She and her friend write anti-war notes and drop them in the mainlbox in Sebastopol, northern California.
December 8, 2002
* Tickled to death
From Tehran
Do you know what I would like to see? You know the trees on Pahlavi (Vali Asr) Avenue? Hang the mullahs by the ankle from the trees and tickle their feet with feathers until they start to cry. And then hang them by the neck... You don't know what bastards they are.
December 8, 2002
* Unknown man
Sourena Mohammadi writes: I nominate this "unknown man" as the Iranian of the day. Go here and click on "unknown man". You will find a picture of him there [and this text by Ahmad Nadalian:]
While the entries for the First Exhibition of Iranian Conceptual Art had all been submitted for approval to the selection committee, one of the works was an exception. As the committee members gathered to welcome viewers on the opening day of the exhibition, they were disconcerted to see an unknown man, his face swathed in bandages, walking through the exhibits and marking them with yellow tape marked 'danger!'.

Political, social and cultural connotations come to mind, but this unknown artist undoubtedly captured the viewers' imagination with his unprecedented actions. His face bandaged (a sign of injury?) he seemed to be warning us against danger, against moving too close. What harm can there be in museum exhibits? Or does the danger lurk in society, in this greater world where we pause to observe and then simply move on?
December 6, 2002
* Natural colors
On my way back from lunch yesterday, I saw Parsha, the friendly Iranian flowershop owner. He pointed at one of the small yellow flowers and said, "Focus on this for three seconds." Why, I wondered. "You have to exercise your eyes to appreciate real, natural colors, not the electronic dots you see for hours on the computer monitor." He was so right.
December 6, 2002
* Haree paa-ter
As I write, Friday, 1:35 a.m., Iranian state TV is showing Harry Potter and the Sorcerer's Stone -- dubbed in Persian. Yaadesh beh kheyr. In the Khomeini era, we had to watch communist bloc movies from the 1950s.To top
December 6, 2002
* Zendeh baad!
As I was preparing the articles last night, I got Bijan Khazai's "Baba velesh kon" in my email box. Too bad I got it late or I would have made it the cover story. He's a great writer.
Of course the cover story -- Aghajari's speech [From monkey to man] -- is something else. The man has spoken his thoughts about the ruling clergy and their ideology, and now they say he has to die for it.
They won't kill him, they won't dare. But this episode is symbolic of the crap that's going on over there. We have no respect -- zero tolerance -- for critical thinking. Say something controversial, question authority, condemn closed-mindedness and zertee meegan "edaam baayad gardad!"
As far as Aghajari's ideas go, I have a problem with religion altogether. Yes Islam needs to go through a reformation -- and it is. But as a political force, it's dead. Aghajari doesn't want the Islam of today's rulers, but the more modern version of Ali Shariati.
My question is, why do we need to find Islamic justifications for our demand for freedom? If we want democracy, why do we need to make sure it complies EVEN to the spirit of the Koran and its messengers? Freedom is everyone's natural right, period. PERIOD!
Promoting modern interpretations of Islam, like Shariati's, is only progress to those who still believe religion can and should be a guide for private, public and political life. It's like peeshraft is passraft beh Shariati!
When I was 17-18, I read Shariari a lot. That's how I was attracted to Islam. But more than two decades have passed and I've moved on -- most of us have, society has, and ideas too. Look at the people around you: your family, your freinds, people in the steerts. How many of them seek answers in religion these days? Those who still do, keep it to themselves; it's their private business.
But all said, I have great respect for Aghajari and those like him. Anybody who challenges the status quo, who goes against the grain, who's an underdog, who questions long-held beliefs, is my kind of person. Zendeh baad!
December 6, 2002
* Dancing is forbidden
A "modern" Islamic couple, preparing for a religious wedding meets with their Mullah for counselling. The man asks, "We realize it's a tradition in Islam for men to dance with men, and women to dance with women. But, at our wedding reception, we'd like your permission to dance together."

"Absolutely not," says the Mullah. "It's immoral. Men & women always dance separately."

"So I can't even dance with my own wife?"

"No," said the Mullah, "It is forbidden"

"Well, okay," says the man, "What about sex? Can we finally have sex?"

"Of course!" replies the Mullah, "Allah ho Akbar! Sex is OK, to have children!"

"What about different positions?" asks the man.

"Allah ho Akbar! No problem," says the Mullah.

"Woman on top?" the man asks.

"Sure," says the Mullah. "Allah ho Akbar. Go for it!"

"Doggy style?"

"Sure! Allah ho Akbar!"

"On the kitchen table?"

"Yes, yes! Allah ho Akbar!"

"Can we do it with all my four wives together on rubber sheets with a bottle of hot oil, a couple of vibrators, leather harnesses, a bucket of honey and a porno video?"

"You may indeed. Allah ho Akbar!"

"Can we do it standing up?"

"No." says the Mullah."

"Why not?" asks the man.

"Because that could lead to dancing."
-- Sent by Farzaneh Rouhanizadeh
December 6, 2002
* Daryaa
I love this song, "Daryaa" (The Sea) by Mahasti. The way she says "Daryaa" is so beautiful.
Daryaa... Daryaa... Daryaa
Daryaa, mano sedaa kon
Khaak o baa aab dobaareh aashenaa kon
O Sea...
Call me;
Let the earth
Meet water
Once again
Bad translation. But you get the idea. Beautiful song.
December 6, 2002
* Baby in a basket
My friends have been married for a while but haven't been able to have kids. Last week they were at a party here in Tehran. The door bell rings, they open the door and see a newborn baby in a basket.
"It's a miracle!" they say and decide to keep the baby (apparently, she's very cute too).
In order to claim the child as their own, they got a few neighbors to seign a petition that she was born naturally at home.
-- Javaneh
December 6, 2002
* Bad driver ==> terrorist
Jahanshah joon,
Just received an email from my very close friend living in Southern California. One of her close relatives, a young Iranian male (27), went in to be fingerprinted and photographed (registerd) according to immigration regulations effective, Dec. 16, 2002. They detained him because of his driving record!
Apparently, he had missed traffic school or something of that nature.
So please let others know via your site or some other means that they need to have their records cleared and clean because now we have a DMV police in immigration office who might just like to think any person from Iranian descent could be a criminal by the vice of not having a clean driving record!!!
If you have a parking ticket, take care of it today, it's grounds for global terrorism.

Regards,
Leila
December 2, 2002
* Jesus
Heard from a Tehrani
A few years ago, when I was in college, I had a dream that I was in a village. People were in the streets holding candles. I saw a man wearing a cape and hood walking towards a cross. I had a feeling he was Jesus. I pushed the crowd aside, grabbed his cape and held on. He turned around with an angry face. It was Jesus. When he saw me, he became gentle. He reached in his pocket and gave me a piece of bread.
December 2, 2002
* Radio listener
Heard from a Tehrani
My father's day begins at 5:30 in the afteroon when short wave radios turn on simultaneously in every room in the house. He also has a hand held radio next to his ear. Each station is tuned to a different station. He listens to the BBC, the American one, Maybe Moscow too, and sometimes the German one, Deutsche Welle. Radio Israel? No he doesn't listen to that one. He walks around and samples the news. He'll stop if something gets his attention. But his other ear is still scanning radio waves from the other rooms to make sure he doesn't miss anything.
December 2, 2002
* Exposed
Heard from a Tehrani
I teach English to two small kids whose mother is a Bahai missionary. One of them caused a little stir at his elementary school the other day.
We're in Ramadan, and his teacher was talking about the significance of this month and the fasting ritual. My student stood up and said, "But it's not time to fast yet." Bahais fast around the end of winter, which meant the kid had exposed his Bahai ties.
When the mother came to pick up her son from school, the teacher was respectful. He told her to let him know in advance about Bahai holidays and he would allow her son to stay home.