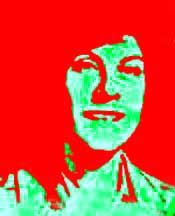 By Parvaneh Eskandari Forouhar
Translated by Fariba Amini
There is a road ahead of us paved yesterday,
a road where there is no turning back.
A trail made with warm blood, a weak cry of anguish.
A path colorfully tainted with the blood of the brave.

In this ravaged land of sadness,
Where the ugly owl roves,
Evil has replaced goodness,
and the hands of the brave are bound.

Let us clear this dark trail
with the chimes of our hearts.
Let us put aside our sorrows
and wash the tombstones of our companions
with our own blood.
Let us sing the song of life
in the path of freedom in Iran.

It happened on Hedayat Street
The Forouhars' house, November 23, 1998

Compiled by Fariba Amini
November 22, 2002
The Iranian
Four years ago, secular nationalist activists Dariush and Parvaneh Forouhar were murdered in their house in Tehran by agents of the Islamic Republic's Intelligence Ministry.
Martin Cohn of the Toronto Star visited the couple a few months before their murder. He wrote, Dariush Forouhar "wanted people abroad to know about his work documenting violations of human rights inside Iran's borders. For that reason, he would have wanted the world to know about his death -- if only his fellow Iranians to continue the struggle for democracy."
These photographs were taken from the Forouhars' home on Hedayat Street soon after they were murdered.
* Ransacked room (1)
* Ransacked room (2)
* The office
* Belongings: Mossadegh (1)
* Belongings: Mossadegh (2)
* The bed
* Dariush Forouhar in his grave
* Dariush Forouhar
* Dariush and Parvaneh Forouhar