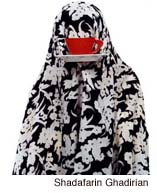 Our mama


By Ramtin
November 20, 2002
The Iranian

You were raised to serve tea
and keep rugs clean.

You have scrubbed the walls
until Your hands bled red
like the wine You were
forbidden to touch.
and You never complained.

You wove Your dreams into
black veils and wore them tight.
and even when it got too hot
You never complained

You married a face
not a person so You
loved marriage not
a man. and You never complained.

Your fingers rubbed Your
kindness into babies that
made You suffer yet always
brought You joy.

You asked Allah for blessings as
they grew but He was hard to find
among all these trees.

Your daughters married White men
and Your sons slept with women
who saw Your hijab as weakness.
and You never complained.

You threw dirt across the sea
and buried Your Mama, to gorbat,
and Your exiled heart never complained.

You broke fast with the wetness
from Your eyes. each drop burning
Your soul. and You never complained

You woke facing the east and slept with
Your face towards the heavens
never doubting His presence.

You prayed until
You finally found Your way home
though it's changed,
and maimed
and yet You never complained.