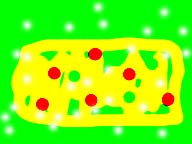 Napoleon's fix
Plombier ice cream
By Ashpaz Baashi
June 7, 2001
The Iranian
S. Nozari writes: Thanks for the Salad Olivier recipe ... do you have any for Plombier ice cream?
Indeed I do, and a story too! "Glace de Plombiere" was invented by an Italian cook in the service of Napoleon III when his entourage had stopped at the hot springs at Plombiere on a freezing cold day. The emperor had ordered a flan for desert. The cook botched it, the emperor said "Fix it" and so he did.
Glace de Plombiere
Soak 1/2 lb of candied fruit (ideally cherries and something green) in 2 glasses of Kirsch liqueur for 1 hour. Bring to a boil: 1 cup milk and zest of 1 lemon. Beat together till pale and foamy: 3/4 cup sugar, 5 egg yolks, 1 teaspoon vanilla. Continue beating while you add the hot milk mixture gradually.
Return the mixture to the heat and stir continuously until just thickened. Do not boil. Add the candied fruit, Kirsch, and 1/2 cup cream. Pour into a container and freeze for 2 hours. Beat the frozen mixture well, pack into a mold, and freeze for 1 more hour.