Latest
FOOD


On heaven's menu
Photo essay: Food in Iran
Farah Ravon
I decided to go on a major diet before our trip to Iran this fall. I knew I'd be exposed to a lot of colorful foods that I would not be able to resist, so I lost 15lbs. I managed to gain back about 4lbs - but it was well worth it! WARNING! Viewing NOT recommended on an empty stomach! >>>
FOOD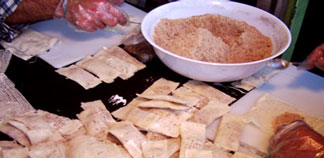 Reshteh & Koshkar
Photo essay: A little known but favorite Shomali Ramazan treat
Mohammad Ala
FOOD
Magic ingredient
As much as I prepared, life has proven that future couldn't be predicted, all the same, after more than three decades of living in a place where no one ever "drops in", I continue to cook enough for an army
Zohreh Khazai Ghahremani
The guests will be here in a matter of hours and I'm only halfway done with dinner. Sweet aroma of basmati rice, sautéed onions, and saffron fills my kitchen and the windows are fogged with steam rising from all four burners. I want to cook the best for my friends, I want this meal to be perfect, and as my hands do the work, memories of a kitchen I used to know fill my mind, except now it feels as if the remembrance belongs to another life: In a small town of Northern Iran, not far from the Russian border, we lived in an old house with a large garden that separated the kitchen from the living quarters: A dimly lit room with two wood-burning stoves and a bread oven -- tanoor. There was no sink; the water needed for cooking came through a rusty faucet on the concrete wall and drained into a hole on the tile floor >>>
FOOD
The power of kabob
I needed the Kabob, right then, and right there. I slapped myself. Don't let it control you, I thought.
Jennia Rajaei
Perhaps I have found the first error in the Webster's dictionary. Kabob, defined by this dictionary, is a skewer of meat marinated and cooked on a grill usually with vegetables. But, Kabob, at least the Kabob I know, is not just a skewer of meat. Kabob has actually the capacity to alter the mood of any environment or of any individual, if of course, this kabob is given the proper attention.
FOOD
Nuts about fruits
What fruits and nuts to eat in ancient Persia?
Touraj Daryaee
If you are Persian there is a 99.9% chance that at least once or probably many times you have heard these sayings: "Eat some fruit..." "Should I peel a cucumber for you?" "Have some pistachios..." In this brief essay I would like to go back in time and see what fruits were eaten in ancient Persia and look at the way in which the Persians looked at fruits and how they classified them in antiquity. I believe these matters often are neglected in Persian Studies and need to be elucidated from the fragmentary evidence that exists for the period to better shed light on the culture of Persia.
FOOD
Dreaming of lentils and porriage
i imagine the surface to be pebbled and crisp, toasted flour barely clinging to the dark edges, sandy to the touch, smelling of secret recipes
Daniela
my mom has been telling me these mouth-watering stories of iranian breakfasts. after i had a traditional week-day breakfast of warm pita bread, salty feta cheese and sweet dark tea, she told me the bread story: our driver or someone from the household would wake up early in the morning to buy the bread. bread is not made at home, we leave that to the bakers. and they take it out of the ovens and place it into the driver's waiting hands, hot from the stones and coals on which it was baked.
LIFE
My Iranian kharoset
The problem is that my parents' recipe tastes much closer to what I remember of our Iranian mixture than mine
Farideh Goldin
Once again, I ask my father to give me our family recipe for the Passover kharoset (charoset). He says, "Chop walnuts, almonds and pistachios in a food processor, add apples, bananas, and grapes -- only if you wish--pomegranate juice, wine, and vinegar--as you like--cinnamon and cloves, and dates and even figs--if you want." Surprised, I ask, "Bananas? When did we start adding that?" I know this is not our recipe because I was in charge of making it every year when I lived with my parents in Iran.
Archive
Goudar gourmet
Roast pork from northern Iran
Guive Mirfendereski
Hungry for L.A.
I'm excited to be playing in Los Angeles, mostly because I can have a decent chelo-kabab
Raman Kia
Real meal
Photo essay
Sara Catering
Valentine abgoosht
Saltanat entered the apartment with her nose first sniffing like a Bassett hound on the trail
Kaveh Aminian, Seattle
Iran food journey
Photo essay
Farah Ravon
Pari's cuisine
Interview with the author of The Joy of Persian Cooking
Tara Taghizadehdelicious foods
From our sofreh to yours
Thanksgiving dinner recipes with Iranian flavors
By Maryam Kamarei Sagheb
The man behind the apron
Faz feeds souls as well as appetites
By Behrouz Bahmani
Extra-terrestrial cravings
When I was small, Persian food used to scare me
By Niki Tehranchi
Food & Co.
To my parents, on Mother's Day
By Parissa Sohie

Loupatou
Tehran restaurant review
By Syma Sayyah

Noosh-e jaan
Photo essay: Persian food
By Ben Bagheri

Salmon koobeedeh
Fusion cooking
By Johnny Waters
West Philly Koobideh
Heping urbanized readers cope with Kabob withdrawal
By Johnny Waters
(Fat) lost brother
Half-Libyan construction workers AND food lovers
By Siamack Salari
Khoresh-e maast
With a nice glass of iced green tea
By Johnny Waters
Little lamb in fessenjoon
Why my father became a vegetarian
Niki Tehranchi
"I love it, Effat Joon!"
I didn't like the look of Abdooghkhiar, but I accepted a bowl
By Banafsheh Keynoush
Culinary habits
Iranian vs. American
By Ali A. Parsa
Kababism
Sick of organized religion?
By Gojeh Ezaafeh

Simple yet noble piece of heritage
Chelo kabob. What else?
By Setareh Sabety
Feeling human
Cure for sadness and horror: eating
By Kobra Khanom
A la Bella
How to make Ghalye Mahi
By Ashpaz Baashi
Daniel writes: I wanted to know if you knew the recipe for "Ghalye Mahi." I have had it a few times and I absolutely love it.
The C word
Why are Iranians obsessed with cholesterol
By Mahyar Etminan, Pharm.D
Acquired taste
What to do with caviar
By Ashpaz Baashi
Like hope
How to make noon sangak
By Ashpaz Baashi
Napoleon's fix
Plombier ice cream
By Ashpaz Baashi
Russian nimru
On the border
By Ashpaz Baashi
Salad Olivier
Where it came from and how to make it
By Ashpaz Baashi
Havij Polo
Carrot rice
By Linda Shetabi
Post-feminist koofteh
Order pizza
By Ashpaz Baashi
Authentic koofteh
How my mother made Koofteh Tabrizi
By Ahmad Poudratchi
Cooking with words
Goljan's Bread
By Naghmeh Sohrabi
Nan-e Badami
Almond cookies
By Ashpaz Baashi
Maahi Tu-Por, Abadani style
Thanks to Bella Ramazan-nia
By Ashpaz Baashi
Persian cooking
Recipes from Pari Ardalan Malek