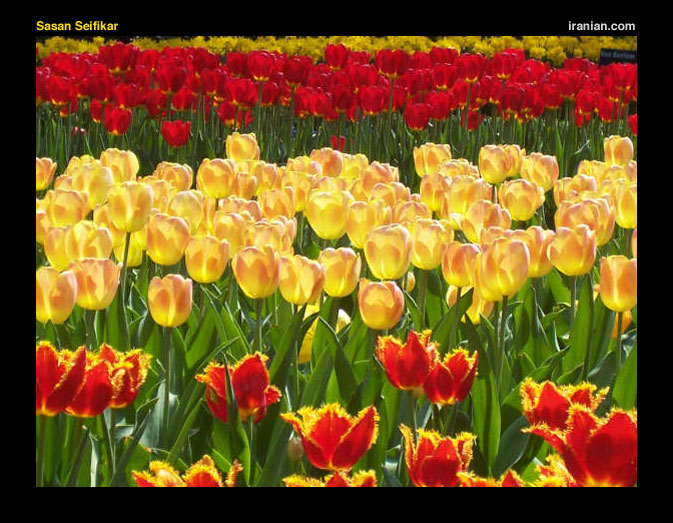 Click on photo to see 69
Photos
(1) (10) (20) (30) (40) (50) (60) (69)
Every color you can imagine
Photo essay: Keukenhof flower garden, a genuine Dutch treat
For my cousin, Affsoon
Sasan Seifikar
May 9, 2006
iranian.com
Most Iranians love gardens, flowers, orchards, and greenery. This is because we have a very long tradition of building beautiful and elaborate gardens and spending our leisurely time in them, often with family and friends. The primary purpose of our gardens is aesthetic rather than functional. They are there to provide beauty, grace, and charm. This is no different for Keukenhof.
Keukenhof is one of the world's largest and most beautiful and spectacular flower gardens. It is also the largest flower attraction in the Netherlands and the largest display of bulbs in the world. It is more than 55-years old. This year, some seven million bulbs are blooming in the 32-hectare (80 acres) springtime park from March 23rd until May 99th.
The bulbs turn into the most dazzling variety of tulips and daffodils and fragrant hyacinths and narcissus. These come in every color you can imagine and spread along winding, gentle and paved paths. The garden park has 15 kilometers of footpaths and it is dotted with small brooks and blooming trees which hang over the walkways.
With its vivid color palette, carpets of spring flowers, and sweet intoxicating smells, Keukenhof provides some of the most stunning, dazzling, and intense visual experiences you can get anywhere. Strolling through Keukenhof is like being in the middle of one of Van Gogh's landscape paintings. The impact on the senses is simply breathtaking and unforgettable.
Keukenhof is situated about an hour from Amsterdam and outside of the town of Lisse. It was designed as a flower garden and a showcase for Dutch bulb-growers in 1949 as an initiative of the mayor of Lisse and several prominent bulb growers from the area. The location was previously the home of a castle and accompanying lands, which may give you an idea of what the layout of Keukenhof is like. Fruit, vegetables and herbs for the castle were grown in the Kitchen Garden, from which Keukenhof gets its name.