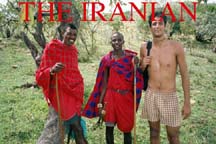 A small piece of the world
Nine-month adventure through 11 countries in three continents
By Neema Moraveji
January 16, 2002
The Iranian
Kenya
Thailand
India
Nepal
Pakistan
Iran
Introduction
Who doesn't dream about traveling the globe, finding and losing one's self a million times over and over, exploring new heights and vastly different cultures, having fun every single day, and doing it all while you are young enough to enjoy it?
I know I did and I still do, even after a nine-month adventure through 11 countries in three continents during my senior year of college. I hope to take you, through this series of six photo essays, to the places I visited.
First, some background knowledge: As a 21-year-old Iranian college student here in the US, I saved up my money from college internships and decided to take my senior year off and backpack alone through Europe. I flew into Madrid and ended up staying there for close to three months.
From there my travel plans changed and I visited Amsterdam, Morocco, Kenya, Thailand, India, Nepal, Pakistan, Iran, Turkey, and Germany. I kept a small backpack with few clothes, some first-aid supplies, and a book. I traveled by bus, train, and motorcycle to make it all the way from Southeast Asia back to Europe.
Through backpacking in the Himalayas, attending the teachings of the Dalai Lama, studying yoga, scuba diving in the Ko Similan Islands, sleeping in huts in Masaii villages in Kenya, and studying Spanish in Madrid, I have had a lot of adventures. But I only saw a small piece of what the world has to offer.
In each of these six weeks I invite you to take a look at where I went and what I did and hopefully you can gain something for yourself.
Kenya
From Madrid, I flew to Kenya and stayed there for two weeks. I fell in love with Africa instantly. The people were so kind and welcoming and interested in learning about me. In Nairobi, I made a friend in a movie theater and he took me to a local bar and dance club where I met and talked with other Kenyans.
I went on a ten-day camping safari and ended up with a life-altering experience: I asked a Masaii tribesman if I could stay in his hut for the night and he accepted. That night changed my life; it changed my view of humanity and the idea of the global village.
After the safari, my view on animals changed as well: they are far more intelligent and complex than I gave them credit for. And I was an animal lover before the safari as well! From Kenya, I flew back to Spain and then bought a one-way ticket to Bangkok.
Come back next week for part II: Touring northern Thailand by motorcycle and visiting the backpacker pilgrimage island of Ko Phan Ngan.
>>> NEXT photo (21 total)
Me standing on the equator, Kenya.
>>> NEXT photo (21 total)