Parisa Tork is a very, very young talented artist. She is eight. Although Parisa's work does not incorporate abstract gestures, as well as illusionistic devices, cut-imagery typography, she has always favoured the figurative tradition. She left the Da Da movement at the age of four, and has an avowed intention to make an accessible, pleasurable kind of art, which has ensured widespread success with the circle of her admirers.
In search of a different, lighter, more open vista she makes use of vivid colours as a prime focus, which is an inspiration by her favourite artist Henri Matisse. She has captured innocence of the spirit before the dark age of scepticism takes place. Her choice of rainbow colours could be compared to the abstract works of Wassily Kandinsky but her dreamy figures could be compared to Marc Chagall although instead of folklore she draws her inspiration from Barbie, and princess magazines.
Each image can be yours on making the donation of $100 to iranian.com. By this you will share Parisa's childhood dream, that one must protect what one cherishes, and one should invest in the future, take action and not just be an observer. Even at the age of eight she recognises that Iranian.com is a unique platform for Iranian expression and should be supported by funds.
I will be sending the original to iranian.com address. Ask yourself, would you have bought a Picasso before anyone else managed to get a copy? Well, here is your chance to buy a Tork. Look at "" drawing and judge for yourself.
(11 totdal)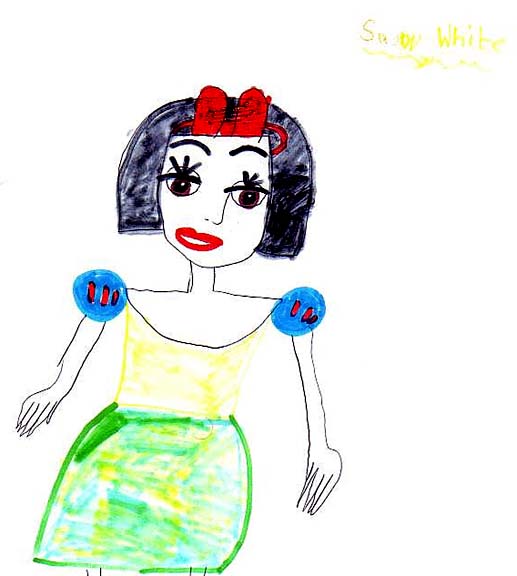 SNOW WHITE
(11 totdal)