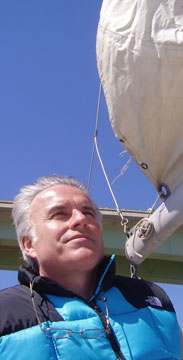 This morning began as they usually do, Aman leaping out of bed yelling because he might be late, Amir rolling over, smiling and saying "Thank you Mr. Smith.  Good morning" Just like my boys not too many years ago, two boys so different in how they take on the day.
I am a Catholic, the boys are Muslim. I am an Irish-American they are Iranian-American. I like Cheerios for breakfast, they like bagels, lavash bread and oh yes, Waffle Crisp.
Like every weekday morning; their mother leaves for work at 5:30am so I get the morning duty to get them dressed and on the bus for school. We will all madly try to pull ourselves together, make our beds and grab some breakfast before we head out the door.  Some mornings however, we have a few more minutes to go down by the Severn River to look for the eagle that frequents our neighborhood and enjoy the view.  It is a peaceful place, this walk by the river.  The boys will run down by the docks, or climb the jungle gym, while I walk along the shore taking it all in.
Before I fell in love with their mother, I fell in love with the peace of this water and this place.  Standing on the shore, I sense the brevity of our time and the enormity of the tides.  Ebbing and flowing, they have been carving out shorelines for so long I cannot comprehend their beginning nor their end.  Yet I continue to stand and to try.
When I met their mother we were both so bruised from past marriages.  Fights over property, children, money, friends – the war waged left us both ravaged.  She was Muslim, I was a Catholic. But we found in each other a best friend, someone who would share our quest for peace.  If peace was at all possible we would find it.  For that was our quest. But underlying that quest was our mutual faith in God.   It's been more than four years now, and the peace we found that night when we first walked by the river when she leaned her head on my shoulder, snuggled under my arm is still with us.
The Quran is kept in our living room, beside the Bible. We found that peace cannot be had by ignoring the problems of the world and hiding. God has made us all to be in the world taking care of each other and sharing our gifts. For it is in giving that we receive, it is in our largest sacrifice that we have the most to gain. And to me the greatest sacrifice is not in the heroic battle, it is being there for my family. Every day, like the tide, being dependable, respectable, and living my life with as much grace and dignity as can be mustered. I learned that back in Ohio from my parents. I see it in the woman I share my life with and I hear it in the sounds of the river.
Very soon the peace brokers are coming to meet in Annapolis. Men and women of different nationalities and faiths will sit down together by the water searching for peace in a conflict that seems to have no end. Their arguments have been in the making for more than a thousand years. Tonight I will go home to live in a peaceful sanctuary built by two people of different faiths that both cling to their one commonality – God, the One who makes all things possible. Who is full of compassion and mercy….and forgiveness. He holds no grudges to those who are truly regretful. He has no fight with the meek and humble. He knows better than us that we are all His children and He has given us all the gifts we need to take care of each other. At our house we live in peace as we realize that, however distant, we are both cousins, descendants of the children of Abraham.
But in Annapolis there will be arguments for sure, arguments over land, buildings, families, and past wrongs. And yet as I stand by the Severn River overlooking Annapolis, seeing our children play and watching the tide begin to flow, all things seem possible.
And the woman I love? Her first name is Iran.
For thus saith the LORD, Behold, I will extend peace to her like a river…
Isaiah 66:12
John Oliver Smith is an Environmental Engineer with a Maryland-based firm.  He lives off the Severn River just outside Annapolis, MD. His partner, Iran Davar Ardalan is a Senior Producer at NPR News and Author of "My Name is Iran." John's essay can be heard on Monday November 26, 2007 on WYPR (NPR Station in Baltimore and Annapolis, MD) between 12:00 and 1:00 p.m.  To download the audio go to: wypr.org search for John Oliver Smith.