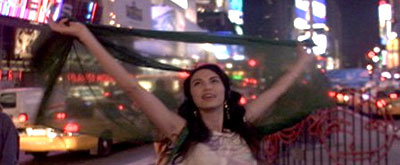 Shiva Rose Gharibafshar, daughter of Iran's beloved talk show host, Parviz Gharibafshar with first wife Rose, is a fascinating Iranian American actress once married to Dylan McDermott. The couple, who are parents to daughters Colette and Charlotte, are reportedly separated as of last summer which only adds to her charm since in spite of the emotional upheaval normally contrived by such an unpleasant scenario, Shiva has prevailed as a devoted Mom, a fashion magnate, a die hard political activist (who's even been arrested twice for anti war protests –once with her baby!) maintains a regular blog on the Huffington Post, and managed to squeeze out a movie recently in only 23 days! The movie, David and Layla, which opened in New York LAST WEEK (Feb. 15th) has already won 6 awards at various film festivals, and continues to gain momentum. Inspired by a true story, this romantic comedy by Kurdish Iranian Jay Jonroy, is about 2 Star-crossed lovers, David & Layla like Romeo & Juliet but with Jews and Muslims in New York to make it allegorical. This film is bound to stir up controversy. [Trailer][Photos]
Making a full feature movie like David and Layla is quite an achievement specially for Iranians in Hollywood. But it was made in only 23 days! Can you tell us about the difficulties you experienced in making this film? Any memorable trials and tribulations you'd care to share?
Making David and Layla was challenging since it was shot during the hot humid summer months in New York City and Brooklyn. It was difficult trying to keep our makeup looking fresh. It was also a crazy schedule shooting long hours through the night. I'm so relieved that the film looks as good as it does, thanks to our amazing director of photography, Harlen. Now we can look back and realize all the hard work was worth it. I suppose one day that seems to stand out the most, is our first day of shooting that was done in a slaughter house. It was so hot, and sticky and the smell of death and blood was rampant. It was especially challenging since I am a vegetarian, and I had to act as if I was buying a chicken to slaughter. But then, it was Layla's world and that made it bearable.
You're half Iranian and half American. How has that affected your ability to get parts in Hollywood?
it is very interesting seeing what has changed in the industry regarding middle Eastern actors. When I first began acting, parts for Iranians were very very rare. Now it seems middle Eastern characters are becoming more mainstream, The only issue I come across is that I may not be Iranian looking enough for some casting directors. Of course as Iranians we know this is ridiculous since Iranians have much diversity in the way they can look from one region to another. I also have an issue playing terrorist types. So sometimes this can limit what kind of roles I can be up for
Given the political climate in the country at the moment, this film is a timely look at other cultures. Do you feel it can or has made a difference in the way voters may react? If so, how. (Please elaborate as you wish).
I'm sure this film can give Americans another view on what an Iraqi citizen is like. I play a Kurdish refugee, and many people in the states don't know the historical context that colors the lives of Kurds. Hopefully this film can also shed light to the Kurdish plight
Your father is the beloved Iranian talk show host, Parvis Gharibafshar. Back in the 80's (?) I remember him bragging about his daughter who was in a play at UCLA. Did you always want to be an actor and/or did you feel a sort of obligation to carry on in your father's footsteps/or did he try and talk you out of it?
Yes, I have always wanted to be an actor. Since watching old movies as a child and being involved with theater. I'm sure growing up on television sets with my father added my comfort level. My father never tried to sway me away from being an actor, but he made sure I knew how vital an education was. I attended UCLA which is also where my father went.
I'm sure every Iranian girl out there thinks the same thing: What was your father's reaction (or yours) to your somewhat unconventional love scene in David & Layla?
Yes I was very worried about the love scenes in David and Layla however, I had to keep reminding myself that as an actor my job is to tell the writers story as best as I can. It is still very difficult to watch those scenes and when my father was in the theater I had to leave. I suppose even being a woman in her thirties, with two children, still doesn't take that shyness away
In additional to being an actor, you're a mother and you seem to be have an avaricious interest in fashion (I've heard about the cool fashion parties at your house). But you've also been arrested for your political beliefs. (which I think is even cooler). Can you tell us about that?
I am involved very much in the fashion world. I suppose fashion is my hobby. I have such a deep attraction to vintage clothing. For years people thought it was a bit eccentric, but now vintage is really popular. I will actually be designing a line of rings called Braydon-Rose that is very vintage looking. They are called princess rings and have multi colored gems. Hopefully this will evolve into a clothing line.
I am also very political though now that the tide has turned against the Bush administration, I don't feel as compelled to get arrested. Years ago I really felt as if my screams against the war in Iraq were falling on deaf ears. My first arrest was five years ago before the war started. My most recent was last year where I had to spend 8 hours in jail.
I'm not sure why I get so passionate about was. It is probably due to being a mother and feeling the pain of all those people who have lost their loved ones for nothing but ego, oil and politics. Now I try to raise money for various organizations. My favorite now being No More Victims. They are an incredible group that brings Iraqi children who have been maimed by US bombs here for surgery or treatment. You can watch the moving video on them on www.nomorevictims.org
What's next for you professionally? Are you going to do the TV cooking show you've talked about , or write that book? What would be your thesis?
I am also currently doing a play in Los Angeles called The Time Of Your Life. Later this spring I will be in the play My Antonia based on the book by Will Cather. These plays are both really lovely works that illuminate humanity.

The film premieres in San Francisco on March 7th, with a private screening sponsored by BeyondPersia on Saturday March 8th . Meet Shiva Rose & Writer/Producer Jay Jonroy for an in person Q & A. For more information email info@beyondpersia.org or visit www.davidandLayla.com