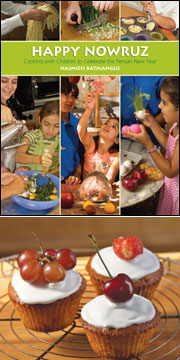 REVIEW
Happy Nowruz
Cooking With Children to Celebrate the Persian New Year
by Najmieh Batmanglij
Mage Publishers, 2008

Every year at this time, I get into my usual schizophrenic Iranian mood of feeling excited about Nowruz just around the corner, and feeling panicked because I haven't done the things on my list. I lose sleep over the budding sprouts of lentil on my plate, worrying that I soaked them too late this year and that they won't turn into a decent sabzeh in time. I get trepidations about not having done my "Iranian grocery store" shopping run, worrying that I will now have to fight the mob for my haft sin pieces. Worst of all, I get panic attacks for I haven't done my shopping for Nowruz presents!
Just like most Iranian elders, I give cash to the youngsters in my family because this seems to be the most expected and best appreciated gift year after year! No, I don't give signed $2 bills to them as Maz Jobrani suggested recently! But what should I do about the many adults around me? I like to give presents for Nowruz, which further contributes to my general sense of panic at this time of the year!
This year, by sheer luck, I came across something wonderful, an item that could make a great Nowruz present for young parents, grandparents, aunts and uncles, and anybody who is in touch with young Iranians. It is Najmieh Batmanglij's new book, Happy Nowruz: Cooking With Children to Celebrate the Persian New Year.
In the tradition of Batmanglij cookbooks, this book offers excellent presentations of beautiful pictures, historical background, nostalgic memories, and of course pretty robust and fool-proof recipes. It is filled with decorating and cooking ideas we can share and do with children, celebrating our traditions and creating new memories. I should say that though I enjoy cooking very much, I have never warmed up to the idea of baking, feeling like a miserable failure every time I have tried it!
Looking at this book, though, I thought even I could try some of those tips to spruce up and prepare my house and my Haft Seen spread around Nowruz, and explore some adventures in baking, with or without youngsters in tow! I was so impressed, for example, to find very easy and practical recipes for Nowruz sweets (shirini) favorites, such as Tut, Nun-e Berenji, Nun-e- Nokhodchi, Sohan Asaly, Baqlava, Zaban, and even Bastani-e sonnati and Sharbat-e Alabaloo! The way I see it, a recipe written for a 6-14 year old's interest, experience, and attention span for baking matches that of mine quite closely, thank you!
This is my Nowruz present to many of the adults around me this year. For all intents and purposes, a copy of it already sits on my coffee table, decorating my house for Nowruz and offering a fabulous conversation piece, while helping me become the Iranian baker I never was!
Happy Nowruz everyone!
Following is an excerpt from Happy Nowruz: Cooking With Children to Celebrate the Persian New Year, by Najmieh Batmanglij:
Preface
Living in America, my family and I welcome every holiday and joyful occasion, and we get more pleasure than ever from celebrating Nowruz – the Persian New Year.
Through the years I have found myself going out of my way to be more creative and inventive when celebrating the traditional New Year ceremonies with my children outside of Iran. Nowruz is a spiritual holiday, not a religious one – it is a celebration of the arrival of spring and the rebirth of nature. Everyone can enjoy Nowruz, no matter where they live.
In writing this book, I was inspired by my childhood experiences of Nowruz in Iran in the 1950s and 1960s, as well as by more than twenty-five years of celebrating Nowruz with my own children outside of Iran. I hope that families and children everywhere can benefit from our experience.
This book is suitable for all ages and can be used at various levels – parents and teachers could read it out loud to children under seven years of age, while older children can do everything in the book, including preparing the various dishes and cookies with the help of parents or teachers. Ideally, I would like to inspire the whole family to get together and have fun with the various activities involved in preparing for the arrival of spring and the rebirth of nature. It can be a joyful experience for everyone in the family to cook their favorite foods together. I have created simple recipes so that children as well as adults who don't normally cook can participate in the preparation of the meal. Most of the recipes in this book are traditionally made during the Nowruz holidays, but I have also added a few of my and my children's favorites, such as making flatbreads and topping them to make a wonderful pizza. I hope you will enjoy reading this book and cooking from it as much as I have enjoyed working on it.
…
The Arrival of Haji Firuz
In Iran, the first sign that Nowruz is near is the appearance of dancers and singers – called Haji Firuz – in every neighborhood disguised with masks, animal skins, and makeup, with some wearing tall, red hats. Through the streets they dance, playing tambourines, trumpets, and drums, and singing to passersby. The first performers appear about two weeks before Nowruz. As the day draws nearer, more and more of these heralds are seen, dancing for the joys of the holiday.
How did this charming custom come to be? Some believe Haji Firuz is a relic of Tammuz, the long-forgotten Sumerian god of sacrifice, who was said to die at the end of each winter and to be reborn each spring; Haji Firuz's darkened face is a sign of his return from the underworld, the red clothing a symbol of the blood sacrifice.
No one really knows where Haji Firuz originated. Most believe, though, that his red costume and his hat – which looks like a rising flame – recall the sacred fire of Ahura Mazda, the Zoroastrian Lord of Wisdom. In this way, Haji Firuz stands for the victory of light over darkness, good over evil, and spring over winter.
The children who follow the dancer through the streets don't care about his origins. They just like to listen to the simple songs he sings.
Haji Firuz-e
Sal-i ye ruz-e, sal-i ye ruz-e
Ham-e midunan, man-am midunam
Eyd-e Nowruz-e, sal-i ye ruz-e
Haji Firuz is here
It's once a year, it's once a year
Everyone knows it's here, I know it's here
Nowruz is here, it comes but once a year
…
Activities to Welcome Nowruz
There are many things that adults and children can do together to welcome the holiday season. These are some of the activities that my children enjoyed:
• Germinating seeds for sprouts
• Planting narcissus and hyacinth bulbs in pots
• Selecting, buying, and taking care of goldfish
• Dyeing and decorating eggs (see page 25)
• Painting banners and balloons with Nowruz resolutions such as "good words, good thoughts, good deeds," for decorating the house and classroom
• Making holiday cards that say, "Happy Nowruz" or, in Persian, "Eyd-e Shoma Mobarak" or "Nowruz-e tan piruz," for sending to friends and family
• Making Nowruz cookies, especially Haji Firuz
gingerbread cookies
• Making garlands hung with flowers, fruits, photos, favorite stickers, and Haji Firuz gingerbread cookies.
…
Nowruz Cupcakes
(KEYK-E YAZDI)
MAKES: 12 CUPCAKES
PREPARATION TIME: 10 MINUTES
COOKING TIME: 35 MINUTES
INGREDIENTS
— rice flour 1/4 cup
— all-purpose flour 2 cups
— baking powder 1 teaspoon
— baking soda 1 teaspoon
— salt 1/4 teaspoon
— ground cardamom 1 teaspoon
— cooking rose water 1 tablespoon
— eggs 4
— sugar 1 1/4 cups
— unsalted butter 1/2 cup
— yogurt 1 cup
— cooking rose water
— 1 tablespoon
— sprinkles
SPECIAL TOOLS
— rubber spatula
— 12 paper or silicone muffin cups
— 12-cup nonstick muffin pan
OPTIONAL ICING
In a large shallow mixing bowl, whisk 3 egg whites and 3 cups confectioners' sugar for 5 minutes. Add 2 tablespoons freshly squeezed lime juice and continue whisking for another 2 minutes, until you have a thick icing. Spoon icing over the cupcakes and decorate with fresh fruit or candies.
1 Before you start
• Gather all the ingredients and tools and ask for adult help, especially when using the oven.
• Preheat oven to 350˚F (180˚C).
2 Making the batter
• Sift together the rice flour, all-purpose flour, baking powder, baking soda, salt, and cardamom into a large shallow bowl.
• In another large shallow bowl, use a whisk to beat the eggs and sugar until creamy.
• Add the butter, yogurt and rose water and mix well until smooth.
• Using a long, rubber spoon, gradually add the dry ingredients to the wet ingredients. Mix, but do not over-mix (about 25 turns).
3 Decorating the cupcakes
• Place 12 paper muffin cups in the nonstick muffin pan.
• Spoon the batter into each paper muffin cup to about 2/3 full.
• Decorate each cupcake with your
favorite sprinkles.
4 Baking the cupcakes
• Using oven mitts, place the muffin pan in the center of the oven.
• Bake for 35 minutes, or until lightly golden (if you stick a toothpick in the center of the cupcake and it comes out clean, your cupcakes are ready).
• Using oven mitts, remove the muffin pan from the oven. Take the cupcakes out of the pan and arrange on a cooling rack.
• Allow to cool completely. If you don't plan to eat the cupcakes right away, store them in a covered container in the refrigerator to keep them fresh.