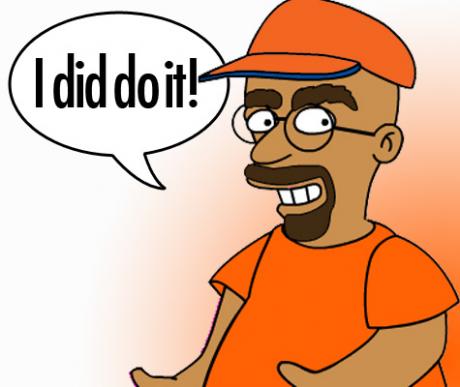 It was only last week and following Kobra Khanoom announcing re-start of her advice column that I offered a counter point from male perspective in form of my own column. Since then, I have already received a few questions, mostly from people who used to read my now defunct blog and have been missing me, I suppose. I'll start today by answering the first one, then going back and answering her begging guy question:
NN wants to know: "Why is it that many Iranian men believe that Western women have no concept of what traditional values are?"
Dear NN, I am guessing this comes from personal experiences. You and the eyeranian guy like one another, all is well between you two, you either got very serious early or the relationship hits one of the many forks in the road and he brings up "values" that are just not the same. Who knows what he means, really. He doesn't either. Maybe it was the one time you mentioned giving head in high school and now every time he looks at you he thinks there's no way his sister would have done that in that age. Or it's more current and he can't stand that you got your masters and are often asked to address large crowds while he couldn't finish school and still has that cute yet sometimes annoying accent. Maybe you think waxing your bikini line FOR HIM is a special treat and he sees it as something only whores would do. Same goes for you murmuring "oh god, I love it when you make cum like that" when he does. Bottom line, there are no standard "traditional values", particularly when you are speaking of vastly different cultures. Even in U.S. you have a large void, which reminds me of something from my own "private dating files": I once booked a beautiful (meaning expensive) suite with a separate living room, white marble Jacuzzi in the living room and glass shower in bedroom so we could make it a special night after dating this girl for a couple of months. To make a long story short, she was appalled at my suggestion of using the Jacuzzi together and even made me leave the bedroom to take a shower. Meanwhile, there was no shock or disgust at having any kind of sex, as long as it didn't happen with the lights on. Guess she just had different values. I digressed; the "men" you are meeting are the kind you don't want. If your values are not compatible, be it traditional or otherwise, or even if they are and these guys are just using it to get out of a relationship with you, get out. They are doing you a huge favor by just saying it, instead of having affairs, disappearing, playing games, etc.
If you have questions you wish answered or just seek my perspective, you can reach me at eyeranian@gmail.com