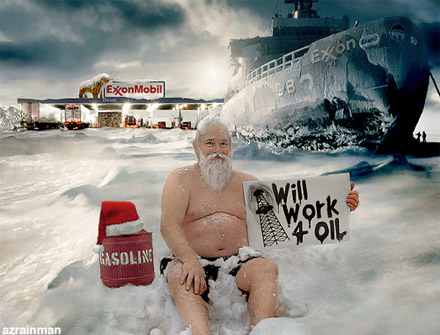 My bank statement sits on the table, unopened. If there's any holiday cheer left, it sure won't be found in there. They say we're in a recession, but I have no idea who they are or what difference saying it makes. For the past year, I've driven less, needed fewer things, rarely ate out and my only vacation involved a weekend at Big Bear. So I've known about the so called "recession" long before they detected it and I resent their announcements just as I'm getting ready to spend a bit more.
Always a sucker for making the best of the situation, I need to plan, cut a few invisible corners and give this Christmas the needed facelift. True that it's not my holiday, then again, that was before I became an Iranican who accepted Finglisi as her language. Thank God last year we decided to save the planet by obtaining a fake tree. Not only will it save me another trip to Home Depot, but also being the same size means no additional ornaments.
After that grizzly scene in the background when Sara Palin pardoned her turkey, I doubt I'll ever be able to eat poultry without sobbing. So this year I'll honor my vegetarian daughter and limit our Christmas's menu to mashed potatoes and yams. Also, the California fires should be enough excuse to skip lighting candles and, with chestnuts at $8 per pound, we'll enjoy Orville Redenbacher's buttery tasting popcorn instead.
The lowered price of gasoline has already started me celebrating. The first time I drove by Am Pm and saw $1.85, I called my eye doctor for an appointment. Now they're practically giving it away and I'll bet soon the gas stations may pay you for each visit which — if you ask me – is another way to improve our economy. After all, it's only fair that they should pay back some of what they unjustifiably took for well over a year. I am so thrilled with these new prices that I often drive up to the mall with absolutely no intention to shop and sometimes I just drive in circles for the sheer joy of refilling the tank.
Although many shops have already started their post-holiday sales since early November, I've told the kids about Santa's laid off elves and of the North Pole GM shut down. With lowered expectations, they'll be thrilled with my homemade presents, especially those flannel pajamas. To make sure they won't forget, I've saved today's business section of the Tribune for gift-wrapping.
I have not forgotten the new dress for that big Christmas party at my husband's work. With the crazy trends going through designs these days, I took two of my old gowns, tore them apart and patched the top of one to the bottom of the other. The fabrics are such a perfect mismatch and the seams so clumsily done that when I showed it to my best friend, she though it was the latest arrival from France.
All said and done, the recession seems to have caused my husband's generosity no harm. His gift for me is already bought, wrapped, and hidden in the closet. I'm no good at guessing, but its package definitely resembles the shape of that vacuum cleaner we saw at Sears with a huge sale tag on. Yes indeed, it's going to be a dandy little holiday and the joy it'll bring me will be sure to last all the way to Norooz.