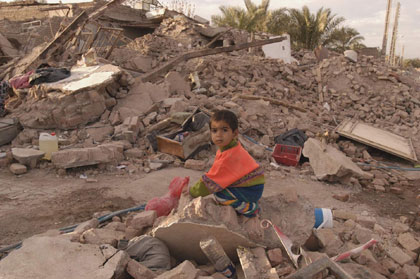 Hey did you know what caused the 2003 6.6 Richter Bam Earthquake?  Mohsen Gharaati, the Namaaz Promotion Organization's Secretariat, recently explained it all with the following words of wisdom about Namaaz (daily Moslem prayers) in Iran .  I have translated it from Farsi into English.  Due to its importance and in an effort to avoid future earthquakes, I have felt it a duty to share this with the world.
From Tabnak Site:  http://www.tabnak.ir/pages/?cid=28567
"According to ISNA in Kohkiluyeh and Bouyerahmad, Hojat-ol-eslam Gharaati who was addressing the Administrative Council of Kohkiluyeh and Bouyerahmad criticized many schools' lack of a clergy to conduct group prayers.  He expressed:  Why should a school with an enrollment of 700 lack a prayer room (Namaaz-khaneh) and a clergy, when an office with just 40 employees has both a posh prayer room and a clergy?
NPO's Secretariat said:  If people in Bam had paid their date harvest Zakaat [Islamic tax], there wouldn't have been an earthquake.  If our religion were introduced more accurately, our society would experience fewer such problems.  Therefore we must introduce the religion to our youth and future generation more fully.
He asked all those responsible on a provincial management level to pay attention to Namaaz and to make it a top priority for their works, taking Namaaz more seriously and reading the Namaaz Secrets book regularly.
He ended by saying:  Neglecting our mosques is a sign of our forgetfulness about God, leading to God's wrath on us.  Therefore we must not neglect mosque-related affairs."