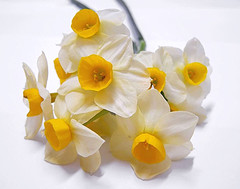 As many of you know, this time of the year is a special time for Baha'is called Ayyam-i-Ha (Intercalary Days) and it's celebrated on the days of Feb 26th through March 1st. These days are set aside for hospitality, charity and gift giving and spiritual preparation for the fast.
During the fast (March 2-20), which follows, we abstain from food and drink between sunrise and sunset as a reminder of the need for us to control our material desires. It's a time of meditation and prayer during which we try to refresh ourselves spiritually.
The fasting period ends with the joyous Naw Ruz festival, which begins at sunset on March 20.
My Best Beloved, Baha'u'llah, says: "It behoveth the people of Baha, throughout these days, to provide good cheer for themselves, their kindred and, beyond them, the poor and needy, and with joy and exultation to hail and glorify their Lord, to sing His praise and magnify His Name."
Happy Ayyam-i-Ha to Tahirih , Alborz, Faryar, Seagull, Adib.M ,…and all Bahai's around the world.
Mona 😉