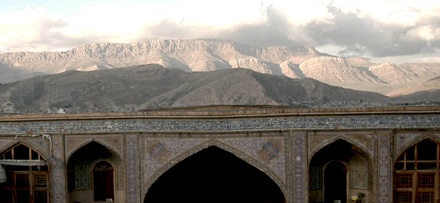 Dear Friends in the States!
We have finally solved our email problem here in Iran in addition to having completed the necessities of furnishing our lovely apartment here in Maali'Abad in Shiraz!  We are healthy, rested and happy and are delighted having our own place to live while enjoying our vacation here with our Iranian family.  Of course, we have had a great deal of support from Ardeshir's sister, nieces and nephews, etc., who know the ins and outs of life in Iran, so we are truly grateful for all their assistance.
When we got to Iran a few days before Norooz, Ardeshir's nephew Rahmin had reserved room in a Guest House in Bandar Abbas in Khalij-e Fars (the Persian Gulf).  Ellie was so excited to see the thirty and more huge container ships arriving and leaving from this historical and famous port province.  The native Bandar Abbas citizens were friendly, enjoyed discourse with a "Harigi" (foreigner) and the women wear beautifull colorful dresses and patterns.  We took a boat trip to a small island called Gheshm and visited the Bazaar and sites there.  After three days on the Persian Gulf, (Ellie bought a kite and flew it on the beach of Bandar Abbas, and watched as some fishermen caught small crabs in a net), we drove for five hours back to Shiraz where our "empty" apartment was waiting for us to fill it with all of the comforts of home!
The view from our fourth floor living room windows looking out at the mountain range surrounding Shiraz is a joy to see, as the sun rises and sets over the mountains.  Ellie has become somewhat of a weather-predictor, as when the low, dark clouds with wind roll in over the range, she excitedly points out that "baran miad" (rain is coming!).  Our family jokes that we have come from the U.S. and brought lots of rain to Shiraz, which is so welcomed, after a couple of years of drought.  Even the tiny little plants and shrubs on the mountain are turning into bright green decorations!  Ellie will try to attach one picture, but because dial up is incredibly slow, we cannot send more at a time.
We spent a bit of extra money on purchasing a satellite dish for atop our apartment building (yes, theoretically it is illegal, but so many people have them & it was installed in the dark of the evening!) so we do get all kinds of news from English channels, as well as Arabic, Farsi, and sometimes other dialects like Turkish and Kurdish. The first thing we noticed is the difference in the coverage of the Iranian IRINN agency (Persian and English channels) as compared to the Western media: CNN and BBC.  CNN International is a bit better than regular CNN, but both seem to spend a lot of time on pursuing the details of the personal life of Obama, Michelle's dresses, the kind of dog coming into the White House, etc. as well as coverage of the national disaster in Italy after the earthquake, the shootings in the Civil Immigration Center in Binghamton, NY, news about the global economic crisis, the G20 meeting, etc. and of course sports, etc.  (Right now BBC is discussing the actions of the U.S. in using naval seals to "rescue" the American captain of the container ship from Somali pirates.)
Before coming to Iran, we heard John Nichols from the Nation, advise members of WESPAC and PEACE ACTION to keep our eyes on Africa, as the United States would be getting more militarily involved, and the authorization by Obama for the Navy to use its ships and force against the pirates is a sign that he correctly noted the direction of U.S. foreign policy.  We should remember that it was the United States which backed and supported the Ethiopian military to carry out a counter coup against Somalia, with a huge bombing campaign against the Muslim government of Somalia, which after years of bloodshed and sectarian fighting had brought a year of calm and order to this troubled African state.  Wherever the United States and the western military gets involved, we see unrest, disorder and more bloodshed; so much for the glory of western "democracy"!
According to the information we hear on CNN/BBC, the Obama Administration is talking about talking to Iran, but it appears the government is continuing to repeat the same old rhetoric about Iran's "nuclear threat", etc.  Some officials say one thing, while NY Times, etc. write something else, so maybe the policy is in the making, depending on the U.S. condition in Iraq and Afghanistan, and Pakistan, and let's not forget the Zionist partner in Israel, which we see daily transgresses against the Palestinians, Syrians, etc.  Iran's continued support of the resistance movements of the people of Palestine, and their genuine representatives (not the puppet spokespersons) in various organizations as Hamas, and Hezbollah in Syria, is what truly upsets Washington and the West, and is why Israel is barking even more ferociously about Iran.  Hopefully, many of you have read the reports on the efforts of Iran to call out Israel on its continued threats to attack Iranian nuclear facilities:  
————————————-
"UNITED NATIONS, April 14 (Reuters) – Iran demanded on Tuesday that the U.N. Security Council respond firmly to what it described as Israel's "unlawful and insolent threats" to launch an attack on Iran's nuclear facilities.
Iran's U.N. ambassador, in a letter to Mexican U.N. Ambassador Claude Heller, said Israel was violating the U.N. charter and urged the international body to respond clearly and resolutely. Mexico holds the rotating presidency of the Security Council.
"These outrageous threats of resorting to criminal and terrorist acts against a sovereign country and a member of the United Nations not only display the aggressive and warmongering nature of the Zionist regime, but also constitute blatant violations of international law," Iranian Ambassador Mohammad Khazaee wrote.
The letter came two days after Peres told Israel's Kol Hai radio that Israel would respond with force if U.S. offers of dialogue failed to persuade Ahmadinejad to halt Tehran's uranium enrichment program."
————————————-
And of course we see the treacherous role that Egypt is playing as an agent of the West, more than as a representative of the Arab masses.  There are many groups beginning to challenge Egypt's policy, and unemployment and unhappiness among the working masses is growing there, even as the government of Egypt bad-mouths Hamas, Hezbollah and any resistance movement against the ruling oligarchs here.  This will inevitably lead to more protests in the 'Arab Streets'.  So, the struggle continues, doesn't it?
Some of you may have been reading about the case of Roxana Saberi, a 31-year old 'journalist' who has been living and writing in Iran for the past 6 years, working for NPR and BBC and has been charged in an Iranian Court with spying for the U.S. We have no more information on this case as of now than you have from reports in the western medias, so if we get any more info, we'll be sure to inform you.
A last personal note: yesterday, we took a hike up the mountain that we look out at from our living room and bedroom windows every day.  Ellie was very curious to learn "who" lives way up there.  We had to cross two busy highways after walking up a paved road that became unpaved and we found a husband and wife with several homing pigeons in a house with a fantastic view of the city of Shiraz.  They have five children and bought the land and house so that their children will have their inheritance when the parents die.  The man read AIFC's political button: U.S. Hands Off Iran!  Stop the Sanctions, which Ellie wears on her monteau.  He was of course glad that Ellie is an American who defends Iran against any US aggression.  He was quite humble and said to Ardeshir in Farsi: "I am not a highly educated man, nor am I involved in politics, but I can tell you that the U.S. lies about Iran having a nuclear weapon, and they have nuclear weapons and are a threat to other countries, NOT Iran."  He then said, "Please tell your government (Washington) that if the U.S. should try to harm Iran, we'll punish them."  He invited us into his home for tea, but we felt we had already bothered him enough, so we politely declined and headed back down the mountain and across the two highways!  We both got a bit sunburned on our faces, with just that short hike.  And it is only Bahar or Spring in Shiraz!
Please keep the struggle up on the homefront, and we'll be returning the end of May.
Regards to all,  Ardeshir and Ellie
P.S. When we got our laptop working with the dial-up internet, we went to show one of our Persian family AIFC's website, and found a message in Farsi, that it was not available.  Concerned, we telephoned our nephew in Esfahan who created the site and assists us.  He explained that the U.S. recently increased the extent of Sanctions against Iran, targeting any websites originating or closely connected to Iran, and the web company was forced to relocate all of their servers to Dubai, and therefore the transfer required the temporary downing of many websites, ours being just one.  So far, the English has been completely restored, but as of yesterday, the Farsi page was still down.  Once again, I'll leave you all with this thought: Obama's rhetoric of "change" will have to go a long way forward in action before anybody in Iran will put credence in his words!