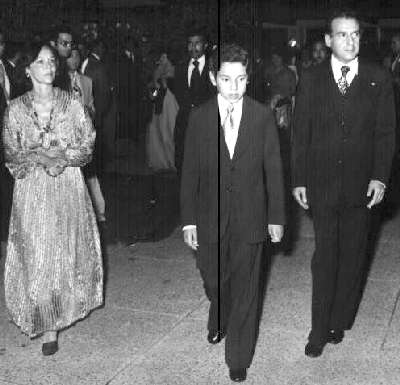 Today markes the 10th anniversary of the Coronation of King Mohammad VI of Morroco. This photo was taken at the Iranian Embassy in Rabat with Iran's ambassador Farhad Sepahbody. (circa 1977)
The Young King's liberal reign has been in sharp contrast with his father's absolute reign. Although far from being a perfect Constitutional Monarchy some very important social reforms ( which have boosted Women and family rights) and improvements in human rights and political liberlization have significantly boosted the popularity of the new King and that of his wife who plays a central role in enhancing the role and progressive image of the Morrocan women in civil society.
Photo Caption:
October 26, 1977: Crown Prince Sidi Mohammad (center), son of King Hassan II of Morocco is seen entering the Iranian embassy in Rabat on the occasion of the birthday anniversary of Mohammad Reza Shah. Although the princes and princesses of Morocco used to visit the Iranian embassy frequently, this was the first time ever the Crown Prince set foot in a foreign mission — an appreciation by King Hassan II to the excellent relations at the time between Iran and Morocco. To the right is Farhad Sepahbody, then Iranian ambassador to Morocco and to the left is his wife, Angela. Crown Prince Sidi Mohammad became King Mohammad VI following the death of his father in July 1999.
Recommended Readings:
Amir Abbas Hoveyda on an official visit to Morocco greeted by Farhad Sepahbody
Mohammed VI, un roi qui préfère être aimé
Rabat, capitale du changement à la marocaine