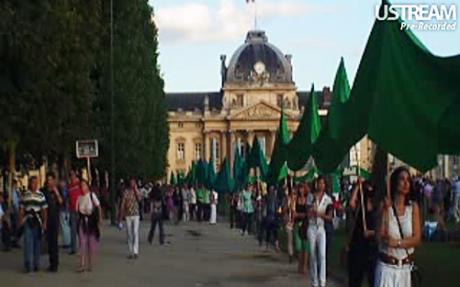 BBC Persian, on its "نوبت شما" (Your Turn) program on Saturday, July 25, 2009, asked its audience "What good, if any, the protests of Iranians abroad do in moving Iran towards a more democratic and free sociopolitical environment?"  Some responded that such activities were a waste of time since it is Iranians in Iran who ultimately decide the fate and future of Iran, while others contended that though Iranians abroad play only a periphery role in determining the direction of sociopolitical change in Iran, yet their role is not negligible and at minimum, it can and does buttress and reinforce where Iranians in Iran are heading towards.
Some four months after the spark of Iranian people's self-sprung "Green Movement", this question finds a new critical bearing.  Perhaps the best way to answer this question is to look at the recent past actions by Iranians in diaspora and evaluate if they have had any influence and to what degree.
Some compare, in size, impact and consequence, the planned protests at U.N. Plaza against Ahmadinejad to those staged on November 14-15, 1977 against the late Shah of Iran by Iranian students in front of White House, as well as at the Ellipse in back of White House, .  They contend that the fall of the Shah from power and the revolution against his rule and monarchism began with the spark that those protests ignited.  In placing these protests against Ahmadinejad and those against the Shah in 1977 on the same footing, these protractors of history forecasted a grave shift in Iran's political system and a possible regime change, even via another revolution, whether peaceful or violent.  If their prediction should soon find reality, there is still the foreboding of the past experience on whether it would lead to a democratic, free, secular, transparent and pluralistic system of government in Iran.So much hope placed in a solitary  protest action planned for tomorrow may seem a bit over-optimistic and surreal.  However, if we look at the recent events, it may not be far-fetched either.  Here is a chronicle of successes of recent campaign by Iranians abroad to support the pro-democracy "Green" movement in Iran:
·         After a heavy phone and email campaign by Iranian-Americans, Howard Rubenstein, spokesman for Helmsley Properties, announced on Sept. 17, 2009 that the posh Helmsley Hotel had canceled a long-planned banquet for this week to receive and honor Iranian President Mahmoud Ahmadinejad.  Nearly six weeks ago, Iranian Interest Section in Washington, D.C., had sent out invitations to prominent Iranian-Americans as well as foreign diplomats to attend this banquet.  Iranian Interest Section has held such opulent banquets successfully in the past four times when Ahmadinejad has visited N.Y. on the occasion of UN General Assembly annual meetings.  This is the first time when Iranian Interest Section has been forced to desperately search for another banquet hall to hold its dinner in honor of Ahmadinejad.  Now, the Iranian-American community has turned its attention to Intercontinental Hotel in Barcley where Ahmadinejad and his entourage have room reservations.  , has also canceled that reservation and stated that it does not appreicate misleading effort by those who reserved the banquet hall when they did not disclose the guest of honor was Ahmadinejad at the time of reserving the hall.
·         From two weeks prior to Ahmadinejad's inauguration on August 5, 2009, an incessant phone and email campaign was initiated by Iranians living in Europe and elsewhere encouraging world governments to refrain from recognizing Ahmadinejad's illegitimate government.  Though not entirely successful, yet many governments abstained from sending Ahmadinejad a congratulatory note. Some also turned down the invitation to Ahmadinejad's inauguration and their ambassadors in Tehran did not attend it. These were first in the history of international diplomacy, diplomatic practice and protocol.  Even when Hitler came to power in 1933, he was congratulated by nearly all European countries, and United States. Such congratulatory notes are part of diplomatic protocol practiced by every single one of world's government. On Thursday, August 6, 2009, the European Union, after days of phone campaigning by Iranians abroad calling the Swedish Foreign Ministry and amounting to more than 37000 phone calls, announced that it has not issued any congratulatory note to Mr. Ahmadinejad on his second-term inauguration.  EU also announced that, in the last minute, it withheld its ambassador in Iran, Magnus Wernstedt, from attending Ahmadinejad's inauguration.  According to EU spokesperson, Amadeu Altafaj Tardio, no meeting between Mr. Ahmadinejad and EU Ambassador to Iran did take place on Ahmadinejad's inauguration day.
·         Another  successful phone and email campaign by Iranian-Americans demanded White House to clarify its assertion of accepting Ahmadinejad as Iran's "elected" president led to White House reversal statement on Iran election.
·         Successful boycott of Nokia-Siemens for supplying mobile communication Eavesdropping and Deception software to Iran was another such milestone in the recent pro-democracy efforts of Iranians.Minimum estimated loss for Nokia-Siemens as a result of boycott: $300M, as this boycott reverberated throughout the communication marketing and sales world.
·         As a result of another strong campaign by Iranians in Europe, the Iranian government-controlled Radio and TV (Seda va Simaye Jomhuri-e Eslami Iran) was barred from attending the European Union Broadcasting Conference this past June.  Furthermore, because of the efforts of Iranians in Europe, Europe's public broadcasters called on Iran to remove obstacles to journalists.
·         Based on the similar pressures from Iranian-Americans, the Obama administration withdrew "invitations to Iranian diplomats to attend Fourth of July festivities at U.S. embassies around the world," The Washington Post reports.  This was the first time Iranian officials of the Islamic Republic had ever been invited to U.S. government's 4th of July festivities.  Pursuant to the same and pressure from Iranian-Canadian community, Government of Canada withdrew its invitation to Islamic Republic of Iran's diplomats in Canada to attend Canada Day's festivities.  This was the first time Canadian government .
·         Under pressure from Iranian community in Europe, European Union denied Iran's participation in the Nabacco conference and treaty for exports of gas to Europe, though Iran holds the 2nd largest gas reserves in the world.  That means loss of income, for the Islamic Republic of Iran, with which it pays the salaries of 7 million strong Basiji and 50,000 Lebanese Hezbollah paramilitary brought to Iran who are used to suppress the Iranian people.
It is up to you now to draw your own conclusions on whether our actions abroad in support of pro-democracy cause in Iran is much of help or not.  Whether Green Movement will turn out to be what so many expect, only history will tell.  Let's hope that after 110 years of struggles for rule of law, civil society and democracy in Iran, beginning with the early days of Constitutional Movement, we finally achieve these in very near future.