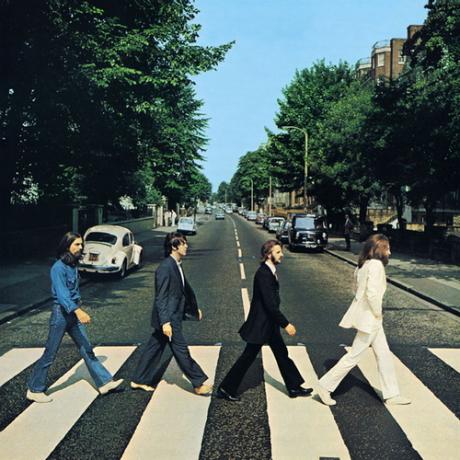 I'm not a big Paul McCartney fan and I was part of the group of people who thought he musically died back in 1966. I do like the Beetles, their genius comes from a clean spring linked to the hidden ocean of our collective conciseness, The same ocean that our Sufis like to float in and dissolve like sugar, the same ocean that one day manifests itself in Einstein's relativity, Stanley Kubrick's dolly shots, and the next day in Shajarian's latest song. Another words it has a magical quality that supersedes Human expectation and comes to us as a gift of a muse or like fire from the hands of Prometheus. OK, I'm getting carried away with my poetic adoration!
Last year I encouraged my daughter who is now 15 to listen to part of my musical collection. Along side the Verve, the velvet underground and Patti Smith she discovered the Beetles. We get the best of both cultures, so along side all this Western music I get her to listen to Shajarian, Namjoo, Ebi, Darius and Googoosh or at least it is there in the background.
She liked musical discovery, she was the first in her gang to discover "Florence and the machine". It was nice to see her musical development. She listened and remarked "Dad this is really good!" and life has not been the same in our household since that day. After years of almost forced Piano lessons, she asked for Guitar lessons, joined the school choir, took singing lessons, started writing her own lyrics and after two month of playing the guitar she performed in her school unplugged evening.
Then a few days ago she says Dad Paul McCartney is having a concert in O2 (London's Millennium Dome turned to a concert hall).
I said you must be mad if you think I would pay those crazy ticket prizes! So she pulls the 'you promised if I come home with Grade 'A's you would do something very special, and I didn't even ask for a Birthday party'. So, after buying tickets the prize of an Aztec king's ransom, here we were in snowy weather, with ice and an unreliable train service heading for London.
Doors opened 18:30, but the program started late 20:30 instead of 20:00, which was fine because we started chatting with some die-hard fans.
On my right there was this guy in his early 60s, who had followed Paul since day one. He worshipped the Beetles, and I kept a straight face when he talked so passionately about Paul's Wings era songs. His great glory was that in one concert when he went to the toilet he had seen his idol standing a few steps from him!
There were people who had specially flown in from Brazil and Tokyo. The couple to my left were from Malta.
The concert itself was great. It had a historical significance because with Paul getting close to his retirement age we are not likely to hear Beetle songs live and likely not to see Ringo Star giving a concert!
He had most of the great Beetles songs "hey Jude", "Eleanor Rigby", "Back in USSR", "Get Back" just to name a few. His own lyrics were pretty good too.
"Blackbird" song, which he wrote in support of the 60's civil right's movement, and some very touching songs that he sang to remember his dead wife Linda, a song for John Lennon and one for George Harrison.
The concert camera was panning on the audience and his lovely daughter Stella was sitting in the VIP section. My young VIP, my Parisa already looking like a supermodel but with the metal braces and the excitement of a 15 year old loved the moment. She had been to concerts before but not a big concert or if she did, she was too young to remember.
The die-hard fan guy, had tears in his eyes, especially after Paul sang the tribute songs for his departed wife and friends.
I took a memory snapshot of that moment. I looked at my 15 year old and wondered what future would hold for her.
I thought here I am trying to warn people that very soon Iran could end in a nuclear war, even a genocide and feel helpless that no one seem to listen, but that I should stop worrying about the future and just enjoy the moment, enjoy the gift of life and what life has to offer right now in this very moment.
Paul finished with "Yesterday".
We had trouble with the trains, ended up very cold, ended up on a bus at 2:00 am instead of the train, spend 15 minutes defrosting the car, but in the way that it is for the young, none of that hardship mattered, we had a fantastic time and Paul still had his Mojo.