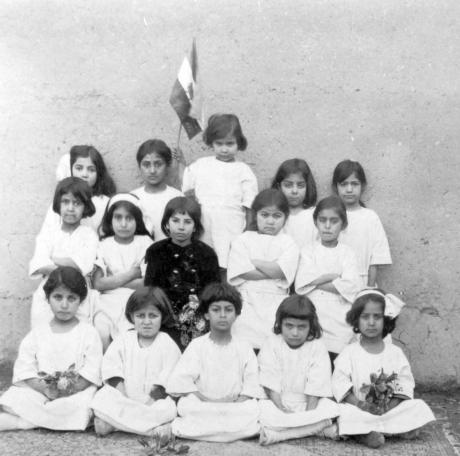 Mullah Ali, who lived in the village of Mahfuruzak in Mazandaran, probably in the late 1870s with his wife, Alaviyyih Khanum, founded both a girls' school and a boys' school in the village. In 1882, however, Mullah Ali was denounced by neighboring religious leaders, arrested, taken to Tehran and executed. He had been inspired to engage himself in the education of girls and boys, as he knew that the true prosperity and well being of people of Iran -and ultimately the world- would come about only through spiritualization together with education of mankind and he knew he should include the other ignored half the population of Iran-women- in education.God bless Mullah Ali's soul.
Sadly this pattern is still being followed in Iran.Today we not only have highly educated women and courageous lioness in Iran but also some who have gained international recognitions.The fact that government of Iran can not be proud of them is a different story but the Iranian people are.
For me, the equality of men and women is not a Western construct but a universal spiritual truth about an aspect of the nature of human beings, It is, above all, a requirement of justice. This principle is consonant with the highest rectitude of conduct, its application strengthens family life, and it is essential to the regeneration and progress of any nation, the peace of the world, and the advancement of civilization.
And I can imagine that the beloved Mullah Ali knew this.
For the past decades we have had many people imprisoned in Iran because they believed in social justices, in the equality between men and women, in the oneness of Mankind and that each individual has been born free to search for the truth in his/her life, each can choose his/her religion or way of life.
In a country where the Nobel Prize of a wonderful woman is being confiscated, her husband being beaten up for being behind a successful woman, where disappearance of university students has become such an everyday news not being mentioned at the 7:00 O'clock news, where any man can beat his wife and his aggressivity is being considered lawful, where whispering "human rights" is a treat to the government, there in that land the criminals are guarding the streets and the prison bars are built around the many innocents,and accusing someone for being a Baha'i be it a real Baha'i or Shirin Ebadi or now Musavi and Kahroubi is the ultimate creativity in which the government is using to save itself.
In a country, where the tanks are in the main square of a capital, the relationship between the government and its peoples is down the drain. Which enterprise would want to invest in such a country?