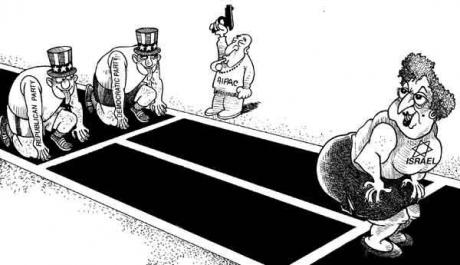 Just finished grading some papers, I always liked doing it. You get to know young minds that you have been working with for past few weeks/months. Some breeze through and some struggle, but eventually all move foreword.
What you end up with, as a teacher, is the feeling of fulfillment, and a feeling that you might have been an instrument in  directing  few young hopeful and anxious men and women in betterment of their future.
BUT That is not what I like to talk about.
As I finished my task, one of the first comments I checked was of  gentleman called Mardom Mazloom in THIS thread, where he notes [On this site, I'm among those who fight against AIPAC think-thank and I've never seen you in action!!]
This statement made me think. I know some may find it hard to believe that THINKING and an old Azari dude might not go together well. But hey we all get one chance or the other!
The gentleman/hamvatan Mardom Mazloom referred to the entity called AIPAC, the most notorious, the most blood thirsty, the most racist, the most rightwing/Likud paid/ policy dictating / America selling/ Middle East plundering/ World Endangering/ warmongering/ the most heartless bunch ever walked this earth as Think Thank?
My problem is though: Why not call them what they are?
How are they different from IR's  Ahmadinejad? What sort of peace and harmonic platform do they represent? You mean to tell me that mere fact of them calling themselves The Sane World, while being the instigators of the bloodiest wars on human history for past 60 years entitles them to be called THINK TANK aka Sane World?
What is this THINK Tank doing besides coming up with fabrications, lies, deceitful propaganda, genocidal THOUGHTS to keep the world in bloody illegal war after war? What has this so called THINK Tank  done since their inception, besides causing fear, misery, war, bloodshed, and chaos in the world?
Name some accomplishments of this foreign agent organization also known as AIPAC, which has been operating and undermining the integrity of this nation called America and putting her in perils of national security endangerment  for the sole purpose of its own criminal and genocidal survival.
Name ONE please.