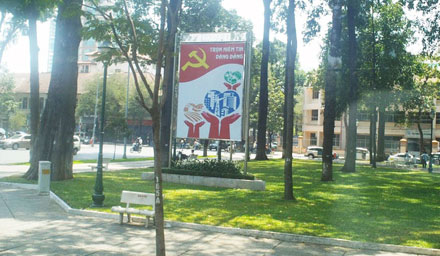 I can't write a report about Vietnam as I did for Malaysia. As soon as I landed in Vietnam, I was greatly attracted to that place. The city Ho Chi Minh (aka Saigon), the country Vietnam. I made a mistake and tried to take a picture from the immigration officer. He got mad at me and said something in broken English. I put the camera in my pocket as the guy behind me said "don't you know that you are in a communist country and can't take pictures from officials or government buildings?" I didn't believe him, and he thought that I was crazy. [photo essay]
Outside of the airport a large crowd was waiting for their family members to arrive. It reminded me of Mehr-Abad airport. Weather was beautiful and I had no idea what to expect. I thought that the trip will be similar to Malaysia, but it wasn't. People seemed more real, if you can call it that. They were our usual 3rd world warm-blooded hosts. They were kind, and welcoming. The streets reminded me of a combination between Tehran, Shiraz and Karaj. Some parts were just like Shiraz and some were copy of Karaj, many years ago.
As soon as we exited the airport, the city starts. No freeway, large streets with thousands and thousands of scooters. Girls, boys, men, women, families, were all riding on scooters. I saw grand pa and grand ma who were playing with their grandkids, tickling and rolling around on cold evening grass in the park with them. Even their parks were similar to Iranian metropolitan cities. It was very charming. Thinking back at a day before in Malaysia, I thought Vietnam was much more interesting.
As much as I tried, I could not get the same information about Vietnam as I did in Malaysia. 40% of Vietnamese market is black market and numbers, similar to Iran, means very little. Based on Western standards, Vietnam is a poor country, but I disagree.  People were economically similar and didn't have luxurious needs as many developing countries have. The society seemed at ease. People didn't work as hard, had time for their children; life was full of energy and passion. People were kinder, funnier, and more innocent than most developing countries.  In one simple sentence, innocence had not given away to maturity of consumerism, or in other words one could say that people were more real.
I did not feel anyone watching me, they didn't. The country was free, relaxed, you could take pictures anywhere from anyone, and whatever you liked. Vietnam will change in the next decade or so. Although this is great news for Vietnamese citizens, it's bad news for selfish visitors like me.
After visiting Vietnam I began to understand a few important concepts about the economy and life styles. Many countries that develop a GDP based system and focus all affords to be a wealthy society, would lose on important parts of their culture. Perhaps one reason is the pace that an economy grows vs. cultural adjustments of a society. It took Europe hundreds of years to develop into a semi-capitalistic and consumer based society while many of these countries reach, or even pass European countries, within a decade or so.  The social confusion, lack of place for many who fall behind is visual all around the cities in those fast pace developing nations. Vietnam was not yet suffering from that problem.
The question is how can a society balance growth along with cultural adjustments? What's the speed of culture vs. economy? I hope that you enjoy Vietnam as I did. Please accept my apology in advance for my tiny camera that did not even take pictures during night or indoors. I missed to document a great cultural experiences based on Vietnamese dance and theatre because of my camera. [photo essay]