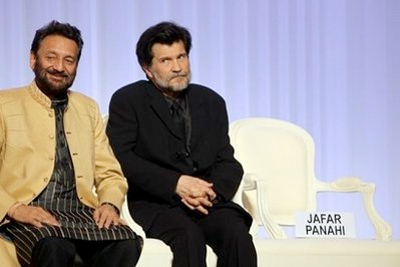 This year, two great figures are absent at the International Film Festival of Cannes.
The first is Roman Polanski, and the readers of Huffington Post know that I have spared no effort to plead and defend his cause over the past seven months. (Moreover, the pathetic declarations of Ms. Charlotte Lewis haven't made the slightest dent in my determination.)
But the name of the second is Jafar Panahi; he is Iranian. Tim Burton chose him to be a member of his jury, and if he is unable to be there, it is because he is incarcerated in the terrible Evin prison, near Tehran, where he was thrown by the obtuse and criminal fanaticism of Ahmadinejad's police.
Naturally, the two cases have nothing in common.
And there is no reason to compare a demand for extradition, even an unjust one, from a democracy to the situation of one imprisoned for his convictions in a totalitarian country.
For me, however, the two cases are related.
It all began with the petition in favor of Polanski, signed by a number of film makers and published in my review, La Règle du jeu, a week ago.
Several of those we approached, like French directors Agnès Varda and Bertrand Tavernier, replied, "Yes, of course, but what about Jafar Panahi, this other film maker, who was to have been a member of the jury at the Festival and cannot be there because he is in prison in Tehran?"
And so we went to work, with Armine Arefi, a young Franco-Iranian intellectual, part of the La Règle du jeu team and editor of the very rigorous Nouvelles de l'Iran libre (News from Free Iran) and author of the best seller Tchadors et Dentelles (Chadors and Lace) as well, to find the best way to gain access to the incarcerated film maker.
Arefi talked to Abbas Bakhtiari, director of the outstanding Centre Culturel Pouya, in Paris.
Bakhtiari himself, who has close ties to the film maker and his family, succeeded in establishing contact with Panahi, through his wife.
And so it is that, out of Evin prison came the message, sentence for sentence, nearly word for word, that appears below and that my review has published on our site.
It is beautiful, as is always this type of message, wrenched from the silence of a prison.
It is moving, as the appeals of great artists persecuted for their art or their ideas always are.
It reminds me of the "messages in a bottle" addressed to us thirty years ago by the dissidents of Central and Eastern European countries.
In this affair, I am proud of only one thing: to have provided coverage, in France and here in the United States, of this chain of solidarity between free Iranians on the inside (Arefi, Bakhtiari) and the outside (Panahi).
Long live Iranian democracy.
Down with the non-elected president, Ahmadinejad.
Bernard-Henri Lévy
****
A Message from Jafar Panahi, in Evin prison
Dear friends, I send you my warmest greetings from this dark and cramped cell in Evin prison.
Members of my family who came to visit me brought the news of your precious efforts on the inauguration day of the 63rd Cannes film festival.
It is from this prison that I pay tribute to your honor and your humanity.
In particular, I would like to thank M. Frédéric Mitterrand, Minister of Culture, M. Bernard Kouchner, Minister of Foreign Affairs, and M. Gilles Jacob for all their efforts to secure my liberation.
Your voices are joined with those of my wife, my children, and those of all of my compatriots working for my freedom, that reach me from beyond these prison walls.
But let us not forget the thousands of defenseless prisoners here, who have no one to pass on the message of their distress. Like me, they have committed no crime. And my blood is no more important than theirs.
Despite being threatened, I can assure you I shall sign no coerced confession. I am innocent. I have produced no film against the Iranian regime.
These instants are filled with love, as I think of all my friends who are members of the Jury, the directors, and the participants in the Cannes festival who notice the empty seat marked with my name.
In hopes of a better tomorrow,
Jafar Panahi, Iran, Block 209, Evin prison, Centre Culturel Pouya, Festival de Cannes, France, 15 May 2010.
AUTHOR
Bernard-Henri Lévy is a French philosopher and writer. This article was first published in HuffingtonPost.com.