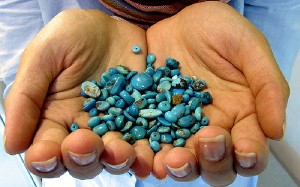 Green is the color of envy, jealousy, and inexperience.
Green is the color of Islam.
Green makes time go by quickly, a year already past and nothing, but nothing, and none but zero change,
Bad Green!
Bad Green-eyed monster!
Green the inexperienced, Green the untested, and Green the untrained,
Greenhorns, novices, trainees, and beginners,
Green around the gills, a pale, sickly, and weak green.
A vomitous Green.
A useless, pointless, disorganized, naive, and gullible Green Movement,
A Bowel Movement! Worthy of a grand FLUSH indeed!
Turquoise on the other hand,
Turquoise is sweet
Turquoise is feminine and full of lively sophistication,
Turquoise is the in-between. The color of unbounded never-ending sky and sea.
Turquoise is pure de-veiled feminine Iran, de-moslemified, de-defiled.
Turquoise is beauty.