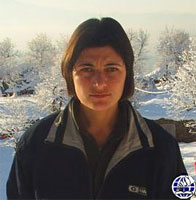 Dear Human right organisations
My name is Ms Zeinab Jalalian (زینب جلالیان)
I am 27 years old Kurdish female ,political prisoner, in Iran prison.
My Death sentenced was confirmed by Iranian Supreme Court.
I am currently ill ,because of torture and I don't have any lawyer to defend me. i want to tell you that . trial took only few minute.
Court told me: "You are a God's enemies. Have to be hanged very soon" That was all my court process
I asked judge to give me permission to say good bye, to my mother and family,
Before execution, he told me "shut up" and rejected.
http://www.bbc.co.uk/persian/iran/2010/06/100629_l10_jalalian_execution_rumour.shtml