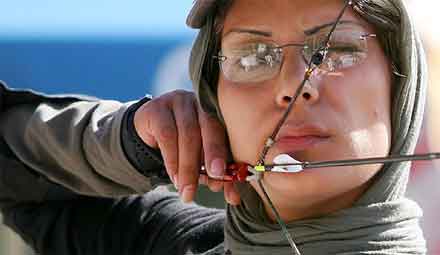 It is June 2009. At the CNN's Iran Desk in Atlanta, Georgia we are going through, trying to authenticate, countless pictures and video clips detailing the Iranian demonstrations against the rigged presidential election. Picture after picture soon reveals an unexpected pattern: Iranian women are everywhere, participating fully in these dangerous street protests. My heart is overcome with a strange mix of anxiety and immense pride. I am filled with worry about these women, young and old, being brutalized by the Islamic regime's agents. At the same time, I am elated to witness Iranian women taking their rightful place as the heirs of courage, following a tradition of great Persian women fighting tyranny and asserting moral right through two millennia of history.
As I see the calm and fearless faces of these women standing against the chains, batons, knives and guns poured down on them by government cronies, I am reminded of a term that has been used in Iranian literatue to describe extraordinarily courageous and brave women: 'Sheerzan.' Some might say that the word 'lioness' is not an appropriate equivalent for Sheerzan. But a lioness is both strong and gentle, as are these Iranian women: strong, brave, ferocious yet gentle. Other terms such as 'lionheart' or 'braveheart' could also be used to describe women heroes of Iran.
Through the streams of images comes the most shocking of all – the killing of Neda Agha Soltan in broad daylight. Our hearts stop as blood streams from her her mouth and nose covering part of her serene face. The camera focuses on her eyes as they roll to her right, and in an instant it seems they are talking to the entire world. After much discussion, we decide to broadcast the video despite its very graphic nature. The clip was later described as "the most widely witnessed death in human history".
For the last three decades Iranian women have borne a double burden. Not only do they suffer the oppression afflicted on all citizens of that country by a theocracy, but they also endure the extra humiliation of being women in an Islamic society. They are forced to cover themselves only so that men might not lose control and go astray; they are counted as only half a man when it comes to testifying in court, inheriting less than their borthers in the same family upon passing of the father. They are deprived of the right to become a judge despite their qualifications, of travelling and securing a hotel room by themselves …the lsit gones on and on. Yet, they are the ones who, with an admirable perseverance, continue to chip away at the absolute tyranny of the Islamic Republic.
These women know their place in history. They know that the first discussion of equal rights between men and women took place in ancient Iran. They know that they are the daughters of Esther, the Persian queen whose wisdom saved the lives of thousands of Jews and who is still celebrated with the Purim festival. They know that they are the daughters of Grand Admiral Artemis, a commander of the Persian navy in 480 BC, the first female officer ever in history. They are the daughters of Sindokht, the world's first ambassador who took office over 2,000 years ago. They are the daughters of queen Noormahal, the first person to rise against the practice of burning Indian women along with their deceased husbands. They are the daughters of thousands more notable women whose stories could only be written in volumes.
We watch these daughters of courage with beating heart; watching with anticipation as they change the course of history in the Middle East and the world.