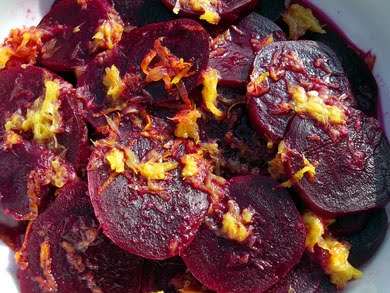 Beetroots are sweet, juicy and perfect for salads. Sometimes the simplest dishes are the best and this one could not be more simple or more delicious.
Serves 4 Cook 30-40min Prep  5 min
6 small to medium Beetroot
juice and finely grated rind from 1 orange
salt (to taste)
flat leaf parsley (optional)
Cut the leaves from the beetroots, leaving a 2cm top of leaf stalk. Scrub the roots well but be careful not to pierce the skin. Put the beets into a large pan of salted water, cover and boil for 30-40 minutes, or until tender. As soon as they are cool enough to handle push the skins, tails and tops off with your fingers, they should come away easily. Slice the beets and lay in a serving dish, grate the orange rind and squeeze the juice over the slices, sprinkle with salt and leave for an hour. Chop the parsley finely and sprinkle over the top before serving if using.
Cook's Tip In Italy they make this salad with beetroot that have been cooked in a wood fired oven, the skins are all burnt and the flavour is smoky and intense.
Medicinal benefit of beetroot.