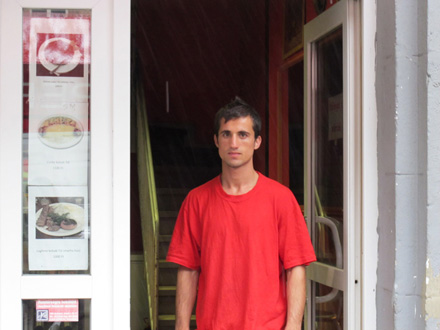 Blahaluizatér… be samte chap… az Mc donalds ke begzari hessabi… yek restourante irani hast… nemikhai unja nahar bokhori? kuchulueh… bayad khub tavajoh koni…
An Iranian restaurant in Budapest? I had been to the fancy Shiraz Perzsa Étterem, but not this hole in the wall. Perzsa Büfé – Teheran [photos]. Neither of them offer great food, but just a hint of the real thing. My mouth was watering. I was in the mood for some ghormeh sabzi.
I had no problem finding it, surprisingly. It was 11:30 on Sunday. I was probably the first customer. The server, a skinny young Afghani man, looked shell-shocked. Scared, shy, kind. I asked for some ghormeh sabzi with white rice and maast o khiyar. As my plate warmed in the microwave, I started a conversation in Farsi (Persian? Ok! Persian!).
"How long have you been here?"
"Here at this restaurant or in Budapest?"
"In Budapest."
"Three years."
"Do you like it?"
"I like it very much. Hungarians are very nice."
"They are?"
"Yes I really like them. I was in Germany for a few months. They aren't nice over there." He pauses and adds, "I'm Afghani."
"I know," I nod in respect.
"What do you do?"
"I have a website. It's called iranian.com."
"What is it?"
"It's for Iranians living abroad. People write blogs, post videos, pictures, stuff…"
"Is there a future in studying computers? I am studying cooking at the university. Anywhere you go there are jobs for chefs."
"Computers are good, if you specialize in areas that are in high demand. But it's great that you want to become a chef."
"What is a good profession? What do you think I should study?"
That's a good question. I'm not sure what to tell him. I got it.
"Dentistry! You will always be in high demand. You can work at hospitals or have your own clinic. It's the best profession in the world."
"Do you have to learn chemistry to become a dentist? Chemistry is very hard."
"Yes, you need to take some chemistry classes. Believe me it's worth it. You study for 7-8 years and you will be set for life. You have a lot of time. People live to their 90s these days. You're still young."
"I am young. I am 20."
He looks ten years older. I wonder what he's gone through to get here from Afghanistan. I don't want to know. I see it in his face.
"Do you know how to make gheymeh?" I ask.
"Yes I do."
"Will you teach me? I'll pay you for a one-day lesson."
"Yes I can teach you. No need to pay." He tarofs.
I insist. "No no, I will pay. You just have to take me shopping, tell me what to buy, and how to prepare. What days are you free?"
"Usually Sundays."
I get his phone number. He writes his name on the piece of paper. Hamed.
"I might call you to set up something this Sunday. If not, I'm going away for a month. I'll call when I get back."
I take a picture of Hamed standing at the entrance and run to the subway in the pouring rain >>> photo essay