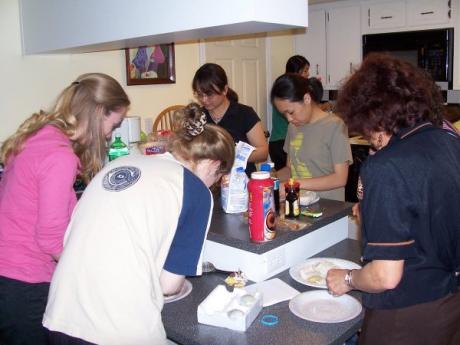 The story of Sohrab (part one)
My mother had sort of Asthma and the doctor told her, the weather in Tehran is not good for her and she should move from Tehran to other city. She was a college teacher and she could not leave Tehran so easily, she could lose her job. She could not move to other city and drive every day to Tehran that was at that time fifty years ago very difficult. So she decided to be teacher in a high school and move to Shimiran and small city in the north of Tehran.   In those days Tehran was not so crowded like today and the weather was not so bad. But still the weather in Shimiran was much better and cleaner than Tehran. 
She told me the first day that she went to high school and the people knew her, asked her why she did that and to teach in a college is much better than in a high school and she had master degree and it is better to stay as a instructor in the college.  She told them that the doctor suggested her to move from Tehran to a small and clean city. And Shimiran was her first choice.  Any way she stayed in Shimiran and taught at the high school instead of a college.  In those days Shimiran was very beautiful and it has a lot of nice garden and lawn or agricultural lands. The housed were big and most of them had garden.  My father could not move to Shimiran and he should continue to work in Tehran, so it was difficult for him, too to travel every day to Tehran and come back at nights home, especially in the winter time. The streets were full of snow and were frozen.  We found two houses for buying one of them was about six thousand square meters garden with a small building. The garden was full of fruit trees and it was very nice. But my mother told my father that house is very big and we will have a lot of thieves persuaded to come here to still, the other house was a house bigger and nicer building , but the land was just two hundred square meters .  I wished that my parent would buy the garden with the same price, but they preferred less land and more building and at that time building was very expensive compare to the land.
After my family moved there, my uncle moved there, too. We were two brothers and my uncle had two daughters. My brother Lohrasb was two years older than me. I was ten and he was twelve.  Shimiran and Tajrish where we were living were very empty.  You could seldom see a car driving on the streets and the weather was so nice and everywhere in the spring was full of flowers of different colors and most trees were white because of the colors of the blousons of the fruits cheery trees.  As you now it is completely different the whole city is full of concretes and irons under the sun and all the gardens are destroyed and changed to high houses with a lot of apartments and the streets are full of taxis and car, so the traffic jam is every day there and the cars cannot move.    All nice villas and gardens are destroyed and instead of them, the people build small apartment and the city is full of people and is very crowded and the weather is polluted. 
Any way at those days there was no TV and the children read books instead of watching TV. My uncle tow girls were very beautiful and they were few years older than us. May be they were sixteen and fourteen.  They come always almost every other day to our house and we play with each other.  Their names were Shahin and Nushin.  I did not like to shave my hair like most children in the class. But the girls have always long hair.  The people said, if you cut the hair, it will be good for the hair, but I did not believe it and I did not like to be without hair. My uncle believes if he shaves the hair of his daughters, they will grow faster and the girls will have better hair. One day they come to our house, I saw that the both girls have shaved their hair. Shahin and Nushin told us, hi Sohrab and Lohrasb look, and we are boys like you.  Shahin was very beautiful and she was very tall and had a soft light white skin.  Her hair was dark blond and her face was round and beautiful. She was very nice to me as I was about six years younger than her.  I was sort of little boy friend of her.  As the girls like dull or little children and the motherhood in her was very great. She handled me more and less like a young mother or like the little brother .They did not have brothers so we were sort of replacement of brothers for them. She always speaks with me about her future plans. That she loves to marry and have children.  She said the time is passing very fast and soon we are not kids any more.
We went to the Tajrish square and we eat ice-cream and grilled levers or kebab and it was very nice at those days.  Our parents loved picnic and eating at the Tajrish square or Tajrish Bridge.  The water under the Tajrish Bridge made a nice sound and as I said there were not so many cars there to disturb the nature.  Fridays we went to the Golab Dareh or Golab valley.  Golab means the rose water which is like fragrance or perfume and the people in the past used it a lot. And this part of Shimiran was very nice and very beautiful and we played with the girls there volleyball or dazhball or a play sort of basketball without basket polls.  At those times there were also not refrigerators or freezer. And we bought every day food, meat or vegetable.  I bought every day about half kilo or one kilo meat. (About one lbs or two, pounds) the meat was from young goats or sheep and it was very delicious. There was also not oil oven, but they cooked on the woods or burned woods used for gill. Or chicken were sold alive and the mother should clean them completely.  But they were all organic healthy food, without nay preserve or hormones.  They smell very nicely and they were also very delicious.  They had sort of perfume in the time they were cooking.  Shahin was a nice girl and very tall and beautiful, but she was more and less after marriage, even she was in the nine grade of high school.  She spoke with me that her wish is to be married and have children.
We had a base which was very big. My parent bought in the summer few donkeys full of water melons or full of other fruit and the donkeys came to our house and they went the stairs down to the base and the man who was the fruit seller emptied the donkeys in the basement and my parent paid him.  And we have a huge hill of water melons or apples there. It was more and less like a supermarket than a basement.  We store water in a room in under the ground which it walls and roof was covered by cements or concrete.      Only the basement were build with concrete, because of moisture or the wet weather and the rest of house was build with bricks or mud. Many houses the roof was wood and mud, but ours was iron and part of it was asphalt.  In the winter it was difficult to maintenance  it, the roof should be cleaned very quickly form the snow and if we did not the ice will damage the roof, because in the day some of the snow will be change to water and quickly after the sun has gone will change to ice. So my father, my brother and me should go after the snow is stopped or to the roof and clean it. Or sometimes even in the snow was coming we should clean the roof, because the heaviness of snow will damage the roof, too.  Sometimes my uncle and his girls also came to help us.  My mother preferred to give the work to the people, but my father means that they do not do a good job and they let a lot of snow there and it is dangerous. 
We were not even the full two years there, that one day Shahin came to me and said Sohrab I will marry soon and we cannot play with each other anymore as I will be a married woman or lady soon and not a girl. She was in the tenth grade. But you did not finsh the high school I asked. She said I do not need to study, if I am married he will pay my cost and I will be only housewife.  But you see that your mother and my mother both have mater degree and finished university and you will not even finish the high school?  She said I prefer to marry than to study. I love to be house wife and mother and have children.
Her husband was her English teacher and she was learning English with him. And with the time she decided to marry him, so she does not like to study.  In those days most teachers in the high school have only high school diploma and they could not teach properly. May be they did not know very well the subject as they did not have any university degrees. Few teachers like her mother or my mother finished the university.  Any way she married and has gone to other city, to Abadan, because her husband could have as a English teacher a better payment there.  I will write the rest of this story later.